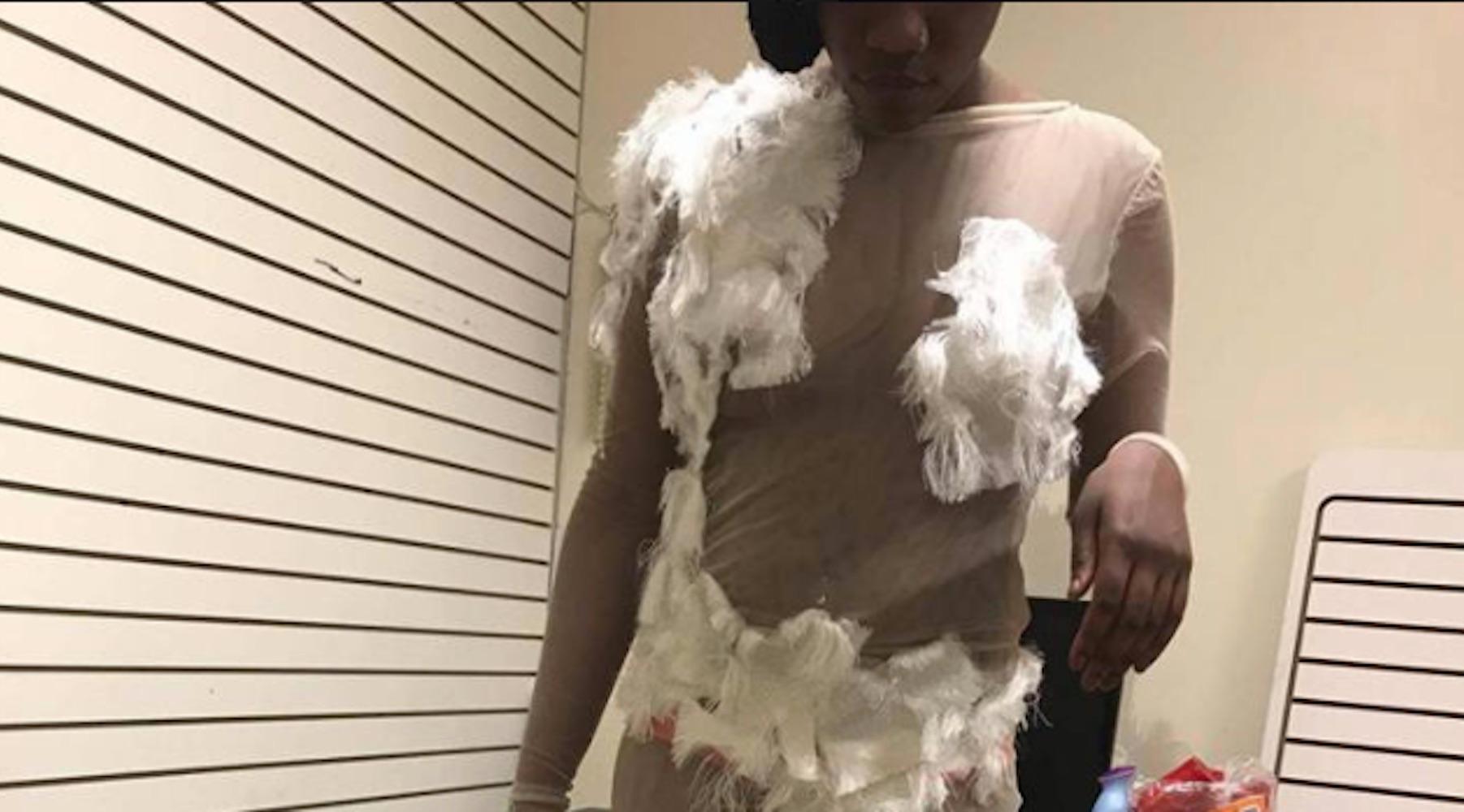 Mom Calls Out Designer For Making Her Daughter This Nightmare Prom Dress
By Aimee Lutkin
Taking a risk on a local designer can have an amazing payoff. You get a handmade gown to your specifications at a cut-rate price. In Malexa Maeweather's case, she got a cut-rate dress instead.
Malexa's mother, Dee Lewis, called out the maker of her daughter's terrifying prom dress on Facebook because she was so upset by the final product. According to Yahoo News, the pair live in Rochester, New York, and a small designer named Kia Wagner said she would make a dress for Malexa using some cloth she already had on hand. She asked for a $100 deposit. This is what Malexa received the night before prom:
In her post, Lewis called out Wagner by name, and asked, "R u serious.. was i wrong for wanting my DEPOSIT BACK [sic]."
You can see that it is a nightmare cloud from the front, the side, and the back:
Lewis told Yahoo News that Malexa had seen a dress she liked on Instagram, but it wasn't available, so they decided to trust the local designer.
"For a $100 deposit, Kia told my daughter that she would make her something nice with material she already owned and that she wanted to 'play around with the design,'" said Lewis. "Malexa didn't know anything about what the dress would look like."
When it finally arrived, with only one day to replace it, Malexa was extremely upset, as any of us would be.
"My daughter was devastated and crying when she saw this dress," said Lewis.
Luckily, a family friend stepped in when they saw the pics, and offered up the dress her daughter had worn the year before. Malexa's mom gave her a few dollars to have the top redesigned by a different dressmaker, so she'd be wearing a new look. And she it turned out great:
Wagner has not commented on this very public embarrassment (the Facebook post has been shared almost 4,000 times!), and Lewis has said she hasn't heard from her either. "She didn't offer any reimbursement as a professional courtesy," said Lewis. Maybe she considers her end of the bargain complete and is waiting for the other $200?