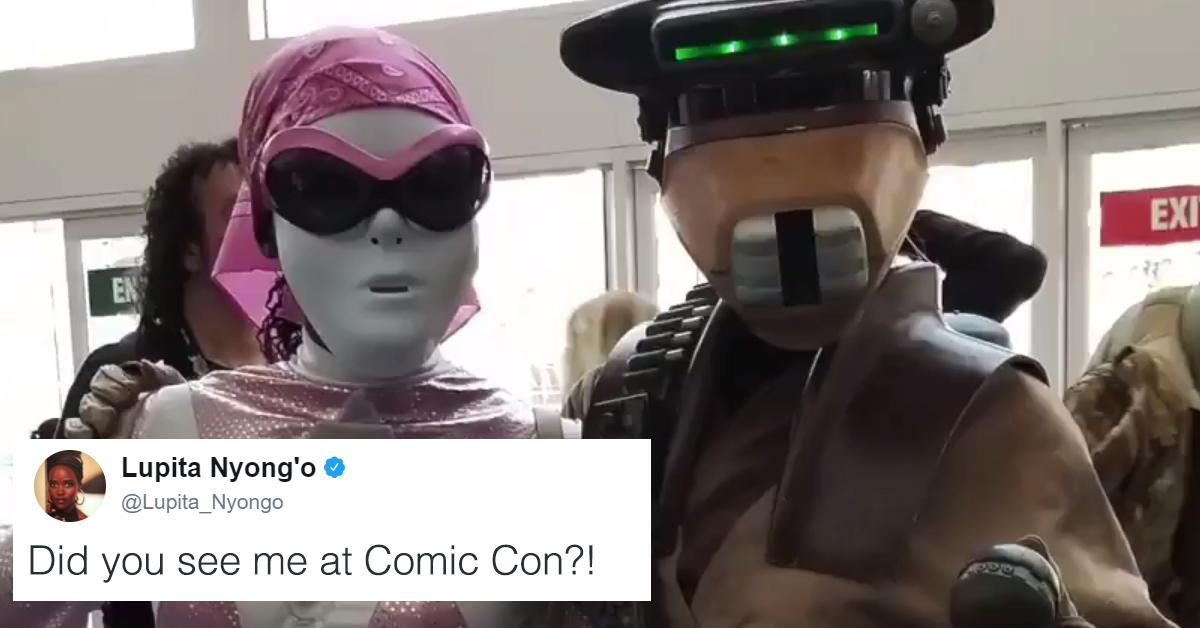 Lupita Nyong'o Was At Comic-Con In Disguise And No One Noticed
By Mark Pygas
Being famous must be super cool. You get to be super rich (more likely than not), adored, probably successful in your given field, and have access to, like, pretty much anything you could ever want in life. Unless — of course — the thing that you so desire is privacy, anonymity, or the chance to experience something "like a normal person." In fact, in order to experience something that us laypeople take for granted every single day, you have to resort to some pretty crazy extremes.
Take for instance, Lupita Nyong'o. The stunning actress, who most nerds will know as the voice of Maz Kanata in the new Star Wars trilogy, and Nakia in the upcoming Black Panther film, wanted to explore the floor at Comic-Con San Diego over the weekend. Unfortunately for her and most other stars, they can't really go without causing a stampede.
So Nyong'o decided to blend in with the crowd by going in costume as the pink Power Ranger, and yes, it worked. In fact, she was so good at her disguise that it's entirely possible that you, San Diego Comic Con attendee, could have walked right by the actress once rightfully named the "Most Beautiful Woman" by People Magazine without even realizing! All for a taste of that sweet, mediocre life without fame. She outed herself as one of the disguised attendees on Twitter, asking her fans, "Did you see me at Comic Con?!" No, Lupita, we did not! Because we did not know that was you!
She even visited some booths, and had a truly authentic con experience — even though some people are retroactively freaking out, now that they know it was her.
Unsurprisingly, people found the idea pretty awesome.