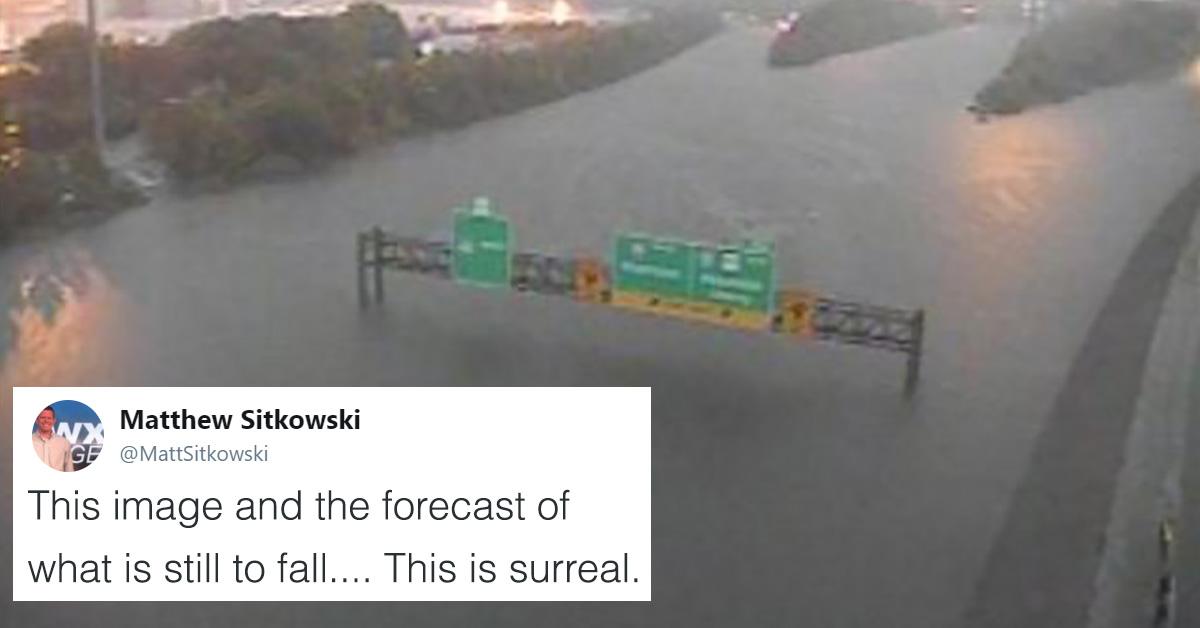 Photos Of Hurricane Harvey's Aftermath Show The Storm's Devastating Impact On Houston
Hurricane Harvey moved into Texas as a Category 4 hurricane over the weekend, and has since been downgraded to a tropical storm. Despite being downgraded, Harvey is still the strongest storm to hit the United States since Charley in August 2004 and the most powerful to hit Texas since Hurricane Carla in 1961.
Article continues below advertisement
The National Weather Service predicted that as much as 50 inches of rain has fallen in some areas, and at least five deaths have been reported.
Perhaps the hardest hit area has been Houston, the most populous city in the state, with millions being affected by flash flooding. And the unfolding disaster has been chronicled online, with citizens sharing photos from throughout the city. One tweet by Matthew Sitkowski of The Weather Channel has those of us outside the city concerned...
Article continues below advertisement
Yes, that's the I-610 freeway completely submerged. And that's just the beginning of it. Here's a comparison of the highway on a normal day...
Article continues below advertisement
Article continues below advertisement
One photo showed residents of a nursing home, who were eventually evacuated.
Article continues below advertisement
While this video showed the moment a reporter saved a truck driver's life.
Article continues below advertisement
Texas Governor Greg Abbott said about 250 roads and motorways had been closed as a result of flooding:
Article continues below advertisement
"We are dealing with a triangle of ongoing rain, including Houston, Victoria and Corpus Christi cities," he added.
"We will continue receiving incredibly heavy rain."
Houston Mayor Sylvester Turner urged residents not to call emergency services unless their life is in danger. "Don't get on the road. Don't assume this storm is over," he added. Officials in Harris County went on to ask people who own boats to help with rescues.
At least eight people are believed to have died as a result of Hurricane Harvey, with a record 30 inches of rain falling on the city of Houston, leaving highways totally submerged by water. The heavy rains are expected to continue into the week, with Harvey set to pick up more water from the Gulf of Mexico before heading inland once again.
And while many have focused on the devastating impact of the storm, there have been many cases of heroism amid the chaos. One of the photos that has gone viral shows a Harris County Sheriff's Office deputy carrying two children to safety.
Article continues below advertisement
The image of the storm shows Harris County sheriff's deputy Rick Johnson carrying two small children to safety. The photo was taken by one of his colleagues and shared on the sheriff's office Twitter account. Johnson is seen calmly walking the two children from their house in suburban Cypress, Texas.
"I grabbed the kids, and in order to keep the kids focused on happy thoughts given the seriousness of what was going on around us, I told them a couple of light jokes. We joked about swimming, and the water being cold."