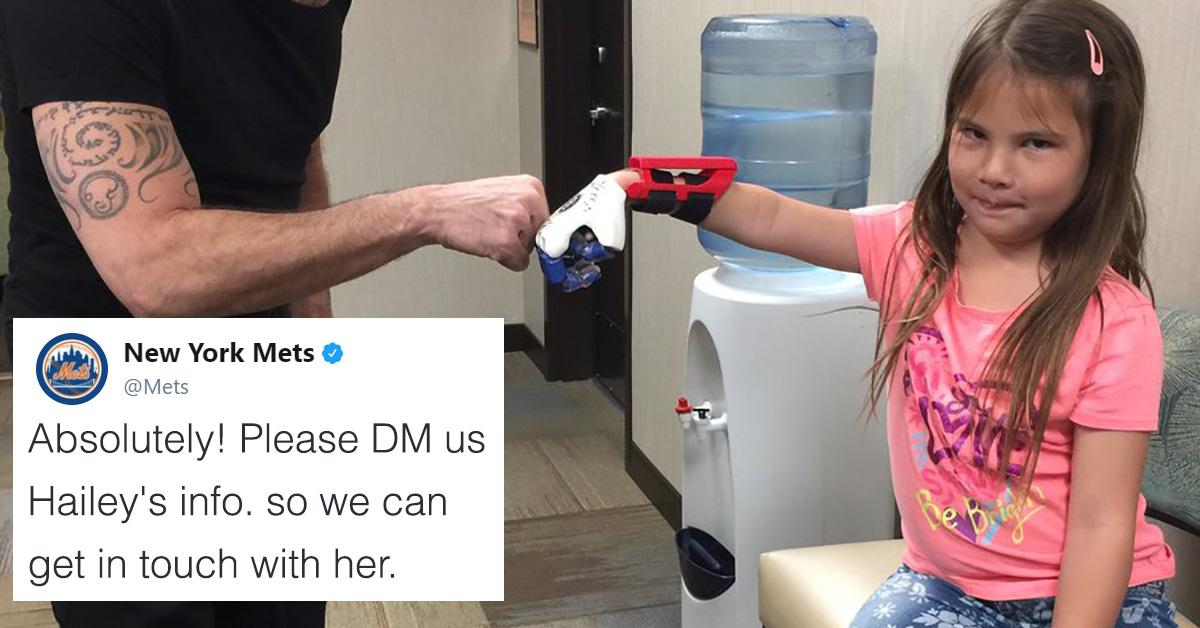 Girl With 3D Printed Hand Wants To Throw At Every MLB Park And Gets Tons Of Offers
By Mark Pygas
Seven-year-old Hailey Dawson was born without three fingers due to a rare disease called Poland Syndrome, which causes defects in one out of every 200,000 births. When Hailey was born, her right hand came out different than the left. The right had a pinky and a thumb, but the three fingers in the middle were missing — her "nubbins" as her family calls them. But thanks to modern medical science, and years of working with experts from South Africa and the United States, she's been able to receive a specially designed 3-D printed hand that allows her to write and perform everyday tasks.
Yong Dawson, Hailey's mom, was scrolling through Facebook one say in 2013 when she saw a 3D-printed hand designed for a 5-year-old boy with finger mobility issues. She took the information and called the engineering department at University of Nevada in Las Vegas.
"We simply thought that we could scale it down to fit her hand. This did not work and we found that we have to do multiple adjustments to fit her hand properly," the engineering college's dean of research, Mohamed Trabia said.
And being a lifelong baseball fan, Hailey has even taught herself how to hold and throw a baseball with her prosthetic.
Now, Hailey is on a mission to throw out the first pitch at every Major League stadium in the country. She's already done so at the Oriole Park, home to the Baltimore Orioles. But since Bleacher Report covered her story recently, she's gotten a lot more offers.
The Red Sox, Detroit Tigers, Phillies, and New York Mets were among dozens of teams inviting Hailey for a visit.
They keep going. Even the Minor League and college teams want in on the action.
Unsurprisingly, Twitter loved the response.
"Hailey's hope was to visit all the ballparks and throw a strike. To have fun," Yong Dawson, Hailey's mom said. "For me, it was to spread the awareness of Poland syndrome and how easily accessible the robotic hand is."
WE'RE ALL CRYING.