Hallmark Channel Just Announced Their Christmas Movie Line-Up For December
Where has the year gone? Christmas is fast approaching, with only a few months to go before the holiday season.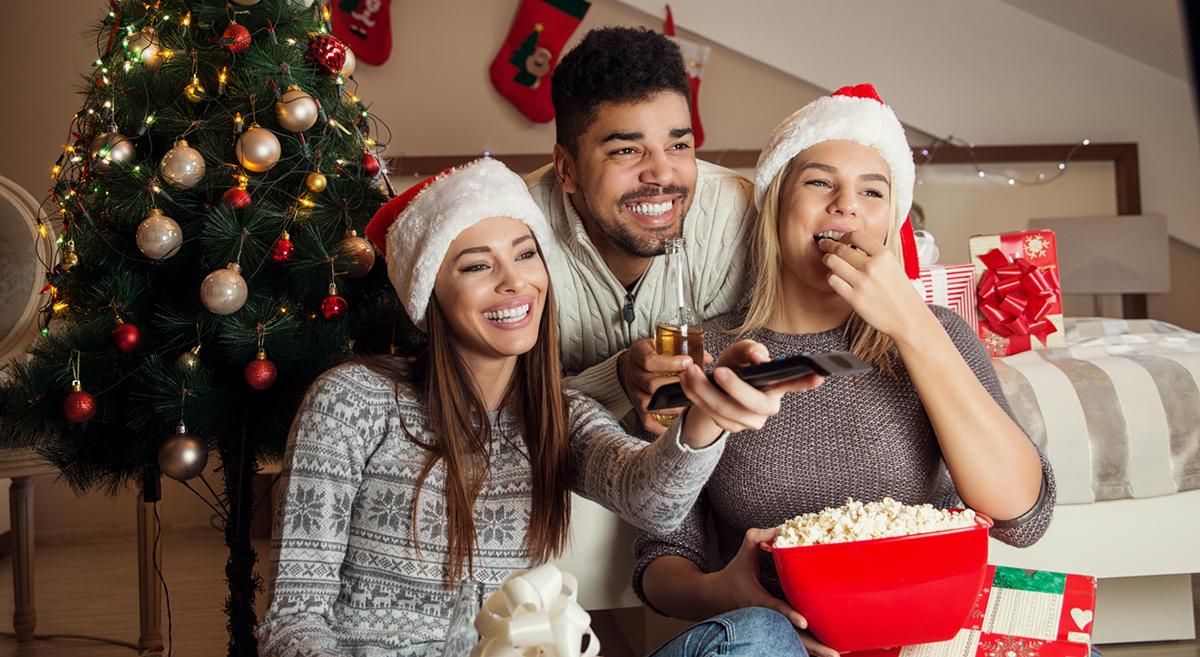 Where has the year gone? Christmas is fast approaching, with only a few months to go before the holiday season. Give it a few weeks, and they'll be playing Christmas music in malls. And the Hallmark channel is ahead of the game too, announcing the premiere dates of the 12 new movies they'll be airing as part of their 24-hours-a-day movie marathon, "The Most Wonderful Miracles of Christmas," beginning on October 27.
Article continues below advertisement
1. 'Mr. Christmas,' November 5, 9 p.m. ET/PT
Starring Sam Page and Tara Holt, this classic romance flick sounds pretty fun:
"Tom Jacobs has built an entire business around helping clients find the perfect gift for their loved ones," a blurb on Entertainment Weekly reads. "Since his company's busiest time of the year is the holidays, he's earned himself the nickname Mr. Christmas. When Tom's good friend Paul comes to him asking for help in finding a gift for his girlfriend, Jenny, Mr. Christmas finds himself in a bit of trouble. The more he learns about Jenny during his research, the more he likes her, and the guiltier he feels being caught between his heart and his best friend. With Christmas rapidly approaching, Tom dreads his encroaching deadline as it will mean an end to his time with Jenny and perhaps an end to his only chance at being with his one true love."
2. 'A Song for Christmas,' November 11, 9 p.m. ET/PT
Featuring Rebecca Tobin and Kevin McGarry, A Song for Christmas is a classic story of two people from two totally different worlds falling in love:
"Pop superstar Adelaide Kay is so fed up with her controlling manager that she sneaks off the tour bus after their latest squabble. Though exhilarated to be free, she finds herself stranded in the freezing cold of a Pennsylvania winter, with no money and no plan. A local family, the Lapps, take her in. They know the true meaning of the season, even if they're close to losing their dairy farm. No one in the family recognizes Adelaide except Dillon, the oldest son. He figures she's the ticket to fast cash and plots to snap photos of Adelaide around the farm and sell them to the tabs. What he doesn't plan, however, is their mutual attraction. As they get to know each other, Dillon has two realizations: Profiteering from invading Adelaide's privacy is wrong, and his uptight girlfriend is not the one for him. When Adelaide performs a song, which Dillon's kid sister wrote, a lot of money is earned which aids the Lapps and other strapped farmers."
Article continues below advertisement
3. 'Engaging Father Christmas,' November 12, 9 p.m. ET/PT
Erin Krakow, Niall Matter, and Wendie Malick star in movie where everything doesn't go as planned:
"It was supposed to be the perfect engagement. What could be more romantic than a Christmas proposal in a bucolic Vermont inn? Ian has it planned perfectly, or so he thinks. Miranda, an interior designer, returns to where she met Ian, a dashing former attorney who now runs the little hotel in the quaint town of Carlton Heath. After doing some digging to learn about her family roots, Miranda had traced her lineage to Carlton Heath. Though it's Christmas, Miranda had always done her best to distance herself from the holiday; her mom, an actress, had died while performing a holiday play. Ian has carefully planned every aspect of Miranda's visit so he could make the most romantic proposal. Too bad the best-laid plans often go awry – even during Christmas."
4. 'A Joyous Christmas,' November 18, 9 p.m. ET/PT
Although there's very few details, this sounds like a modern take on A Christmas Carol:
"Joy may be down-on-her-luck, but her humanity is intact. She jumps to the aid of a stranger, rescuing the woman from a terrible accident. The woman who nearly died is quite successful and learns a great lesson from her accident: Helping others is the key to true success and could be the path to finding true love as well."
Article continues below advertisement
5. 'A Bramble House Christmas,' November 19, 9 p.m. ET/PT
Get ready for tears with Autumn Reeser, David Haydn-Jones, and Teryl Rothery:
"While settling his father's estate, Finn Conrad becomes suspicious as to why he left a nurse $50,000. His dad knew her for less than two months before he died. Just before Christmas, Finn wants to reclaim what he considers his family's money, so he goes undercover to investigate the bed-and-breakfast the nurse has recently taken over. When Finn meets Willa, he discovers she's not a conniving gold digger at all. She's the single mother of a sick boy who needed an operation. Finn's dad paid for the operation and financed Willa's dream of running the Bramble House B&B. Though Willa and Finn are protective of their hearts for different reasons, they fall in love — until she discovers his true identity and why he was there. Now Finn must gain Willa's trust to make this a Christmas to remember."
6. 'Christmas Homecoming,' November 26, 9 p.m. ET/PT
Seriously, it wouldn't be Christmas if there weren't tears, this time with Julie Benz and Michael Shanks.
"A military widow, whose faith in Christmas has lapsed, rents an apartment to a handsome Army Captain, recovering from an injury in battle, and whose faith in Christmas is inspirational. As they team up to save the town's military museum with a Christmas fundraising event, these two 'wounded birds' find themselves falling in love — and being healed by the magic of Christmas."
Article continues below advertisement
7. 'A Gift to Remember,' December 2, 9 p.m. ET/PT
Ali Liebert and Peter Porte fall in love after she knocks into him with her bike and knocks him into a coma. A classic romance story:
"Darcy's lifelong love of reading has led her to the perfect job, working in a small Manhattan bookstore. A real romantic, Darcy won't settle for some man simply because of his job title or bank account. No, she insists on being swept off her feet. One day, while bicycling to work, Darcy crashes into Adrian, a sharply dressed gentleman walking his dog. Knocked unconscious, he's rushed to the hospital where he falls into a coma. Deeply shaken, the guilt-ridden Darcy takes the dog home, waiting to reunite him with his owner. As she learns more about Aidan — a world-traveler, a devoted man of letters — Darcy realizes he could be the one she has been waiting for. That is, until he comes to and Darcy discovers she has created a fictional world for a very real man. Will she still fall in love?"
8. 'Angel Falls,' December 3, 9 p.m. ET/PT
Rachel Boston and Paul Greene attempt to reignite the Christmas spirit of a small town:
"Angel Gabriel (Rachel Boston) – Gabby – gets a special assignment and is dispatched to the town of Angel Falls. The town has lost its Christmas spirit and Gabby is charged with the task of helping the residents recapture it. Along the way, she befriends Jack Avery (Paul Greene), the Volunteer Fire Chief, who's initially skeptical about her plan to revive the local Yuletide cheer. Determined, Gabby takes a job at the local church as the volunteer coordinator and sets about her business of recruiting residents to get the town's holiday back on track. In the process of bringing back beloved Angel Falls Christmas traditions, Gabby has a surprising revelation about herself and her own dreams that set her down an unexpected path."
Article continues below advertisement
9. 'Unbridled Love,' December 9, 9 p.m. ET/PT
Details are still to be announced, but it has an evil stepmother:
"Evil stepmothers don't only lurk in castles, tormenting helpless children. Sometimes, they're on ranches, tormenting adults. A year after her father died in a fire at their Oregon ranch — a fire accidentally caused by her stepmother, Mae — Sarah has finally found her footing, turning the family homestead into a successful dude ranch. Still, Mae is pushing to take it over, seeing it as a potential goldmine. Meanwhile, Graham, a Hollywood superstar, wants to use the ranch as the location of his next movie. Sarah isn't inclined to allow it. During a long horseback ride through the moonlit mountains, Graham explains why this project is so dear to him. That and a soulful kiss make Sarah relent. But all does not run smoothly once the movie starts. Graham and his costar, Simone, had been involved; Sarah has fallen hard for the handsome star. Still, she won't allow jealousy to cloud her professionalism. When Simone's horse runs wild, Sarah saves her. And when Sarah's evil stepmother, Mae, also runs wild — suing Sarah — Simone, in turn, saves Sarah."
10. 'Karen Kingsbury's Maggie's Miracle,' December 10, 9 p.m. ET/PT
According to the official logline:
"Megan spent one unforgettable summer with a boy when they were teens, and she's never forgotten his magical definition of love. Now a high-powered attorney in New York and the single mother, her young son unexpectedly connects them again, but it's not until Christmas when Maggie finally gets the miracle — the love — she's longed for."
Article continues below advertisement
11. 'The Christmas Cottage,' December 16, 9 p.m. ET/PT
Again, there's no details on this one, but it sounds like a classic romance:
"Still only in her mid-twenties, Lacey Quinn has already given up on love. Her heart's been broken too many times, and now she concentrates on her career as an interior designer in Raleigh, North Carolina. When BFF Ava Callahan asks Lacey to be her maid of honor, she must take on a few responsibilities, including making sure the Callahan family cottage is perfect for the honeymoon. Legend has it that if newlyweds spend their first night there, everlasting love and happiness follow. Lacey isn't sure she buys into that notion. Still, when she finds herself snowed in there with Charlie, Ava's brother, Lacey has to reconsider if the little house may hold some romantic magic after all — especially at Christmas."
12. 'When God Winks at You,' December 17, 9 p.m. ET/PT
Kathie Lee Gifford takes a look at the origins of Christmas:
"Executive Producer and author of the When God Winks book series SQuire Rushnell presents this true story demonstrating that God communicates with us, making incredible things happen in our lives every single day. Viewers will begin to recognize god winks in their own lives, both past and present. Through these tangible signposts from God, we receive personalized messages that reassure us, stop us from worrying, chart our path in life and help us keep the faith."