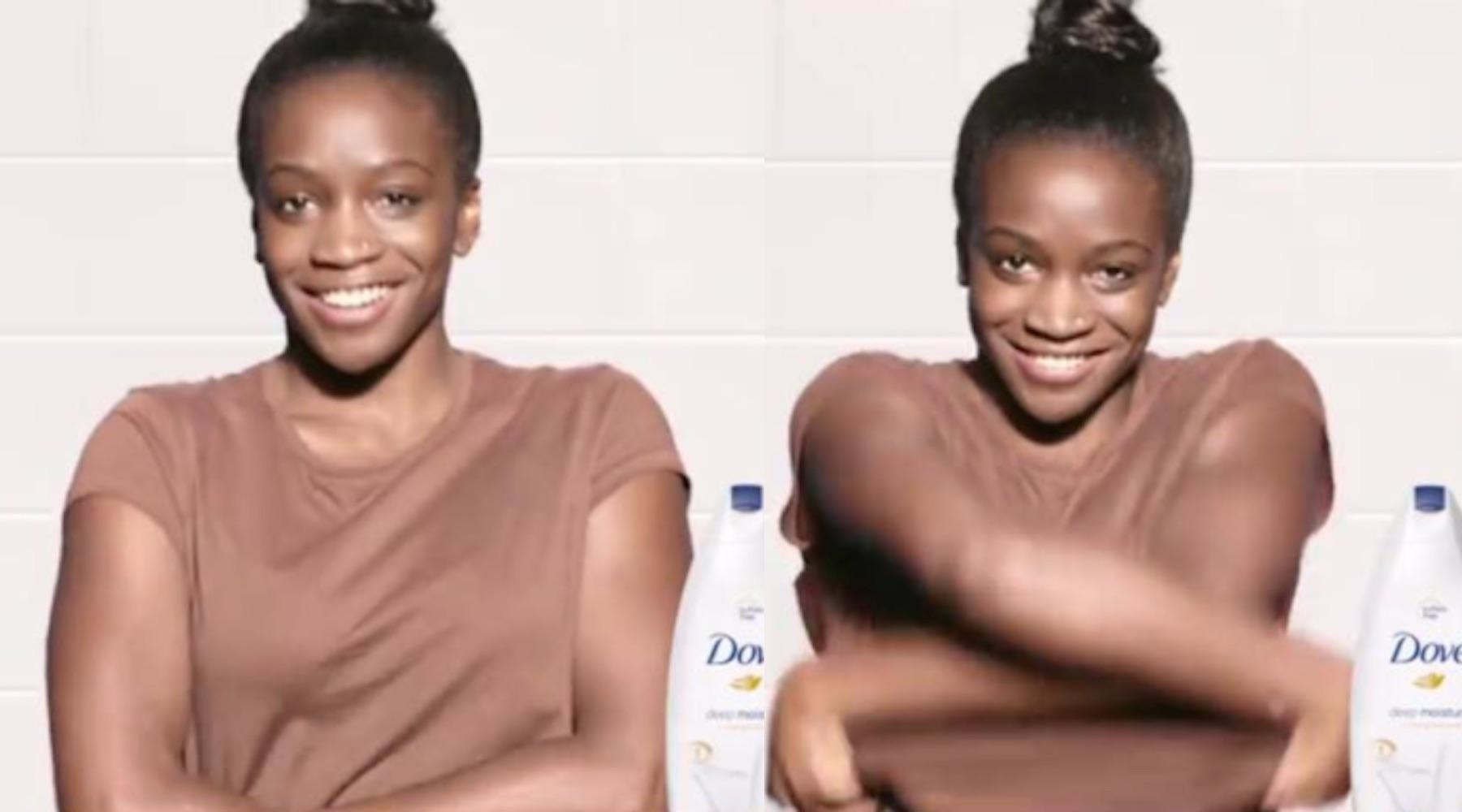 People Are Upset With Dove Over Ad Twitter Is Calling 'Racist'
By Aimee Lutkin

Nov. 18 2019, Updated 2:20 p.m. ET
Make up artist and business woman Naomi Blake posted images from a Dove ad she saw on Facebook on October 6, in which a black woman takes off her shirt only to reveal a white woman underneath. 
Article continues below advertisement
Blake was confused and seemingly horrified, and she tried to reach out to Dove with explanations for why the ad was tone deaf. She even offered suggestions for how they could edit the commercial to make it more appropriate. 
"So I'm scrolling through Facebook and this is the #dove ad that comes up … ok so what am I looking at," she wrote as the caption. 
Article continues below advertisement
Article continues below advertisement
When asked  if people would be offended if the white woman had turned into a black woman, Blake said: "Nope, we wouldn't and that's the whole point. What does America tell black people? That we are judged by the color of our skin and that includes what is considered beautiful in this country." 
Others took note of Blake's battle with the company and were quicker to call the ad what they think it is: super racist. And many don't think this is Dove's first offense:
Article continues below advertisement
And also that there is a history in soap companies of showing people with dark skin having their color "cleaned" off with products in advertising:
Article continues below advertisement
Let's be clear, Dove knew exactly what they were doing with their racist ad. Soap companies used to do this racist theme all the time pic.twitter.com/EzvAiExNcP

— Tariq Nasheed (@tariqnasheed) October 8, 2017
The full ad shows women of various races segueing from one to the other, but as Blake tried to point out, the order in which they go is extremely messed up. It's also just kind of a bad idea to see women of different races morphing into one another because of the skin products they use.
Article continues below advertisement
Mostly, people are shocked this commercial ever got produced.
Article continues below advertisement
I can't believe a executive at Dove saw this and was like. Yeah, this is fine.

— SeriousJaccount (@Jseriousaccount) October 8, 2017
Article continues below advertisement
Dove eventually realized there was no getting around this one, and released a statement:
Article continues below advertisement
"As a part of a campaign for Dove body wash, a 3-second video clip was posted to the US Facebook page. This did not represent the diversity of real beauty which is something Dove is passionate about and is core to our beliefs, and it should not have happened. We have removed the post and have not published any other related content. We apologise deeply and sincerely for the offence that it has caused and do not condone any activity or imagery that insults any audience."
It's great that Blake spoke out and made a change. Diversity in representation matters, on screen and also in the room where these sorts of decisions are made. Seriously, why did this commercial exist?!