Eminem Wrote A Donald Trump Diss Track And It's Got People Talking
Eminem's latest diss track targeted at President Donald Trump is probably going to cause controversy.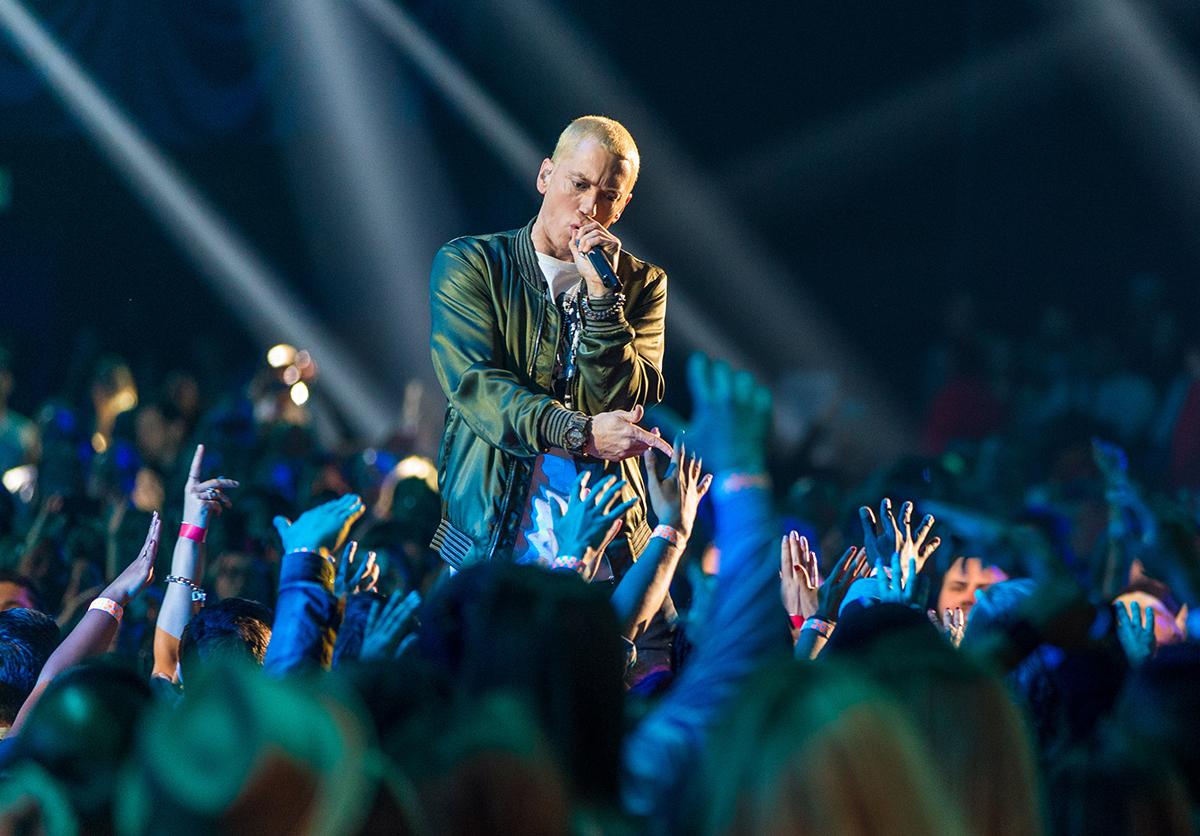 At the BET Hip Hop awards on Tuesday, Eminem performed an acapella freestyle titled The Storm. The focus of his diss track? President Donald Trump. The song itself is titled after President Trump's own words. Earlier this month, the president told reporters that a meeting with military advisers was "the calm before the storm." When a reporter asked what the "storm" was, Trump replied with "you'll find out."
Article continues below advertisement
Eminem's song is fairly critical of President Trump, and you can watch it yourself below...
Article continues below advertisement
A few lines and verses stick out. Including one endorsing former President Barack Obama and warning that President Trump could cause a nuclear war amid heightened tensions with North Korea and Iran.
"We better give Obama props
Cause what we got in office now is a kamikaze
That will probably cause a nuclear holocaust
While the drama pops, and he waits for s--- to quiet down, he'll just gas his plane up and fly around till the bombing stops."
Article continues below advertisement
In another line, Eminem references criticism of Donald Trump's response to white supremacist rallies.
"Trump, when it comes to giving a s--- you're stingy as I am."
Article continues below advertisement
He also suggests that President Trump looks like The Thing from Marvel's Fantastic Four.
"Racism's the only thing he's Fantastic 4 cause that's how he gets his rock off, he's orange."
Article continues below advertisement
President Trump's opponent in the 2016 election, Hillary Clinton, makes an appearance.
"Then says he wants to lower our taxes
Then who's gonna pay for his extravagant trips
Back and forth with his fam to his golf resorts and his mansions?
Same shit that he tormented Hillary for and he slandered
Article continues below advertisement
As does Senator John McCain. President Trump infamously said that McCain wasn't a war hero during his presidential campaign. "He's not a war hero," Trump said of the former Navy pilot who spent five years in a North Vietnamese prison. "He was a war hero because he was captured. I like people who weren't captured."
"He says, 'You're spittin' in the face of vets who fought for us, you bastards!'
Unless you're a POW who's tortured and battered
'Cause to him you're zeros
'Cause he don't like his war heroes captured."
Article continues below advertisement
Eminem goes on to address his fans who support President Trump.
"And any fan of mine who's a supporter of his
I'm drawing in the sand a line: you're either for or against
And if you can't decide who you like more and you're split
On who you should stand beside, I'll do it for you with this:
Article continues below advertisement
The track got people talking, obviously.
Article continues below advertisement
Article continues below advertisement
Article continues below advertisement