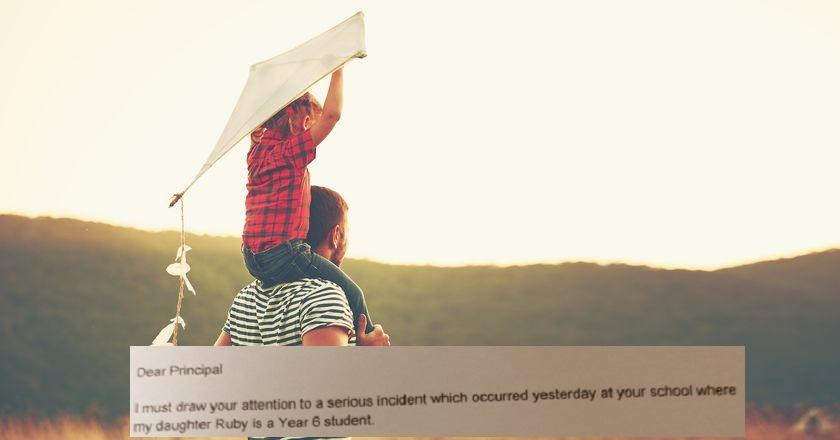 Everybody Loves This Funny Letter A Dad Wrote To His Daughter's School Calling Out Sexism
By Aimee Lutkin

Nov. 18 2019, Updated 2:36 p.m. ET
Australian dad Stephen Callaghan is going viral, because he got extremely sassy with his daughter's school over a pretty sexist activity day she was subjected to. Apparently, Callaghan's 12-year-old Ruby was ushered into the library with all the other girls in her class to get a makeover, while the boys were forced to go to the local hardware store, Bunnings. Both these activities sound horrible to me, but it was the implicit sexism of who had to do what that got Callaghan angry.
Article continues below advertisement
He wrote a letter questioning the wisdom of splitting the classroom up into gendered activities, and it's pretty funny:
Article continues below advertisement
I must draw your attention to a serious incident. When Ruby left for school yesterday it was 2017 but when she returned home in the afternoon she was from 1968. 
I know this to be the case as Ruby informed me that the "girls" in Year 6 would be attending the school library to get their hair and make-up done on Monday afternoon while the "boys" are going to Bunnings. Are you able to search the school buildings for a rip in the space-rime continuum? Perhaps a faulty Flux Capacitor hidden away in the girls toilet block? 
I look forward to this being rectified and my daughter and other girls at the school being returned to this this millennium where school activities are not divided sharply along gender lines.
He signs off "respectfully" but that's perhaps part of the letter's sarcasm.
Unfortunately, the response on Twitter indicates that this is a wider problem than at just Ruby's school. Girls have been fighting to get into more interesting classroom experiences since 1968 and before, and they're still fighting to today:
Article continues below advertisement
This reminds me of Women In Aviation Week a few years ago, where an event event invitation ended with "Ladies: Bring a plate." I wrote back and suggested that maybe they mistyped "plane," and should issue a correction.

— Mark Newton 🎅🏻🔫 (@NewtonMark) December 6, 2017
It infuriates me that there are people responsible for *educating our children* who think this is remotely OK

— Leonie (@propinqua) December 7, 2017
Article continues below advertisement
My wife and I renovated our bathroom, built a deck and a chicken pen. She handled a lot of the measurement, power tools and physical labour. I'm proud to say we shared everything and our children (boy and girl) will take that as a good example. They love going to Bunnings too!

— Steven Hambleton (@stinhambo) December 7, 2017
I'd much prefer Bunnings!

I had to fight to do maths enrichment instead of grooming and deportment classes when I was at school. I was the only girl in that class 😊

— Röbïnä (@RubyandAlex) December 6, 2017
Article continues below advertisement
I don't wear makeup I don't brush my hair even hardly and Bunnings is my favourite. I hope my daughter is the same. Girls should not be shepherded away from that! Bunnings is life.

— Jacqueline Maree (@PSDontTellMum) December 6, 2017
Article continues below advertisement
👍🏼👍🏼I'd have gone the bunnings options, had no interest in make-up, doing your hair up & lived in jeans. And it WAS 1968. 😏

— Angry Budgie (@Angrybudgie) December 6, 2017
Tell Ruby, to always stand tall and be proud. There is NOTHING in this world she can't do, achieve , learn if she wants it. Keep banging down doors, don't take no for an answer xx

— V-Ness-Nah (@wimmerachic) December 7, 2017
Article continues below advertisement
Yeah, they do this crap at my kid's holiday care thing. The boys have 'unbelievably amazing adventure day' (I'm paraphrasing) and meanwhile the girls have 'makeover day'.

— Jamie Q Roberts (@Jamieqroberts) December 6, 2017
went to a girls college and we only had classes like home economics and sewing... while the boys college had metal, woodworking and engineering... this was 2008 my last year...think it's still like that cos my lil sis goes there pic.twitter.com/GcFTwCyAb1

— ✨Annabelle✨ (@AnnabelleLui) December 6, 2017
Article continues below advertisement
But let's also take a moment and consider the boys. Plenty of boys love make up, hair and working on their lewks, just like there are girls who want to go sort bolts. It should really be choose your own adventure, don't you think?
Callaghan appreciates all the support, and says he'll be channeling it into support for Ruby.
Ruby and I would like to thank you for the great comments of support. At 12 years of age my daughter is starting to notice there are plenty of people prepared to tell her what she can & can't do based solely on the fact she is female.
She would like this to change.
So would I.

— Grumplestiltskin (@2FBS) December 7, 2017
What really matters is the kids. Also the teachers, who probably just wanted a freaking day off.