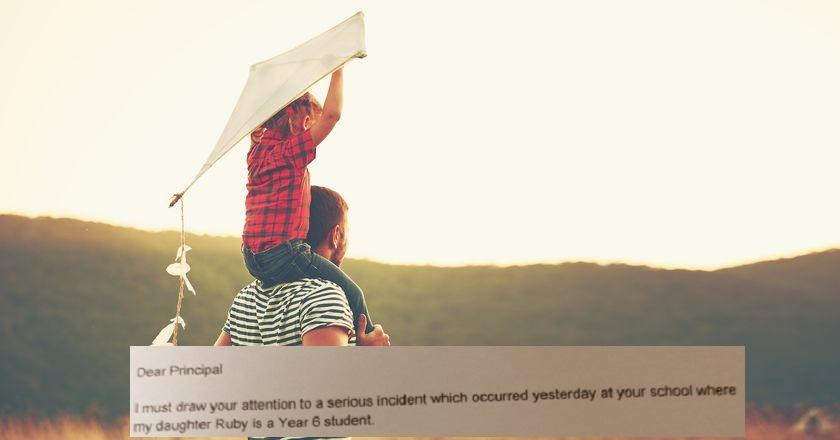 Everybody Loves This Funny Letter A Dad Wrote To His Daughter's School Calling Out Sexism
By Aimee Lutkin
Australian dad Stephen Callaghan is going viral, because he got extremely sassy with his daughter's school over a pretty sexist activity day she was subjected to. Apparently, Callaghan's 12-year-old Ruby was ushered into the library with all the other girls in her class to get a makeover, while the boys were forced to go to the local hardware store, Bunnings. Both these activities sound horrible to me, but it was the implicit sexism of who had to do what that got Callaghan angry.
He wrote a letter questioning the wisdom of splitting the classroom up into gendered activities, and it's pretty funny:
He writes:
I must draw your attention to a serious incident. When Ruby left for school yesterday it was 2017 but when she returned home in the afternoon she was from 1968.
I know this to be the case as Ruby informed me that the "girls" in Year 6 would be attending the school library to get their hair and make-up done on Monday afternoon while the "boys" are going to Bunnings. Are you able to search the school buildings for a rip in the space-rime continuum? Perhaps a faulty Flux Capacitor hidden away in the girls toilet block?
I look forward to this being rectified and my daughter and other girls at the school being returned to this this millennium where school activities are not divided sharply along gender lines.
He signs off "respectfully" but that's perhaps part of the letter's sarcasm.
Unfortunately, the response on Twitter indicates that this is a wider problem than at just Ruby's school. Girls have been fighting to get into more interesting classroom experiences since 1968 and before, and they're still fighting to today:
But let's also take a moment and consider the boys. Plenty of boys love make up, hair and working on their lewks, just like there are girls who want to go sort bolts. It should really be choose your own adventure, don't you think?
Callaghan appreciates all the support, and says he'll be channeling it into support for Ruby.
What really matters is the kids. Also the teachers, who probably just wanted a freaking day off.