Man Pulls Over To Save Wild Rabbit From California Wildfire And Becomes Internet Hero
The internet is praising this man who pulled over during the wildfires to save a bunny.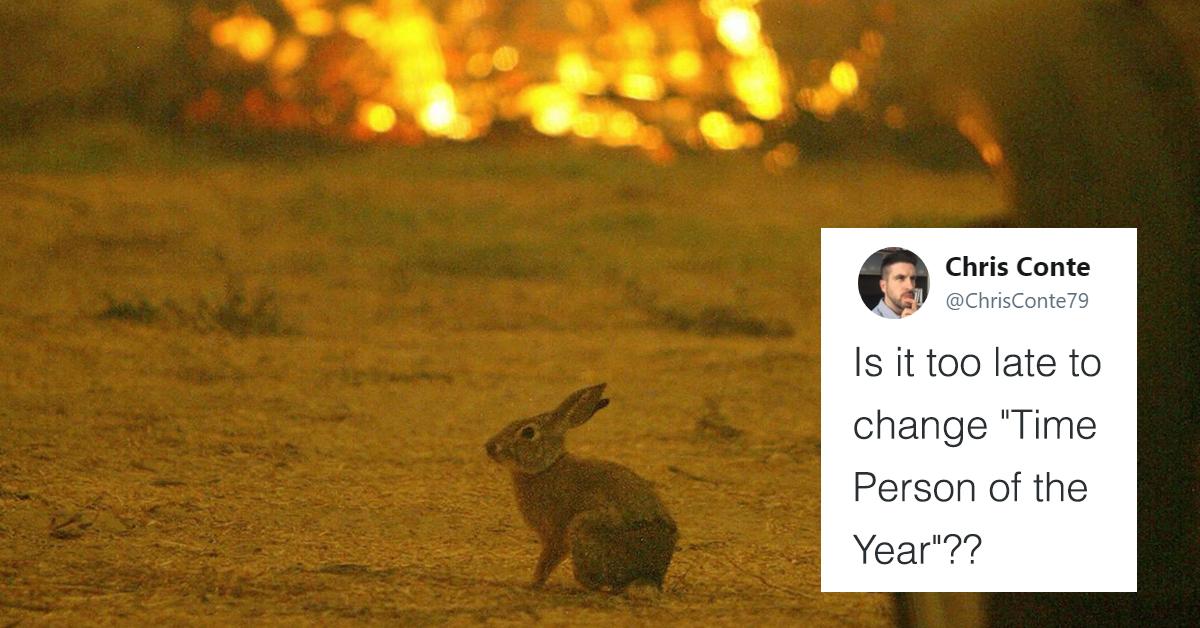 More than 100,000 acres in Southern California have been burned by wildfires in the last week, with some 27,000 residents being forced to flee areas like Bel Air and the Getty museum. More than 1,000 firefighters are now battling the biggest blaze, named Thomas, which is far from under control.
Article continues below advertisement
Today's brush burning index was the highest yet, 296, with anything over 165 being considered extreme. Terrazas officials warned that the fire may continue to spread, citing strong winds and dangerously dry vegetation as the cause.
But as more and more people are forced to flee their homes, there are some uplifting stories coming out of the destruction. In Ventura County, as residents fled Thomas Fire on Highway 1, a passing news crew was able to capture footage of a man doing something pretty amazing at the side of the road...
"Witnesses say this man pulled over to save a wild rabbit from flames along Highway 1 in Southern California as the massive #ThomasFire spreads toward Santa Barbara County," tweeted ABC News.
Article continues below advertisement
The unnamed man declined an interview with the news crew. People were pretty impressed by the heroics, to say the least.
"Ohh this makes me feel sad as I literally just had rabbit for dinner," wrote one person on Twitter, hilariously. Others wanted to know the identity of this kind samaritan: "Dear Stranger: EVERY woman I know, and several men, will now want to date you. Compassion for animals is very attractive!"
"Damn... and just like that my faith in humanity is restored. We're definitely broken right now but THIS? This means we're going to be okay. Thanks, young man, for being a good person. Our world needs a lot more people like you. I'm sure his mother is none too happy with him tho" wrote one person who really speaks the truth.
Article continues below advertisement
Article continues below advertisement
Article continues below advertisement
Article continues below advertisement
Article continues below advertisement
Article continues below advertisement
Article continues below advertisement