The world is packed with some pretty strange restaurants.
But in the highly competitive world of food service, restaurants are doing everything in their power to stand out.
The fact is, you could probably get a cheeseburger everywhere, but the experience of getting that cheeseburger will ensure whether or not a person decides to return to your establishment. Which may be the reason why the Cheesecake Factory decided to make its interior just so unique.
Or why in the world this PF Chang's in Edgewater, New Jersey has two gigantic Mongolian Horse Sentinels standing outside, scaring off anyone who parks in the restaurant's lot just to saunter around the nearby boardwalk, which is something I totally don't do with my family on a regular basis.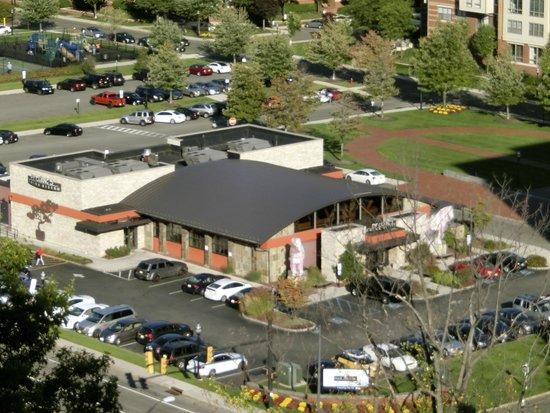 But these restaurants just have notable designs. They're like the Gordon Gartrell sweaters of the culinary world.
What about other restaurants that are just plain disgusting? What about a restaurant that has you literally eating out of toilet bowls and thinking about gross bodily functions while you slurp down on something with a texture not that dissimilar from feces?
I mean, no one would actually eat there, would they?
Actually, they would. What you're looking at up above is a bathroom-inspired restaurant located in Taipei, Taiwan.
At Modern Toilet, customers can expect to chow, slurp, and swallow dishes straight out of toilet bowls.
The walls are decorated with tiles. The restaurant's hot pot dish is served in a toilet. People drink out of small urinals. The chocolate ice cream they serve as a dessert is colored and swirled to most closely resemble feces and is served in a tiny ceramic bidet.
Twitter wasn't too thrilled about the prospect of eating out of something you would ordinarily use for bodily functions.
I mean, if a fictional electric mouse creature is telling you the idea is bad, then it's probably pretty, pretty bad.
For some Twitter users, eating at the restaurant wouldn't be that much of a stretch.
For others, well, they were just conflicted.
What about you? Would you ever want to slurp on some ramen from a toilet bowl?
It's worth mentioning that, of course, no one actually used these bowls as toilets before serving the food.