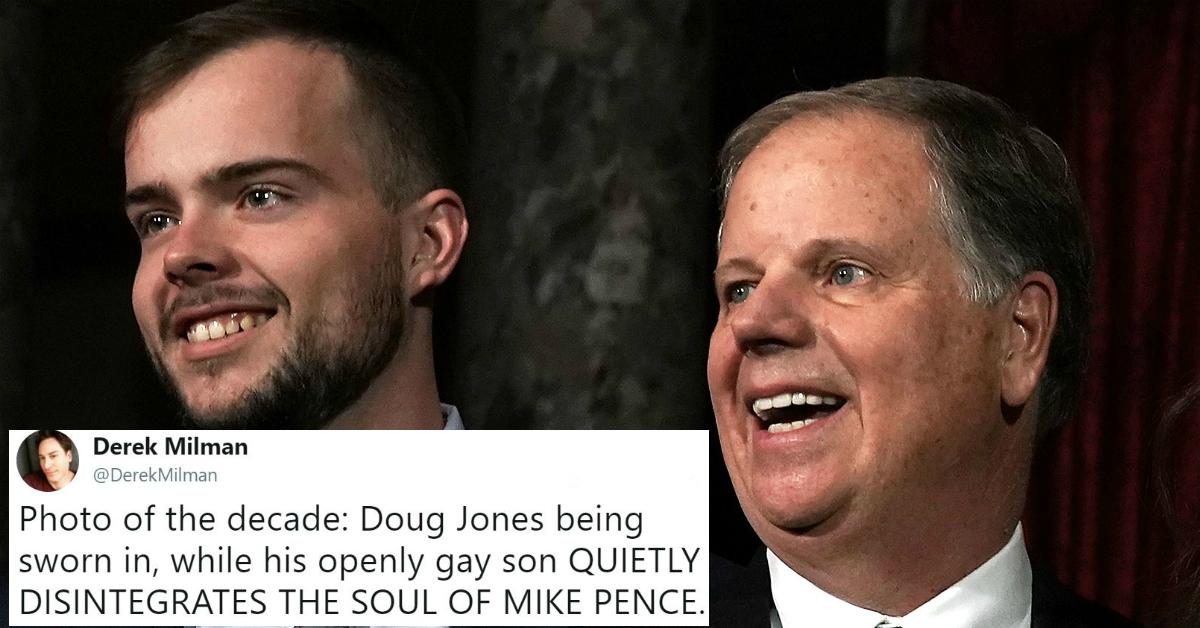 Doug Jones' Gay Son Gives Mike Pence Epic Side-Eye in Viral Meme
By Mustafa Gatollari

Updated
Vice President Mike Pence has a long history of being anti-LGBTQ, from his views on same-sex marriage to controversial religious freedom bills that allow for discrimination against queer people.
Which is probably why Doug Jones' son, Carson Jones, gave Pence the only side-eye as he stood by his father who was being sworn in for an Alabama senate seat.
Needles to say, people were in love with the picture (and — let's be honest — with Carson himself), because it perfectly captures every LGBTQ advocate's feelings towards the VP.
The jokes began rolling in.
Jones' victory over Roy Moore was a significant one.
Moore was favored to win the Alabama senate seat, in spite of the allegations that he had pursued relationships with underage women while in his '30s, which he denies.
Which is probably why this photo of Jones and his son simultaneously gloating in Pence's face is so satisfying for Twitter users.
Although Trump advocated for Moore to take the Senate seat, and even recorded robocalls that were sent out to Alabama residents urging them to vote for Moore, Pence was silent on the controversial candidate.
In fact, Trump's press secretary delivered a message from Pence, stating that the VP thought if the allegations of Moore harassing 14-year-olds at a local mall were true, that he should be disqualified from serving in the government.
That being said, people still counted it as a victory for LGBTQ advocates everywhere.
So much so that the side-eye is becoming an official mood.
I mean, it is a pretty great look, isn't it?