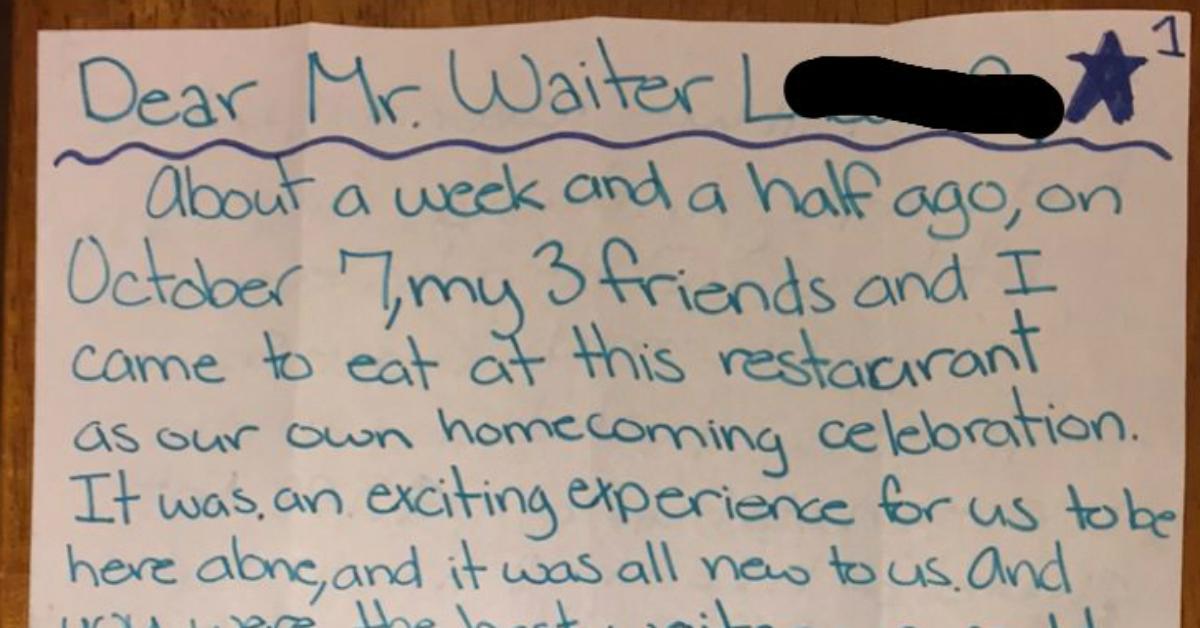 Waiter Shares Touching Letter From Teens Who Didn't Know How To Properly Tip
There are plenty of exposed waiter etiquette faux pas that are posted online. Like this pretty major restaurant receipt fiasco, which is apparently a sore spot for both customers and waiters alike.
Article continues below advertisement
If you ask me, there's no reason to not tip a waiter who's satisfactorily providing you with service.
In fact, is there anything less attractive than someone who is mean to a waiter? It just deflates your libido, doesn't it?
Article continues below advertisement
It could also be pretty deflating to an employee's sense of self worth and, you know, monetary worth. Nearly all waiters in the US survive off of tips, so if you're not providing the correct amount of gratuity, you're also hurting their income.
Article continues below advertisement
Which is what this awesome waiter unfortunately experienced when they served a group of four teenagers who were going out to eat all by themselves for the first time.
Article continues below advertisement
They were confused about how much to tip the waiter and left not knowing just how little they paid them for their efforts.
But someone must've raised these little peeps with some integrity, because once they got home and learned the correct amount they should've tipped their server, they immediately felt guilty and made it right.
Article continues below advertisement
They marched back to the restaurant with this letter.
Article continues below advertisement
First they lauded the waiter for their exemplary service and making sure they had an amazing night.
Then, they get down to brass tacks: their awful money mess up.
Article continues below advertisement
That's right, they returned to make sure they paid their waiter the correct amount and apologized profusely.
Article continues below advertisement
A group of teenagers showed more class and consideration than most adults. The gesture was unlike any the waiter had seen before. So they posted the letters to imgur with the following message:
Nothing more frustrating than when I get little to nothing for a tip and the customer is smiling and thanking me profusely as they exit. These kids came back another day and left this for me at the front desk, with $18 and some change. I've been serving a long time, and nothing like this has ever happened to me, or anyone. I don't know how you learned or educated yourself on tipping, but I really appreciate the effort and kindness. I hope your Homecoming was fantastic!
Article continues below advertisement
What's really remarkable is that the teens actually educated themselves on the right amount to tip the waiter, something that apparently, most young people have zero clue about and one server on Reddit even started a small thread asking why teens are such poor tippers?
Article continues below advertisement
For a lot of people, it was about class and understanding social cues.
Article continues below advertisement
While others think it's just a generalization.
Article continues below advertisement
It's a shame that not all customers are as forthright as these young'uns, and as a waiter, calling customers out for crummy tips is a tricky situation.
On the one hand you just want to tell them to go and screw themselves.
Article continues below advertisement
But on the other, you probably are working a job because you need to, and there's the whole messy business of trying to keep it. In America, the "customer's always right" is the prevailing motto of the service industry.
But there was a waiter who posted their experience of calling a customer out on a weak tip that didn't result in their termination:
Article continues below advertisement
This happened a few months ago during the college football season. I work at a sports bar on a campus, super close to the stadium.
It was a Saturday, a bit rainy, and I was on the upstairs covered patio. Game was at 1:30 or something, and we were insanely packed. I was turning tables left and right (30 tables on the patio, 4 servers), and the entire place was a labyrinth of guests waiting for a table to open up.
A man in his early 60's and his three friends were hovering near a 4-top that was getting ready to leave. The table had paid, but were finishing their beers.
We will call this man OG for old guy. I will be me.
As I'm walking past the 4 top, OG stops me.
OG - Hey, is there any way we can get a table?
I wanted to say, "uh, take a look around, you about 75 other people want a table," but instead I smiled and told him "I have this table getting ready to leave. Just hang out here and snag it when they get up."
OG says "ok" and I continue running around to other tables.
A few minutes pass and I see my 4 top grabbing their coats and getting out of their seats. I jog to their table, bid them adieu, and wave OG and his friends over.
OG - Thanks, we've waited forever. Can you, like, clean this table off?
Me - Yep give me just one second. I wanted to make sure you got a seat.
OG - Well, we are ready to order and we are in a rush.
At this point, I'd been there since 6:30 AM, it's now past noon, I'm sick of everyone's "we are in a rush" shit.
Me - OK, I can take your order now and then I can come back and clean your table.
OG - Well, we really want this table cleared. It's dirty.
OG's friend - Just let us order, she said she will clean it when she comes back. We will get our food quicker that way.
Thanks, OG's friend, you're the hero we need.
Anyways... I take their order, clean the table, OG becomes a lot nicer now that he has a beer and some chips and salsa apps, and I continue running around.
Article continues below advertisement
Their food comes up, I drop it off and OG has a big smile on his face.
OG - Thanks! You have really taken care of us, sorry about complaining earlier.
Me - No problem! I apologize for the wait, this is probably the busiest spot in town right now.
They eat, I bring several refills of beer, then OG wants to settle up, one check. Sweet. This will be great.
Their total was around $58 or something and I drop it off. As I'm walking away, OG grabs my attention, hands me cash and says "keep the change, you did great, and thank you again!"
Awesome! I run back to my server station, check out the cash and see $60.
Are you f*cking kidding me? Are you honestly fucking kidding me? You've been pestering me all morning about a table, I practically steal one from other people standing around JUST FOR YOU, I ensure your order gets placed super quick, I bring you several rounds of drinks as soon as you ask for them... Then you compliment me and leave me $2?!!
I shake it off, go back to their table (they are all still there), and start bussing it, ready for the next hovering group.
The three friends waddle off, and OG is still sitting, watching a game on TV.
OG - "Thank you again, you were great."
And this is when it all just slipped out. I didn't plan it, I didn't intend to say it, but my mouth just went rogue and out it came.
Me - Were you unhappy with your service?
Me- You said I did great several times, I'm just wondering if you were unhappy with your service.
OG - Didn't I give you $80?
Me - No, sir, you gave me $60.
OG gets wide-eyed, and a panicked look appears on his face.
OG - Oh my god, I'm so sorry, I thought I gave you $80.
He pulls out his wallet, counts his cash to be sure and pulls out another $20.
OG - You're completely right, I miscounted. I'm so sorry.
At this point I felt like an asshole. So what did I do? I apologized to him.
Me - I'm sorry, I felt like I made your table my priority as you were in a rush, and the $2 tip just really struck a nerve so I wanted to know if I did something wrong.
At this point, his 3 friends come back and overhear what is going on.
Friend #2 - You only tipped her $2?!
Friend #1 - She was great, you better fix that!
OG - It was an honest mistake, I sincerely apologize.
Me - No, I apologize. I shouldn't have said anything. I feel like a bit of a jerk now.
OG laughed and told me not to worry, I had every right to confront him, and he appreciated that I did.
They left, I pocketed the $20, and went back to zooming around the restaurant.
While I still feel bad about blatantly being like "what's with the shitty tip?," I'm still glad I did ask. Yes, some people tip badly on purpose, but that day was proof that sometimes bad tips are mistakes.
Do I confront everyone that stiffs me? No. But him giving me multiple compliments left me frustrated and confused.
All in all, the one time I called a customer out, it ended well. Will I do it again? Probably not, unless they shower me with compliments.
TL;DR - I confronted a customer about a shitty tip, didn't get in trouble, and he corrected his mistake.
Sometimes, it's worth opening your mouth and if you can't, then just hope a group of kind teens are there to right their wrong.