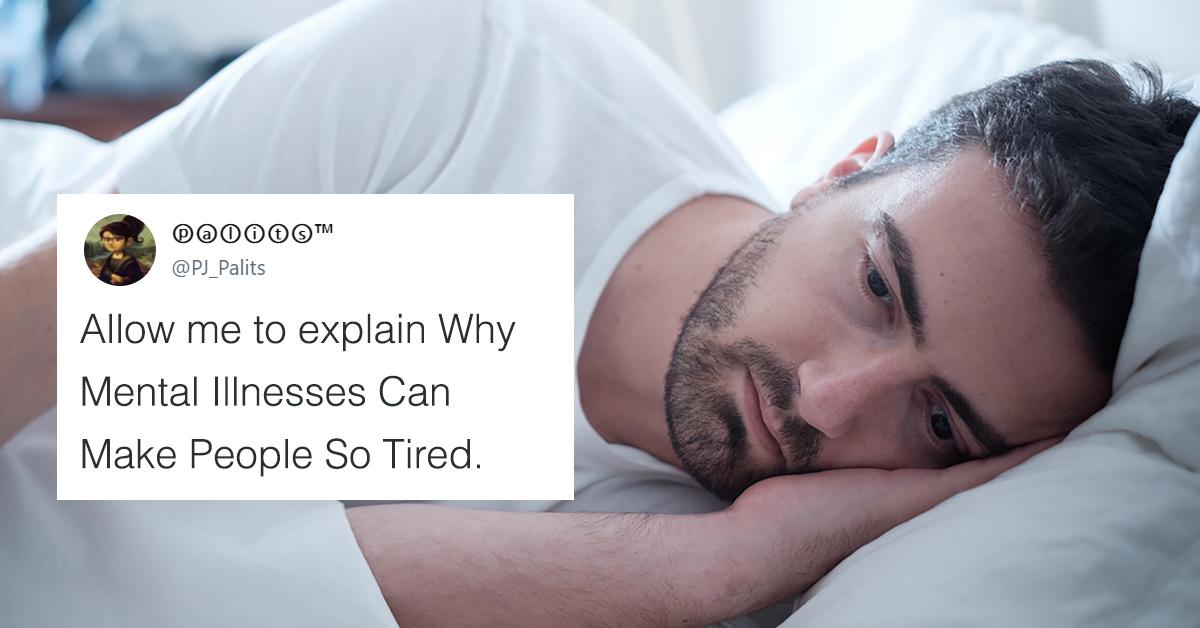 Mental Health Advocate Explains Why Depression Makes People So Tired
By Mark Pygas
One thing you'll often hear time and again from those battling mental illness is that they're tired. And to may people, that may not make sense. So Twitter user PJ Palits, an art director and mental health advocate, recently decided to take to social media to explain why mental illness makes people so tired.
They begin, "Allow me to explain Why Mental Illnesses Can Make People So Tired. Chances are, if you know someone with a mental disorder or disability, you might have asked them or thought, 'Why are you tired?'" Ok, we're listening. Definitely true, totally following.
"Not many people ask me if I'm OK, but when they do my answer is always the same 'I'm fine, just tired' — and people seem to accept that reply. For me, 'I'm tired' is not a complaint or pessimistic. It's merely a fact of life," they continued before adding: "Allow me to explain why a person who is constantly battling their own brain and societal expectations may feel so drained. These are ppl whose brains are stuck in overdrive and have a great amount of difficulty unwinding to fall asleep at night."
Palits explained how the sleeping schedule of a person with mental illness differentiates from that of the "average" person.
"For the 'average' person, it takes seven minutes to fall asleep.
Imagine crawling into bed exhausted and it takes the average of an hour to fall asleep, instead of seven minutes. Every nap and bathroom break and the brain relaxation delay begins again," they wrote.
Palits goes on to make some comparisons.
Palits provides some advice on how to help someone going through all of this.
The thread seemed to attract a very positive response from social media users.
Did this help you understand?