In Brussels, there's a small bronze statue called Manneken Pee, which translates to "Little Man Pee." Aw. If you haven't guessed, it's of a tiny peeing boy, and yes it's also a fountain. The statue was originally designed by Hiëronymus Duquesnoy the Elder, and put in place in the early 1600s. Though that was a long time ago, I bet it was funny for the same reasons then as it is now.
There is also a version of Manneken Pis in Tokyo as well, in the Hamamatsuchō Station. That Manneken Pis has its own local flavor; specifically, the locals like to dress sit up in little costumes for it to Pis out of.
There are all sorts of hot looks featured, generally seasonal and occasionally celebrating a holiday.
I'm guessing this is summer?
But he also has a general winter ensemble—and is not above a little advertising:
This is extremely stylish and involves props:
This is very "The Little Prince."
This is more of a Relaxed and At Home feel:
Here we see Manneken Pis as a regular Tokyo station worker and also as someone who has over prepared for rain, though they're the only one making water:
But he really does have clothes for everything!
EVERYTHING.
Do you even have so much versatility in your own walk-in closet? I can't achieve this many clothing options even if I combine the wardrobes of my SO, sister, and children. I mean, look at these! Some of them are costumey, some are totally read-to-wear, and he's always able to pee in them, no matter what.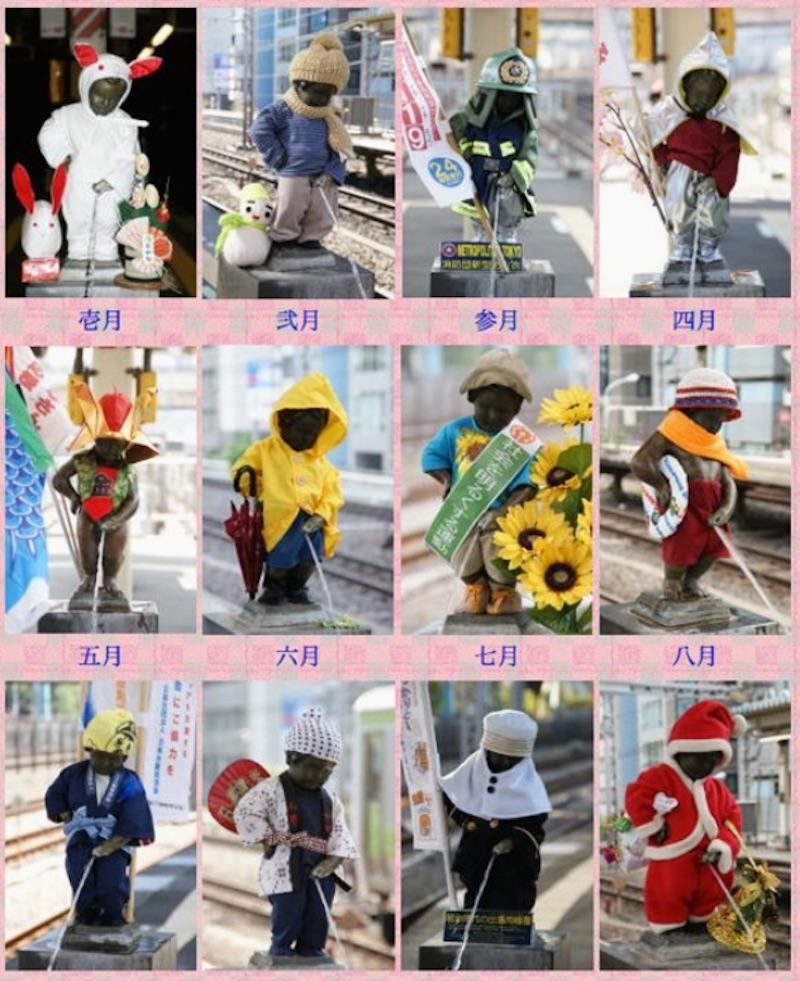 But this is still more inspirational than the runway. Which Little Man Pee will you be wearing this weekend?