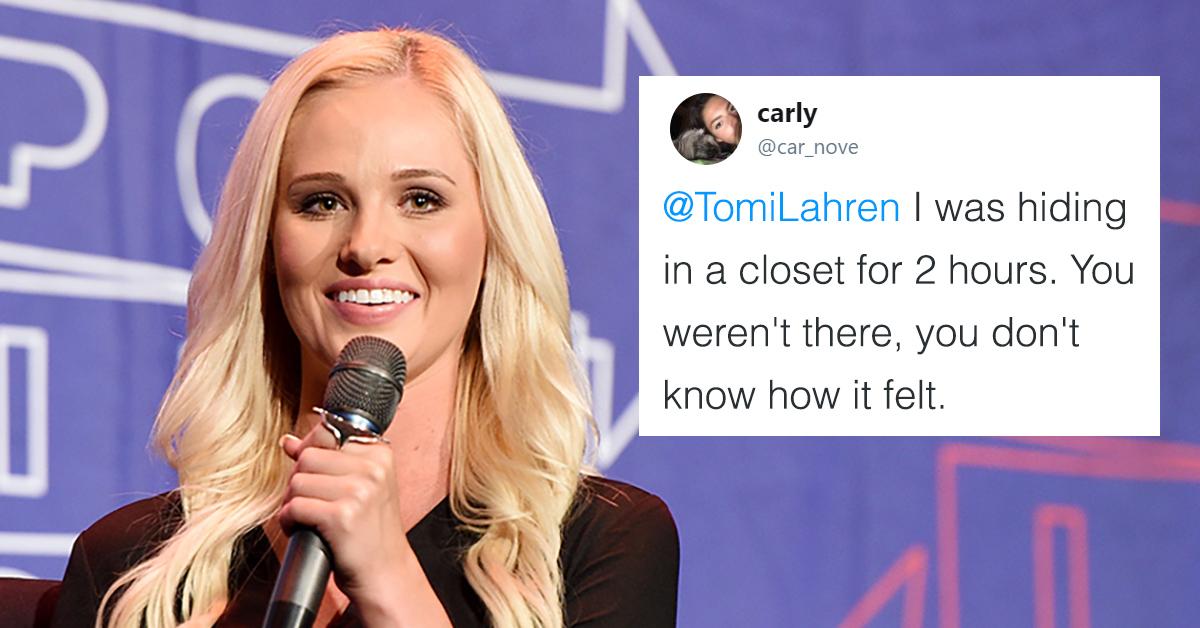 Tomi Lahren Shut Down On Twitter By Florida Shooting Survivor
By Mark Pygas
On Wednesday, a former student of Marjory Stoneman Douglas High School in Parkland, Florida, shot 17 people dead and injured 14 more in the deadliest U.S. school shooting since Sandy Hook.
The accused 19-year-old, who was apprehended after apparently fleeing the scene, reportedly commented on a YouTube video last year that he would be a professional "school shooter." The FBI was made aware of the comment at the time. The teenager was also a concern to school staff, and had been banned from carrying a backpack while on the campus.
In the hours since, social media has, as usual, been a platform for gun reform debate. Especially since the shooting came just short of a year after President Trump rescinded an Obama-era rule aimed at blocking gun sales to certain mentally ill people.
In an address to the nation during the aftermath, President Donald Trump said he would discuss policies to make schools safer during a meeting with U.S. governors and attorneys general later this month. He added that "it's not enough to take actions that make us feel like we are making a difference -- we must make that difference."
Fox News contributor Tomi Lahren appears to be one of those opposing stricter gun laws, accusing the left of politicizing the shooting.
Carly also responded to a tweet by President Donald Trump, in which he offered his "prayers and condolences."
She also thanked first responders.
Carly also went on to claim that her grandfather, Charles Cohen, had also hidden in a closest when he was twelve years old during the first mass shooting in U.S. history. In 1949, Howard Barton Unruh killed 13 people in a rampage around his neighborhood. Unruh was found to be criminally insane and died in 2009.
Carly told the Huffington Post that Cohen was in a his house with his grandmother, mother, and father in a Camden, New Jersey, when the shooting occurred. Three members of the Cohen family were among those killed.
"His mom told him to hide in the closet while they stayed in the room. My grandpa heard everything and after that he lived with his cousin until he went to military school I believe. He never really talked about what happened and I didn't find out until after he died. But family was so incredibly important to him because of what happened. He wasn't as lucky as me."
Carly said of her own experience:
"I just wanted to stay safe and keep everyone safe. When I got out, I was just hoping to see my mom and hug her because I couldn't even imagine how scared she was."
Other students were also quick to respond.
While others responded to President Donald Trump.
Other social media users were also quick to criticize Lahren.
Many parents and students have also taken to social media to share heartbreaking text messages they exchanged during the shooting.
Thankfully in this case, the two were reunited.
What do you think of Lahren's tweet and the response?