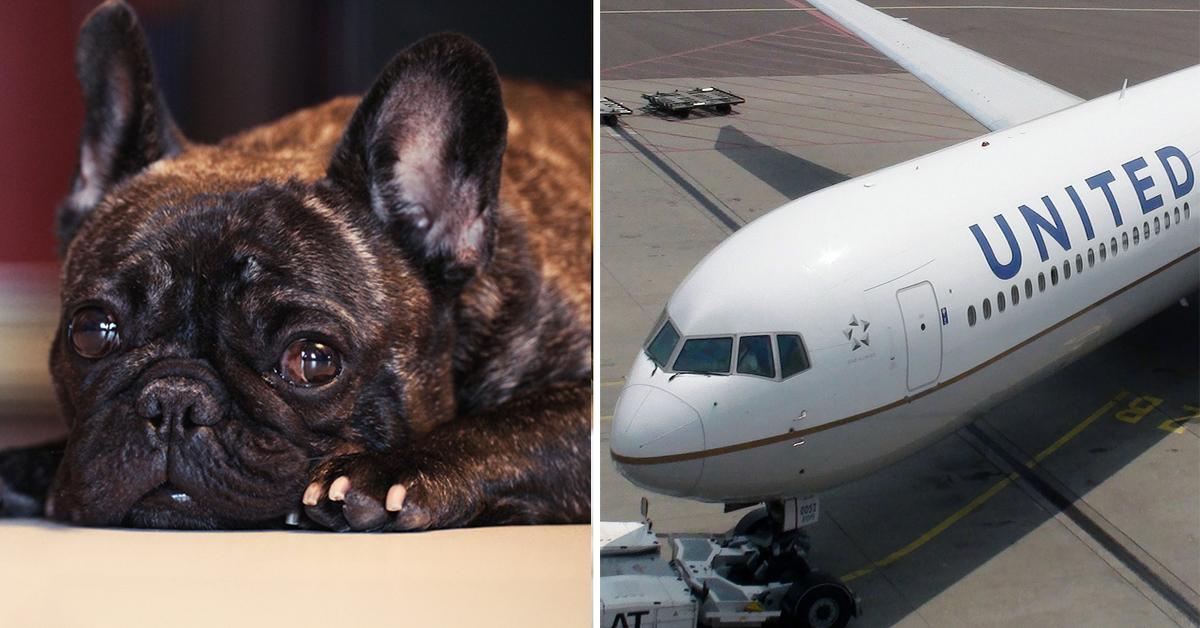 Puppy Dies On United Flight After Flight Attendant Stores It In Overhead Bin
By Mark Pygas
It's been just under a year since United Airlines made headlines when a doctor was forcefully removed from a United Airlines Flight from Chicago to Louisville after the airline overbooked. Distributing video recorded by other passengers showed Dr. David Dao of Louisville being pulled from his seat by several airport police officers. He suffered a broken nose, lost several teeth and a concussion in the incident.
And now, United Airlines is making headlines again after a flight attendant insisted that a 10-month-old bulldog puppy, in a kennel, be stored in an overhead bin on a flight from Houston to New York. The dog had died due to suffocation by the time the plane landed in LaGuardia, according to the Boston Globe.
The dog's owners, Catalina Castano, told Buzzfeed News that she had been travelling with her 11-year-old daughter, and 2-month-old son after visiting their father and husband, Brayan. The 10-month-old bulldog puppy Kokito was in a pet carrier and she had initially placed the dog under the seat in front of her.
"My wife repeatedly asked her to let her keep the dog by her feet," Brayan Castano said. "She then asked her if the dog would be OK. The flight attendant wouldn't let her keep Kokito by her feet and assured her that he would be fine. Witnesses can attest to that."
The family edited the caption of this photo of Kokito uploaded to an Instagram account dedicated to the dog in January following the incident. "RIP little Kokito," the caption reads. "You'll get to see your people again one day at the rainbow bridge. What happened to you was truly terrible. "
A fellow passenger, Maggie Gremminger, took to Twitter to share a photo of the woman and daughter after landing in LaGuardia, along with her version of events.
Gremminger claims that the attendant pushed the woman to place the dog in the overhead storage area, against the woman's wishes to place the dog under her seat.
Another passenger, June Lara, said on Facebook that many suspected the worse when there was no sound as the plane landed.
"There was no sound as we landed and opened his kennel. There was no movement as his family called his name. I held her baby as the mother attempted to resuscitate their 10 month old puppy."
"I assumed there must be ventilation [in the overhead bin] as surely the flight attendant wouldn't have instructed this otherwise. I heard the dog barking a little and we didn't know it was a cry for help."
In a statement, a United Airlines spokesperson confirmed the incident and said that the company is taking full responsibility.
"We assume full responsibility for this tragedy and express our deepest condolences to the family and are committed to supporting them," United said. "We are thoroughly investigating what occurred to prevent this from ever happening again."
In 2017, United Airlines apologized after a dog died in the cargo hold during a flight from Houston to San Francisco. Lulu, a five-year-old King Charles spaniel, was in the cargo hold while the plane was delayed for two hours.
The airline was also sued by a group of Iowa businessmen when Simon, a giant rabbit, died aboard a flight from London to Chicago. The lawsuit revolved around United's poor record when it comes to transporting animals.
Unsurprisingly, social media has been abuzz after the latest news.
What do you think of United's record?