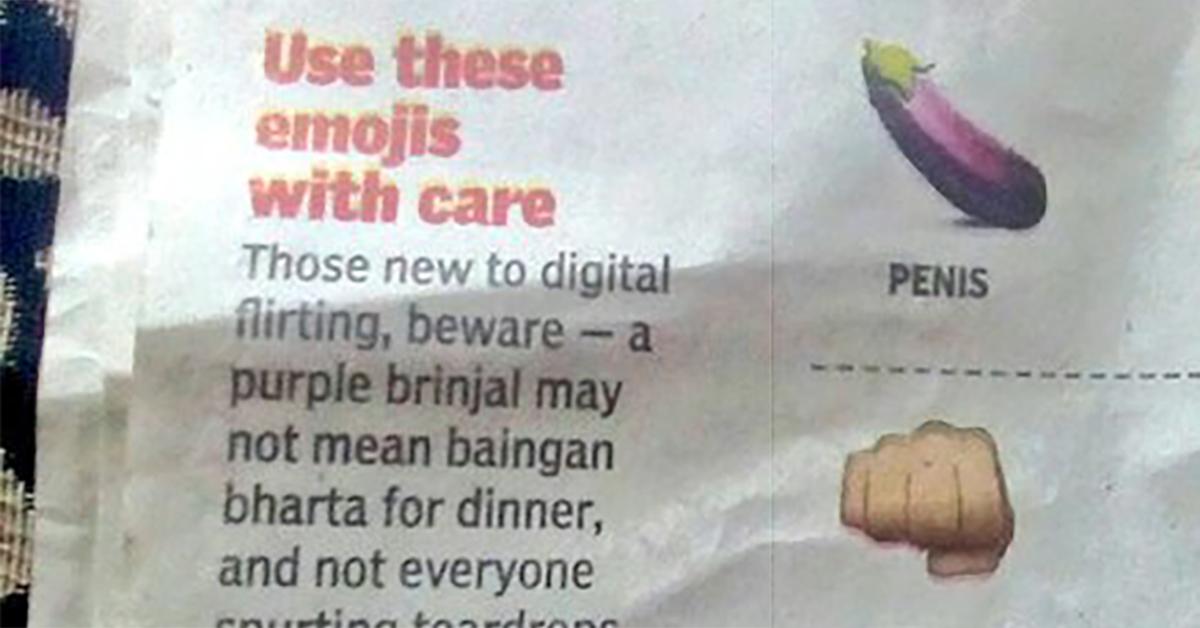 This Newspaper's Attempt At Explaining Emojis Has Everyone In Tears
By Mark Pygas

Updated
Emojis have revolutionized the way that humans communicate. We've gone from communicating with hieroglyphics to advanced languages and back again. But just a decade ago, emojis were made up of colons and lowercase letters. 
Understandably, it can be difficult for people to keep up with the hip new lingo. And so, some newspapers and local news channels have taken to explaining to parents exactly what their kids mean when they send their friend an eggplant emoji. 
One of the latest publications to take a stab is The Times of India, with Twitter user @SuzyJeons taking to the platform to share their column on using "emojis with care."
"Those new to digital flirting, beware - a purple brinjal [eggplant] may not mean baingan bharta for dinner, and not everyone squirting teardrops is sad."
Emojis will never be the same again. But this isn't the only attempt that people have made at decoding emojis. Seattle's Q13 Fox News program went viral in 2017 with their attempt...
Parents are seemingly having a tough time with them too. No one knows if it's because of the article, but there does seem to be a lot of misinformation spreading somehow. Who is teaching their parents?! You're doing it all wrong.
I mean, one person thinks their dad was wrongly taught the facepalm emoji. Although I kind of understand what the dad means here, emoji and all.
This dental office seems to think that the poop emoji is toothpaste. Good god. 
Walmart, stop. I don't know when the brand decided it would be funny to incorporate emoji in their signage, but it's not endearing to millennials — or anyone else, really.
It's not ice cream either.
Others were just as amused by this latest attempt. 
PLEASE DON'T TAG THEM AHSVNANS

— ni**i loves jeongguk alot (@suzyjeons) March 20, 2018
Don't know sjhdbs

— ni**i loves jeongguk alot (@suzyjeons) March 18, 2018
No one gets the camel one.
Someone said cause of humping

— ni**i loves jeongguk alot (@suzyjeons) March 18, 2018