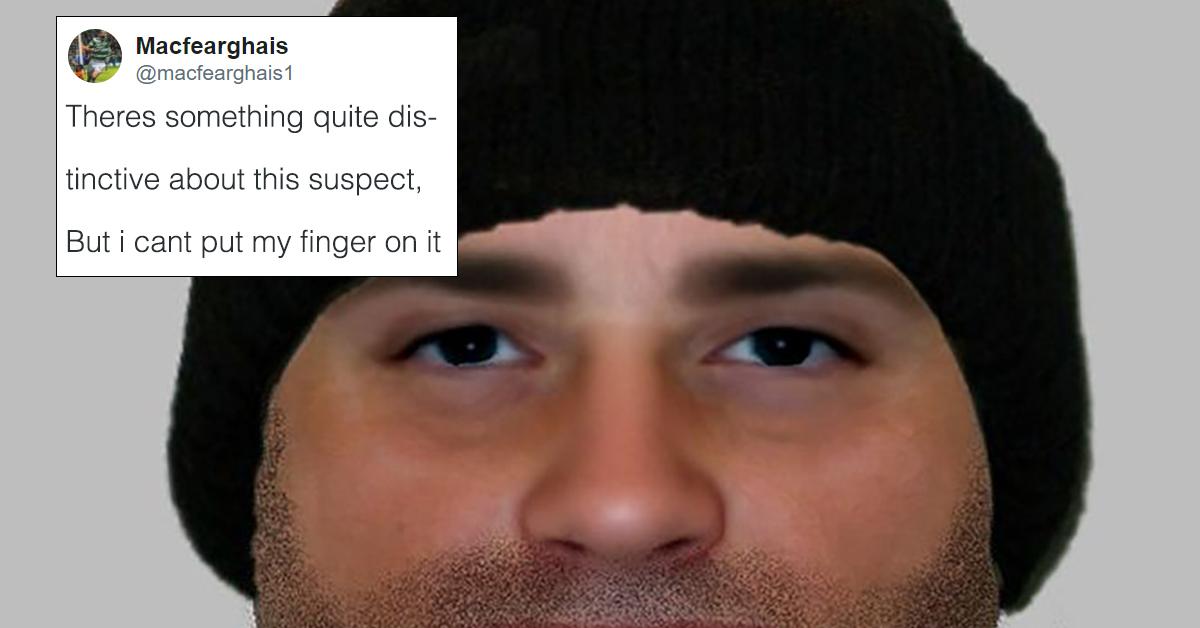 Police Released A Terrible Sketch Of A Suspect And People Are In Tears
By Mark Pygas

Updated
Police sketches aren't known for being the most accurate images of crime suspects. According to Charlie Frowd, a British psychologist at the University of Central Lancashire, composite photos drawn by trained artists only produce an accurate likeness of the suspect around 9 percent of the time. For computer generated images, that number is even lower, at 5 percent. 
And just in case you need proof, a composite by police in Warwickshire in the United Kingdom is going viral for exactly the reason mentioned above. They're looking for two men who posed as employees from the Orbit housing association in order to trick their way into a woman's apartment. One of the men distracted the woman while the other stole cash before the woman realized what was going on and told them to leave while she called the police. 
According to the woman, who described this man at length, here is what the suspect allegedly looked like:
Unsurprisingly, social media users assumed this was some kind of delayed April Fools prank. After the photo went viral, Warwickshire Police took to Twitter to confirm that — as absurd and hilarious and downright terrible as this sketch was, as far as criminal investigations are concerned — they were indeed looking for the man. 
A description of the incident from the Warwickshire Police website reads: 
"At between 2.00pm and 2.36pm on 5 February 2018, two men claiming to be from Orbit Housing tricked their way into a flat in Hertford Place. One of the men distracted the occupant - a woman in her 40s - while the other man searched the property."
"When the victim realised what they were doing she ordered them to leave. The men left with a quantity of cash." 
Police worked with the woman to create an E-FIT (Electronic Facial Identification Technique) computer render one of the burglar's face.   
And you can just imagine the kind of field day the internet had upon seeing such a hilariously unrealistic sketch. They laughed, they cried, they started making free associations. 
In fact, according to Twitter, users think they know who the man is...
I actually think he looks like my second-cousin, one I spent a lot of time with hanging out and laughing (duh, look at that mouth) with in my childhood years.
Other users were just baffled. 
Some attempted to aid the police. 
His teeth certainly are

— Surgical Scalpel 🦆 (@HarryPacker1) April 4, 2018
Hopefully he doesn't bite anyone.