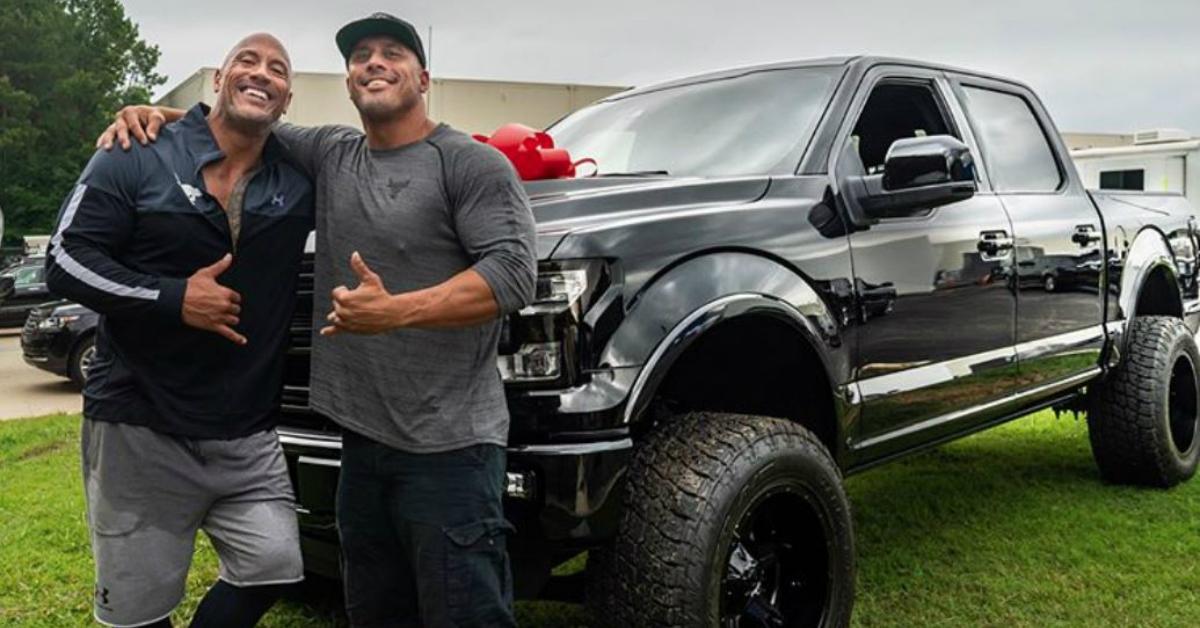 The Rock's Muscles Aren't the Only Rock-Solid Thing About Him
We all know that The Rock can rock a mean turtleneck, and we also know that he's the hardest working man in Hollywood.
Article continues below advertisement
Couple that with the fact that he's a positively ginormous individual who never misses a scheduled workout and has insane mic skills and just oozes personality, and you have a recipe for self-defined success.
But all of the above-mentioned traits are the only reasons people love The People's Champ - Dwayne Johnson is also known for his big, big heart.
Article continues below advertisement
There are tons of instance where The Rock went above and beyond the call of duty in order to make people feel appreciated, like when he ambushed his longtime stuntman and equally large cousin, Tonoai Reed with a surprise gift.
Article continues below advertisement
He caught the guy's reaction on Instagram, the super-kind gesture brought his hulking kinsman to tears and you can see the joy in Dwayne's voice as he takes in just how grateful his cousin was for the gift.
Article continues below advertisement
In a video the Rock posted to his Instagram page, he tricked his cousin into thinking that they were going on camera to talk about their careers together.
Article continues below advertisement
The Rock wrote all about the set-up in an emotional post.
SURPRISE! I love handing over keys🔑🎁
I love you brother and enjoy your new truck!
Over the course of my career, my stunt double (and cousin) Tanoai Reed @samoanstuntman has broken multiple bones, severed tendons, torn ligaments & just been an overall dominating bad ass achieving several "Stuntman of the Year" honors.
All done with one goal in mind - deliver the best movie possible to the world.
I had this custom pick up truck delivered just in time to surprise him (he's still recovering from a stunt injury) while we give what he thought was going to be an interview about our careers together.
As you'll see the moment I put my hands on my hips, that's the drivers cue to pull away and reveal the big surprise.
Not only does Tanoai represent our family and my career with relentless commitment and passion. He also represents an entire Hollywood stunt community that is truly the backbone of our business.
Love you uso and thank you for the blood, sweat, tears and years.
We're just getting started.
Enjoy your new truck!
#LetsRoll 🤟🏾
Article continues below advertisement
The video quickly went viral, because seeing The world's hottest action star and the multiple Stuntman of the Year award winner sharing an emotional moment is pretty darn awesome. You can watch the whole thing below:
Article continues below advertisement
This was one of many charitable acts that the purveyor of The People's Eyebrow carried out. While filming Baywatch, The Rock held filming so he could visit a Savannah, Georgia children's hospital and surprise the children in the Pediatric Specialty Ward.
Article continues below advertisement
The Rock wrote on his Instagram:
Article continues below advertisement
I surprised the children at Savannah's Pediatric Specialty Ward aaaaand look at the concentration on lil' Aiden's face!👍🏾. We shot #BAYWATCHscenes at Memorial Health Hospital and thought I'd pop up to the ward. Awesome experience and THANK YOU to all the hard working and caring staff who helped make this visit possible. To all the kids I met - you guys keep smiling and staying strong. All the mamas and daddy's I met, y'all stay strong too.
Gotta tell ya little stuff like this will always be the best part of fame.
Parts of Memorial Health Hospital were used to film scenes of the R-Rated comedy, and when The Rock heard that there was an older fan of his in a room not in the pediatric ward, that's when he called an "audible" and held filming to spend some time with a fan who needed some cheering up.
Article continues below advertisement
This is what he had to say about his meeting with Christopher:
Article continues below advertisement
So I called an audible and went to visit Christopher. Glad we did... While I was visiting the Pediatric Specialty Ward surprising the kids, I got word from my team that there was a mom who was pleading with our production staff, that I go upstairs to her son's room to give him a much needed big surprise. Since he's older he's in the main hospital and not in pediatric care.
We were shooting #BAYWATCH scenes outside of the hospital, but instead of heading back to shoot I called the audible, put production on hold and went upstairs to see this young man.

I walked in and his smile lit up the room! And I mean lit that room up!;) We talked for a while about his family, his school and how hard he's working to eventually graduate AND we talked about how COOL all his scars are from his multiple surgeries - from his head to his chest - those scars are badges of honor and the reminder of how beyond tough this kid is.

Right before I left his mom looked at him and said, "Christopher I can't give you anything, but I'm so happy I could give you this today..." and she started to breakdown, which was captured in this pic.

Made me think to give so much credit to these parents who would do anything to take their kid's pain away and ANYTHING to bring a smile to their faces. As a papa bear I understand.

Glad this mom brought a smile to Christopher's face. And glad I got a chance to shake the hand of this very strong and inspiring young man.

Stay strong Christopher and show them scars with pride. You're the man! ~ DJ
Cheering people up in the hospital has almost become the actor's trademark. When Dwayne discovered that there was a grandma who was kept company in the hospital by a cardboard cut-out of The Rock, he, like the rest of the internet, was tickled pink.
Article continues below advertisement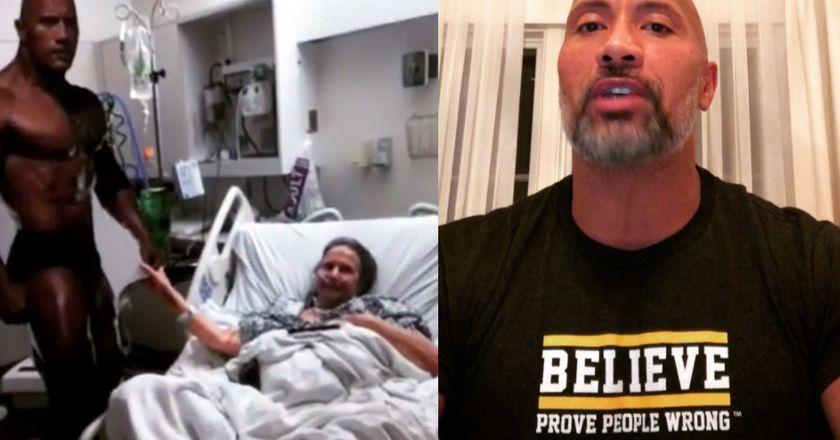 Although he couldn't meet Judy personally, he sent her a hilarious and downright thoughtful video encouraging her to get better.
Article continues below advertisement
The Rock's also a part of 12 different charities and 13 causes, in addition to all of the other kind of personal, random acts of kindness he does. Here's just a quick rundown of some of the charities he's done work for: Beacon Experience, Boot Campaign, I Have a Dream Foundation, Rush Philanthropic Arts Foundation, Until There's A Cure, Kids Wish Network, Make-A-Wish Foundation, Make The Difference Network, Red Cross, Parkinson Society Maritime Region, Starlight Children's Foundation, and, of course, his own charity: Dwayne Johnson Rock Foundation.
Article continues below advertisement