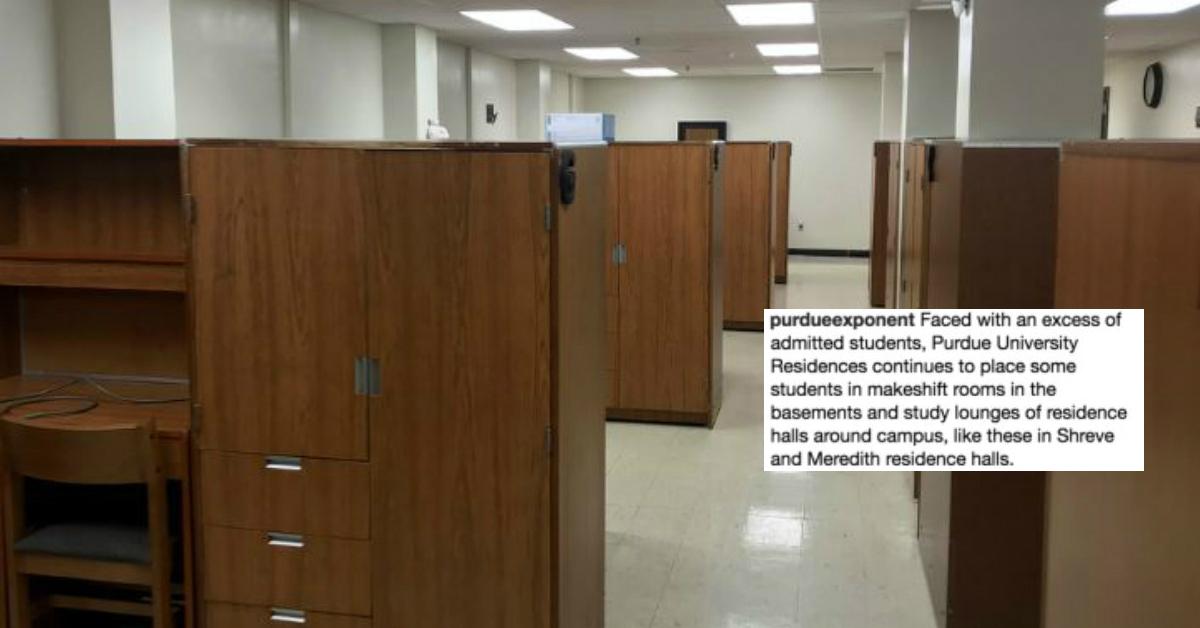 This University's "Temp" Dorms Are Horrifying People Because They're so Cramped
By Mustafa Gatollari
Dorming in the U.S. usually sucks, especially when you're a freshman. From dorm lotteries at over-enrolled schools that leave students to the mercy of a system that decides whether they'll live in an actual building or a trailer, to the ridiculously high-costs and cramped living spaces, I don't know why anyone would opt for not just renting out an apartment near their university, if it's available.
Again, I say usually here, there are some areas where university housing is comparatively cheap and much more convenient, especially if you're taking classes across a huge, sprawling campus. But if you're going to school in a congested area where real estate is a pricey commodity, then you can only imagine the kind of dorms you'll be forced to live in.
And even though everyone pretty much knows that freshmen are supposed to deal with sloppy seconds and less-than-ideal living situations, these thrown-together dorms at Purdue University are still upsetting a lot of people online.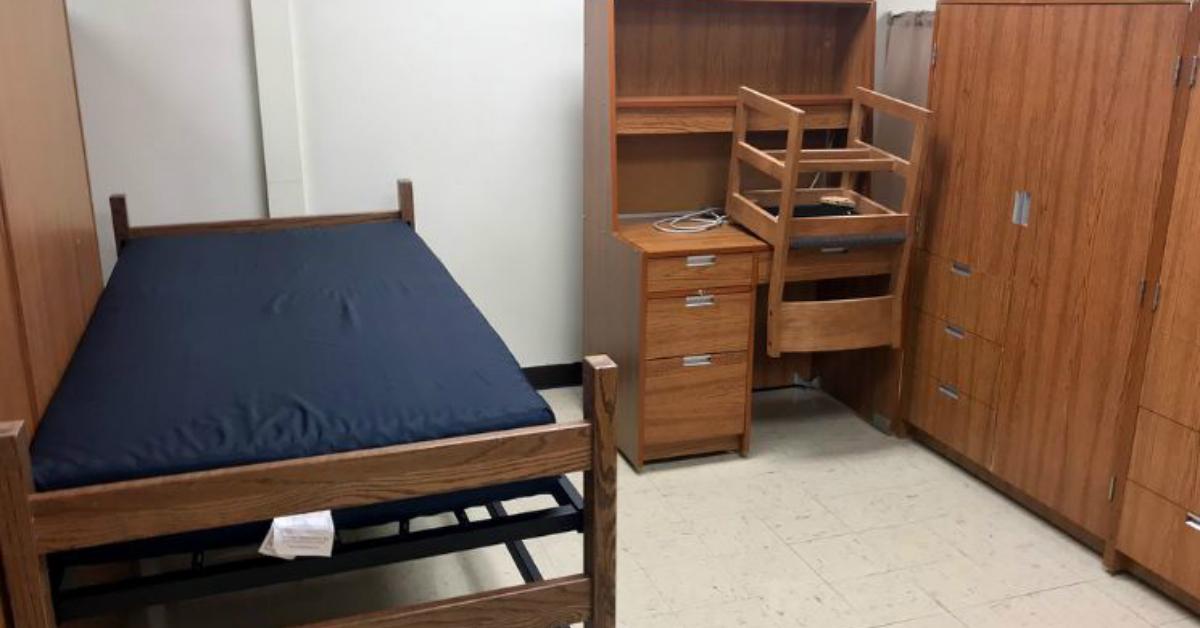 The school's newspaper, The Purdue Exponent, is showcasing some of the conditions students are forced to live in on campus, and calling them cramped would be an understatement.
Mostly because "cramped" intones that you're actually in a tight room, which you're maybe sharing with another person. But these "rooms" don't look like standard living spaces. They look like empty classrooms that had a bunch of furniture tossed into them, giving students zero privacy.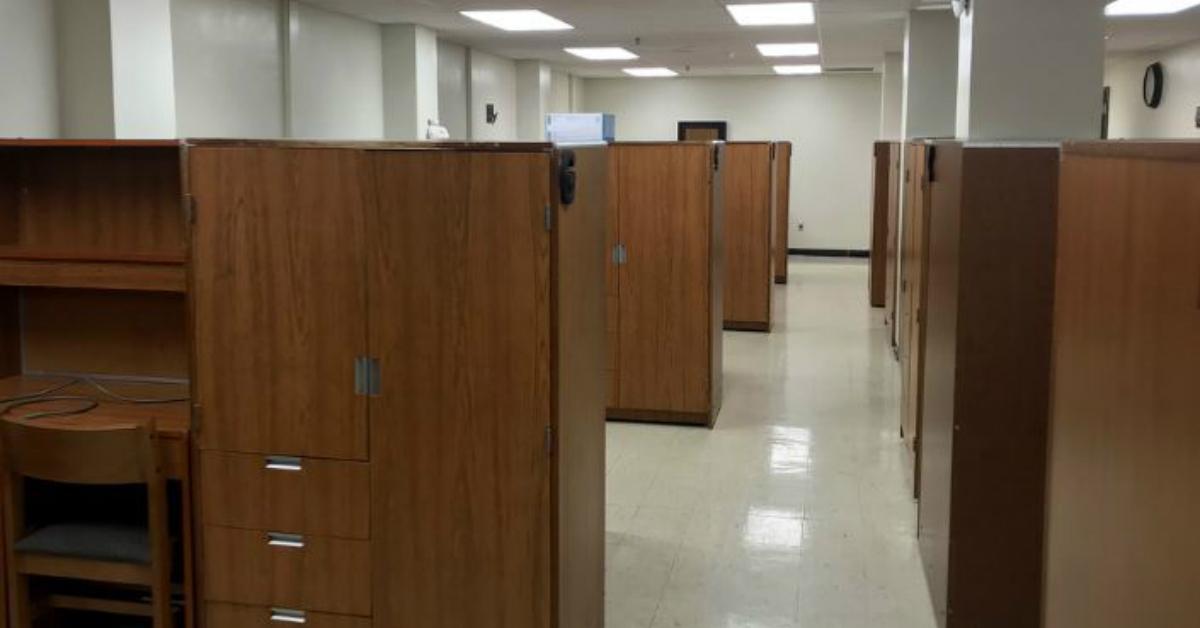 Eight to ten students are expected to live in this re-purposed office space, and the cost of dorming for a year costs no less than $10,030. If you're staying in this temporary space, you obviously don't have access to your own bathroom or shower, and worse yet, you'll have to hear that one person blast Despacito from their phone incessantly while you try to study. Yikes.
Purdue's Vice Provost for Student Life, Beth McCuskey, said in an interview with BuzzFeed that the university saw about five times the amount of students than they had anticipated attending this year, which prompted them to set up "auxiliary" housing situations like this one.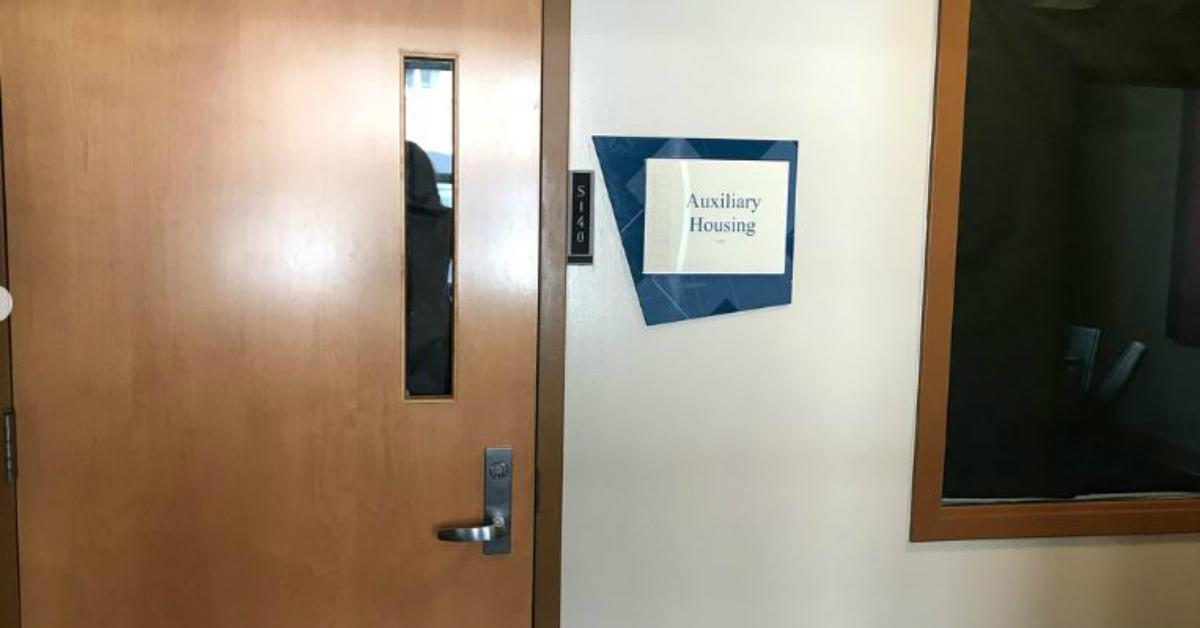 "Every year we arrange for temporary spaces and typically have 100 spaces that are used," McCuskey said.
She went on to say that every year there are students who say they'll commit to attending the university, but end up as no-shows.
McCuskey went on to say that as the year progresses, more living spaces open up, so students who are staying in the cramped offices temporary dorms can move into the ones that free up. Similarly, those who are unhappy with the temporary living spaces are able to move off-campus or wherever else at any time.
A quick Craigslist search of places within a ten mile radius of Purdue reveals some way better housing options than whatever the university's offering for $10k+ a year: I'm talking single-bedroom homes for $670 a month, and some units even cheaper than that.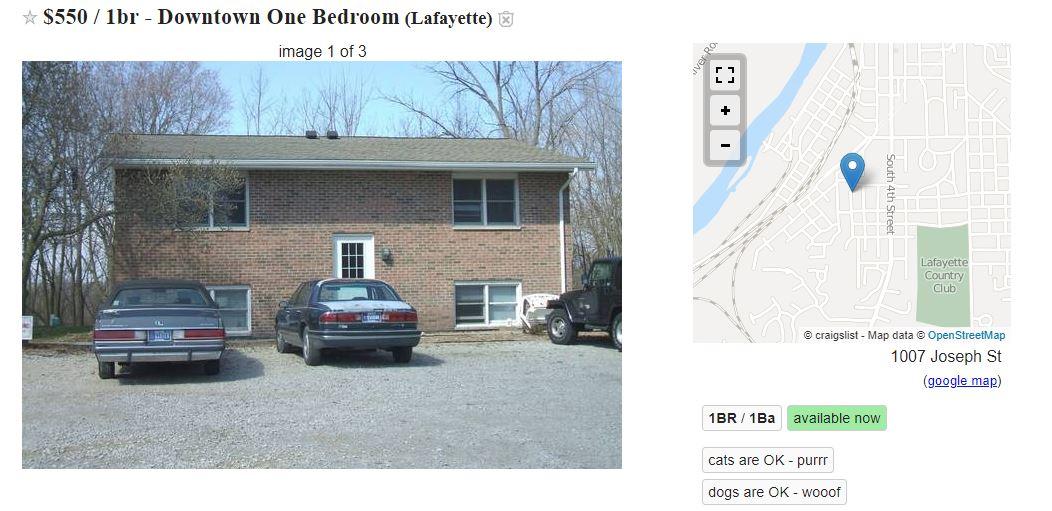 Purdue University went on to saying that the auxiliary housing situation that was uploaded to the school newspaper's Instagram account isn't currently being occupied, but that there are similar living situations on campus that are in use.
Purdue graduate Danielle Render shared the photos online to bring awareness to the growing problem of universities over-accepting students and not being able to appropriately accommodate them.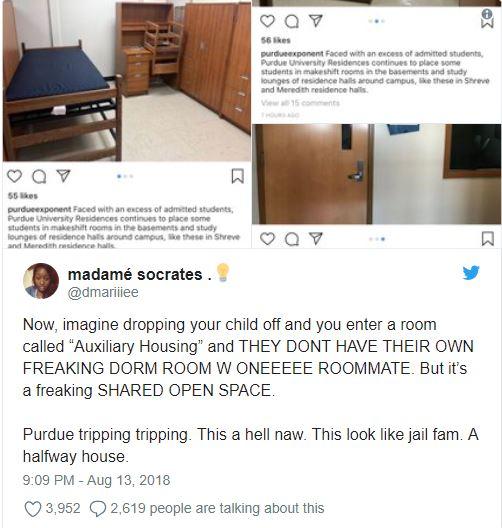 She went so far as to call the dorms "halfway houses" and say that they look like "jails," but Purdue University isn't the only school in America that does this. There are campuses all across the nation suffering from the same issue.
"Universities all over are placing students in situations which seem to be based on greed over the student's experience," Render said.
There are others who are agreeing with Danielle and head-nodding to her sentiments.


There were others who likened the living situation to something out of Orange is the New Black. Honestly, I can't say that they're wrong. Of course, without all the drugs and violence. Well, maybe just the violence.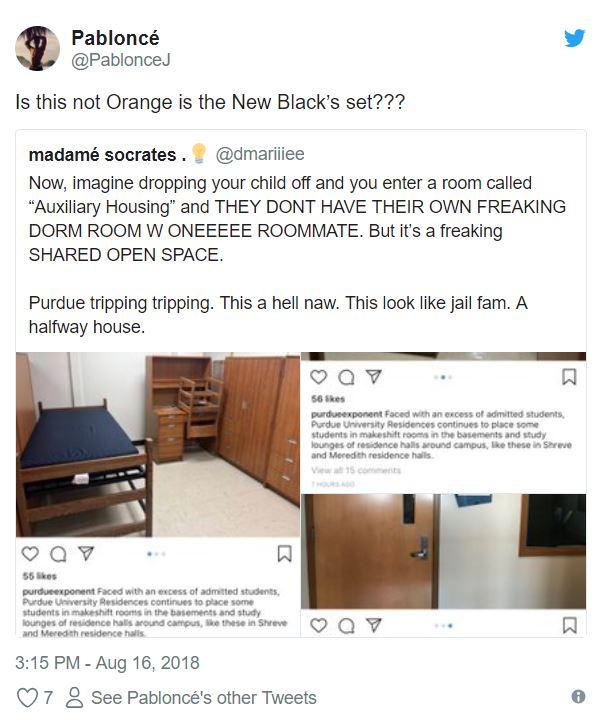 Others were calling it a "dystopian hellscape," which, let's be honest, can be said of most of our freshman college experiences. However, it's made even worse when you have to share an office living quarter with nine other people. Yuck.

McCuskey said that the auxiliary dorm photos that the Purdue Exponent uploaded don't reflect what the other dorms look like, but she didn't provide those other photos to BuzzFeed after the outlet requested them.

"Our students are currently participating in orientation activities and we haven't been able to connect with them to see if they're amenable for a photo op of their space. We will continue to try to make this happen."
While typical room and board at Purdue costs $10,030 a year, the auxiliary living room spaces cost $1,200 a semester. So if you don't mind living like a prisoner, it's actually a pretty good deal. Or, you know, you could get rent a 3-bedroom house off campus and pay around the same amount of money to enjoy perks such as a door.

McCuskey went on to say that temporary housing is a basically an unavoidable issue based on the current university enrollment structure.
"While it's not ideal ... it's pretty typical to have some model of temporary housing. People won't show up. You want to give [other] people the opportunity to live on campus."
Just another reason why I'm so happy I never dormed.