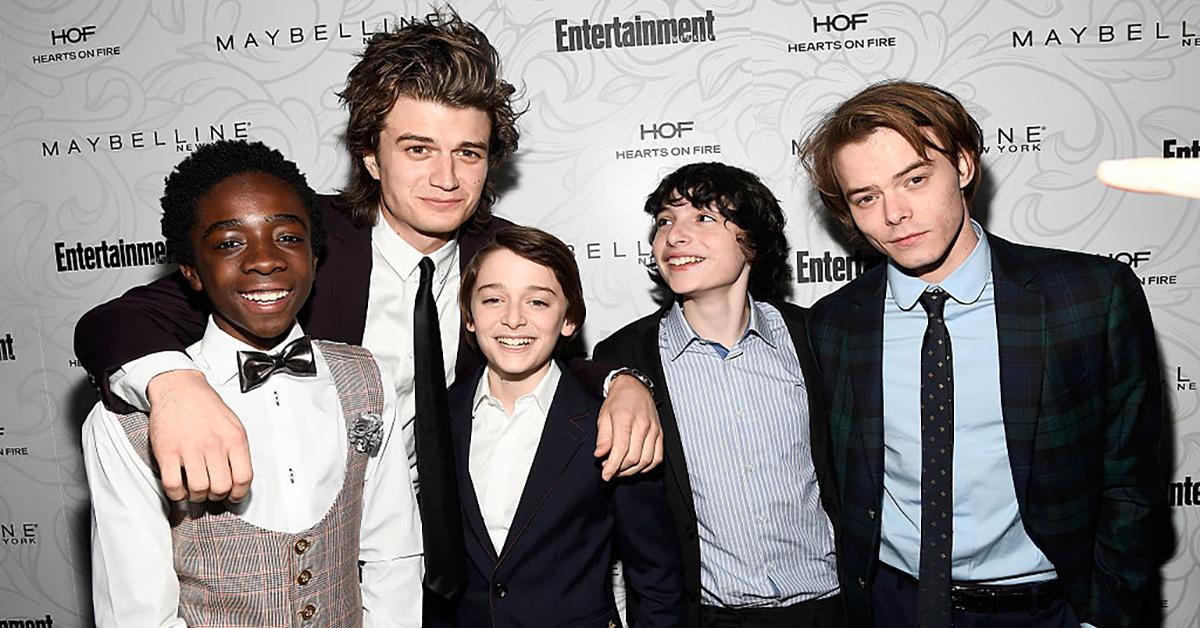 Actress Slams 'Stranger Things' Star For Being Cast in Disabled Role
By Mustafa Gatollari

Updated
The need for diversity in casting has been a longtime battle for people who work in the entertainment industry. Whether it's finding performers from different ethnic and sexual backgrounds to fit specific roles, or finding actors with disabilities to represent disabled people on camera, there have been more and more people vocalizing their desire to see broader representation in film and television.
Something that EastEnders actress Lisa Hammond says the BBC failed to accomplish when it didn't cast a disabled performer for its adaptation of The Elephant Man.
24-year-old Charlie Heaton of Stranger Things fame will take on the role of Joseph Merrick, a man who was born with physical disfigurements on his face and body, and was exploited in the Victorian Era as a sort of sensationalized circus attraction.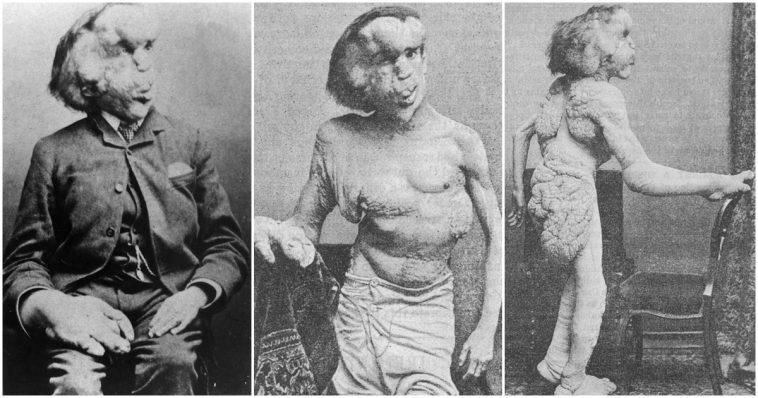 Lisa shared her displeasure of Charlie's casting in the role, stating that it was not right for the BBC to restrict disabled actors from telling the stories of a "real disabled man."
In a series of tweets, she explained why the casting was problematic and why she wished a disabled actor with a similar story had been asked to play the lead role in the BBC program.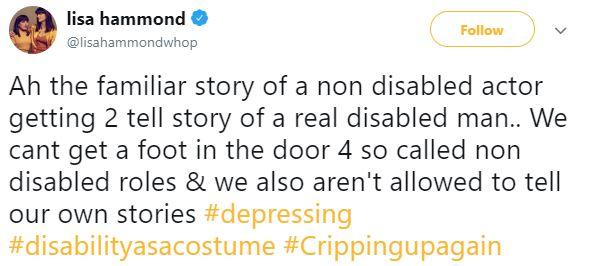 Some Twitter users responded to Hammond's tweet by saying that perhaps Heaton was cast for the role because producers couldn't find a disabled actor who was well-suited for the part.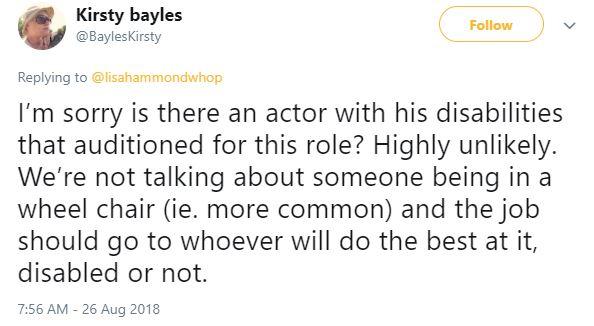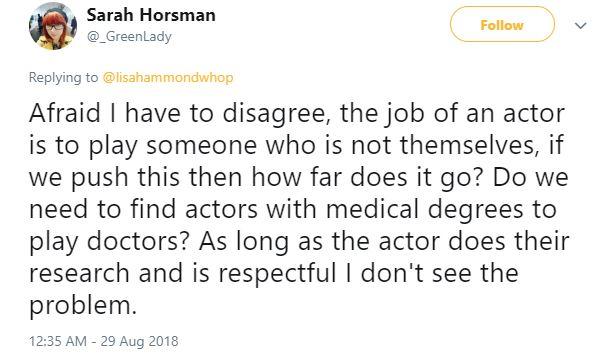 Some said that whether or not the actor was disabled shouldn't matter, specifically because the Elephant Man's condition was such a unique one that it would be difficult to cast someone who has it in the role.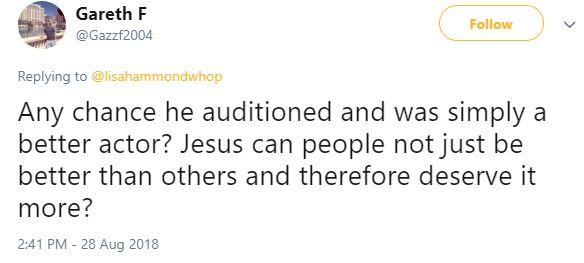 Others simply stated that Heaton may have gotten the role because his audition for the part was the strongest out of the actors selected to interview for Joseph Merrick. Some users thought that the "slippery slope" mentality of only casting actors who "directly" fit roles will prevent fantastic actors from thriving in potentially iconic parts.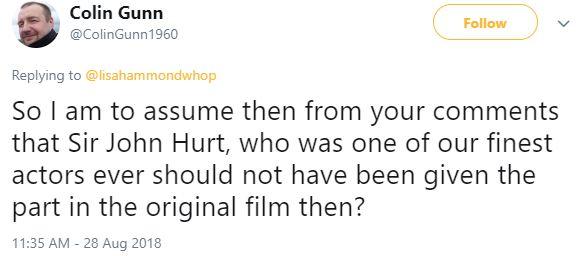 However, Lisa had a few responses to people's claims that the acting world was an "equal playing field" and that the most talented actors always get the part no matter what.
She says that it's oftentimes impossible to get the "best man for the job" simply because a lot of those doors aren't open for disabled actors, even in films that feature disabled characters.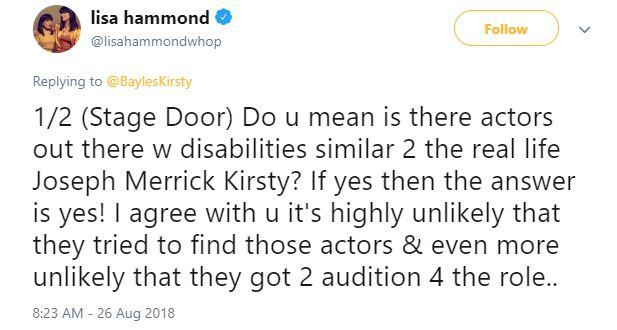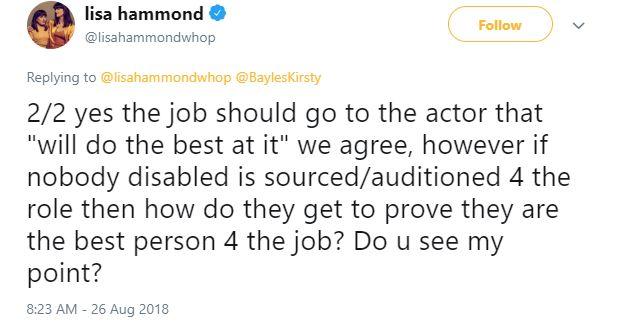 Her replies prompted another question: Was a wide enough net of disabled actors cast in order to try and secure an actor who would be appropriate for the role of Merrick?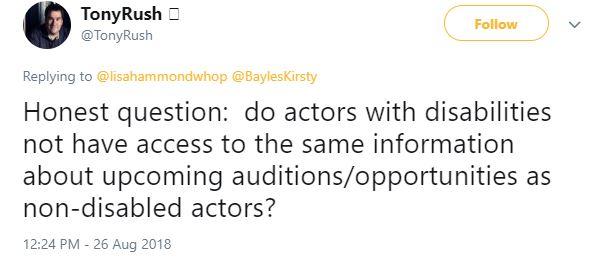 According to Lisa, larger scale productions like The Elephant Man don't hold open casting calls, and disabled actors were likely not considered or auditioned for the role.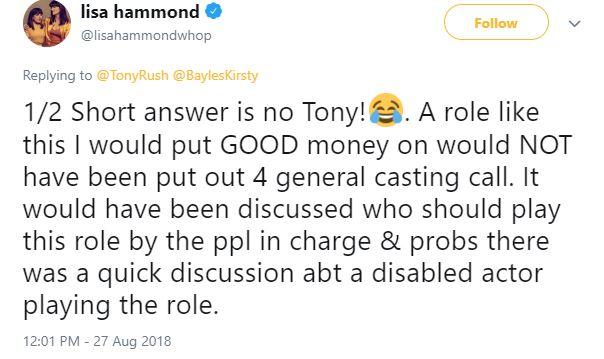 Lisa, who works in the entertainment industry, assumed that roles of this caliber are cast in a more direct manner, with discussions about "top talent" that would be considered for the role among producers. Others concurred with her assumption as well.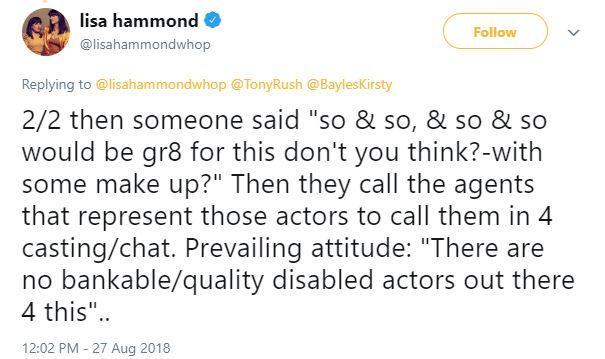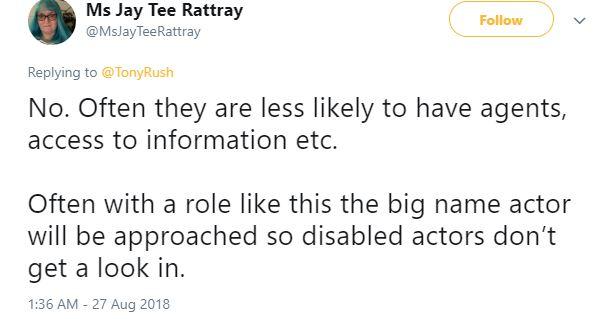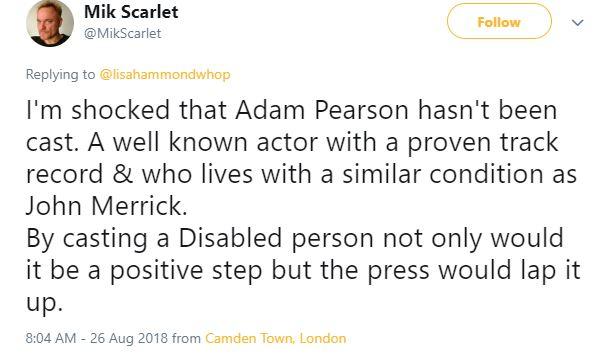 Some argued that the ire of Heaton being cast could be misplaced, however, as he could have a hidden disability that he deals with but hasn't made public.