People with the Same Names Fight for Social Media Dominance
When people with the same name meet on social media, crazy things go down.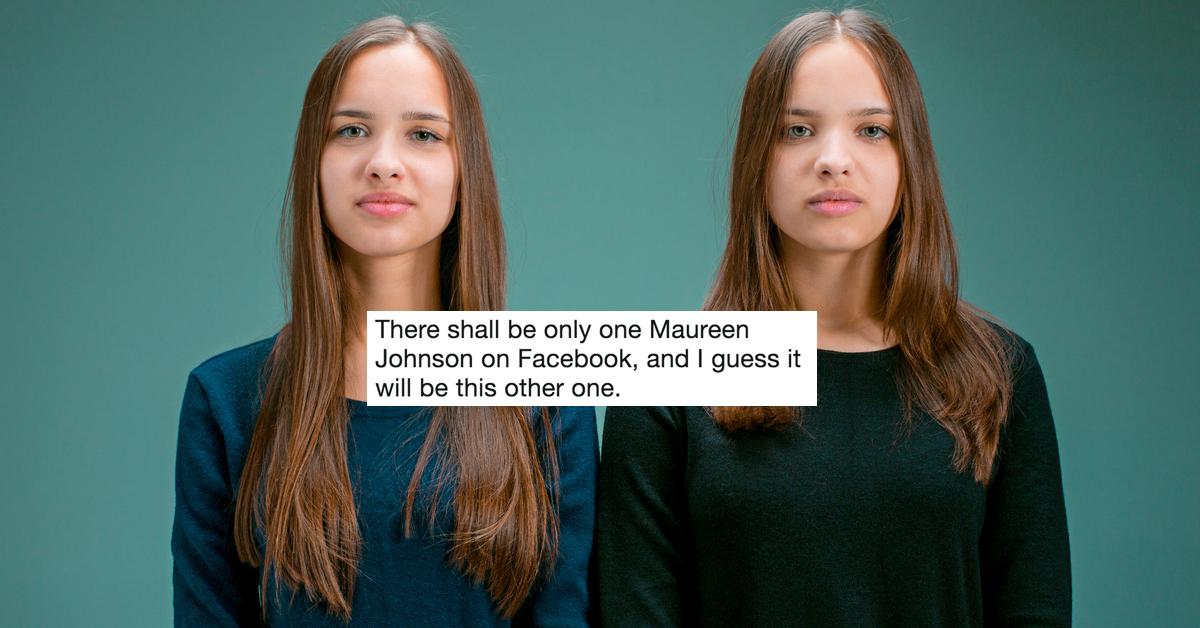 If you've ever taken a look at your message request inbox on Facebook, you know about the trove of random weirdos relentlessly trying to get in touch. But if you've ever received a message from someone with your exact same name, they might not seem that random after all.
Article continues below advertisement
And if someone with your name is slightly more famous than you, it might be hard to get away from occasionally receiving some of their fan mail. That's what happened to one Maureen Johnson when she opened her Facebook inbox the other day and found messages addressed to critically acclaimed YA author Maureen Johnson.
At this point, she decided she'd had enough.
Author-Maureen shared screen grabs of her interaction with the other Maureen Johnson on Twitter. Other-Maureen doesn't seem thrilled about sharing her name with another person on the platform, or about constantly receiving her messages and photos.
Author-Maureen writes "There shall be only one Maureen Johnson on Facebook, and I guess it will be this other one" below her post. The conversation between the two feels like something out of The Twilight Zone.
"Maureen Johnson doesn't recommend Maureen Johnson" reads the subject line of her message.
Article continues below advertisement
"She is using my name and I don't want to be seeing her pics or her messages and/or her peeps that I don't even know responding to her," writes the other Maureen.
Understandable enough, I guess. Why should a lady have to be blasted with fan mail and photos of a woman she doesn't know at all, just because they happen to share the same name?
Article continues below advertisement
But the way she went about trying to assert name-dominance was kind of savage, even for social media standards. "I always knew I would have to fight another Maureen Johnson for control but I was sure it would be the one from Rent," author-Maureen humorously follows up in a tweet.
She posted her response to Maureen's initial message, where she apologizes to other-Maureen for, essentially, existing.
She writes "I am sorry! It is my name too! I'm using my own name!" and the response she receives is nothing short of hilarious.
Article continues below advertisement
"Age trumps beauty. So just keep to yourself. I believe we travel in different circles so shouldn't be a problem," writes other-Maureen. Ouch.
Sounds like someone isn't too keen on sharing her Maureen Johnson identity with someone else on the social media stratosphere. Author-Maureen decides that if other-Maureen is feeling so insecure about sharing the same name, she must have never heard of the even more famous Maureen Johnson from the musical Rent.
Article continues below advertisement
"Oh god. I bet she doesn't even KNOW about the Rent one," she tweets. After some cursory sleuthing, writer-Maureen attempts to make friends with this woman who holds completely opposite interests so they can band together to "take down fictional Maureen."
"She's also in a group called Females for Trump. It's like I found the Upside Down version of me. I will befriend her," she writes on Twitter before sharing the conversation in which she breaks it to other-Maureen that there is yet another Maureen, a fictional character who trumps both of them in fame.
Article continues below advertisement
Other-Maureen starts out on the defensive, shutting down a third-party observer who assumes she's heard of Rent. "Oh grow up!" she writes, clearly not picking up on the reference, and then has to get schooled by author-Maureen.
Article continues below advertisement
"Maureen Johnson, I think Liz is making a reference to the musical Rent, which has a major character also called Maureen Johnson. I am haunted by this Maureen. I mean, I am haunted by this Maureen in the musical — not by you. That Maureen is not real. WE ARE REAL," she writes on Facebook, clearly at wit's end with this whole Maureen debacle.
She even shares a clip of "their" song, Rent's "Tango: Maureen," then flexes some of her glamor shots to the more than 52,000 people who've liked the thread.
"Also, I TOO have a glamor shot! I will send mine!" she tweets out along with the photo below. It's refreshing to see that at least ONE Maureen has a sense of humor about the fact that she's not the only person with her name.
Article continues below advertisement
People on Twitter were dying over this take-down between two Maureen Johnsons. "At least she thinks you're pretty!" wrote one person before adding, "I guess at this point you're [sic] only option is to just post rent gifs at her?"
Article continues below advertisement
Others decided to troll other-Maureen for trying to claim exclusive rights to the Maureen Johnson identity. One Charlotte shares a message she wrote to this other lady. It reads, ""Hi Maureen, I'm looking for my friend Maureen Johnson; you apparently have her name. Do you know where I can find her on here? Best, Charlotte."
And people, predictably, decided to follow suit. Nothing like frustrating an already frustrated older lady to make the days of millennials on Twitter. Another user by the name of Patrick shared the message he sent other-Maureen, which he captioned "Joining in on this amazing idea."
Article continues below advertisement
And as it turns out— because there are 7.5 billion people on earth, 1 billion of whom use Facebook — the Maureens aren't the only people who've encountered their doppelgängers on the platform.
I can't say I've had the privilege of finding myself in the alternate reality of a Facebook message group with several other Pippa Ragas, but if there are any Layla Jones reading this, you might know what I'm talking about.
Article continues below advertisement
One Layla Jones added nine other Layla Joneses to a Facebook group a few years back and their conversation was straight out of an absurdist play.
The first opens with "Hi Layla," which someone else responds to by writing, "Hi Laylas! Wow this is crazy I've never met so many people with my exact name lmao." A third chimes in with "We have a lot in common," to which the second person replies, "Literally though. The fact that we even replied to this shows that. Haha."
My head hurts. If your name is Joe Wright, it looks like you can also relate.
Article continues below advertisement
From the looks of it, if there are several of you rather than just one, it's easier to deal with not being the only person with your name.
To the other Maureen Johnson, though, wherever you are: chin up, buttercup. The same-name struggle is real.