This ATM Started Accidentally Giving People $100s and Everyone Took Advantage
Who hasn't dreamed of coming into copious sums of money completely by chance and out of nowhere? Heck, I've thought about it just so my wife and I can pay off our student loans. Whether it's a casino jackpot, or a lottery, or being related to some long-lost relative who decided to leave their estate to only me for whatever reason, I sometimes find myself dreaming of getting free cash.
Article continues below advertisement
But these people who recently went to an ATM machine didn't have to fantasize to get something for nothing. When they went to this Bank of America machine in Texas, it started dispensing $100 bills instead of $10s.
Article continues below advertisement
That's right, their accounts were only dinged for $10, plus whatever $2 or $3 ATM fee they might've been hit with when the machine instead spewed out a bunch of Benjamin Franklins into their hands. Customers discovered the error on Monday night at around 12am. Some people get all of the luck, don't they?
Article continues below advertisement
Naturally, humans being the greedy bunch of jerkwads who can never play nice and are always on the brink of destroying anything remotely good, started fighting with each other so they could get at the money before it was all depleted at the ATM.
Article continues below advertisement
Once word got out, lines of cars began queuing up at the machine. Bank of America had confirmed the vendor put the bills in the wrong slot. So when people selected the $10 option, the machine thought it was spewing out tens, but instead barfed up the $100s. After owners of the machine discovered the mistake, they shut the ATM down.
Article continues below advertisement
I know what you're thinking: all ATMs are outfitted with cameras, and it's easy for a bank, especially with an ATM, to keep track of all the money that was loaded into and taken out of their machines. They probably also had visuals of people's faces, not to mention their account and personal information.
Article continues below advertisement
Banks aren't necessarily known for their generosity. I mean these are the same people who have no qualms with tacking on overdraft fees after your bills come out and you forget to transfer some money over from savings. They're usually a sneaky, vile and heartless lot, just ask this dude who had his house foreclosed on by Bank of America for no reason.
Article continues below advertisement
But in an uncharacteristic move of unbankliness, BOA decided to not hunt the people down for the hundreds of dollars they withdrew. In fact, they publicly stated that everyone who benefitted was free to keep the cash.
Article continues below advertisement
Talk about an early Christmas! Since most ATMs limit customers from pulling out more than $500-$600, individuals with a single ATM card and account could've netted themselves anywhere from $4990-$5990. And if you have family members or a spouse or partner with their own bank card, you could've made some serious cash.
Article continues below advertisement
People all over the internet were lamenting the fact that the ATM was in Houston, Texas, and that they couldn't have been so lucky with their own local cash machines. I mean who couldn't use an extra $5-$6k?
Article continues below advertisement
This isn't the first time an ATM malfunction worked out in someone's favor. There's security cam footage of this young man who was just standing outside an ATM, minding his own business and trying to get a bit of cash. That's when the ATM started spewing money at him like a dream come true.
Article continues below advertisement
Then there was that fateful ATM malfunction that resulted in $37,000 being tossed out to a homeless man, totally by accident. Customers started getting suspicious after seeing the man take so long to collect his money. Way to narc on someone who hit the jackpot!
Article continues below advertisement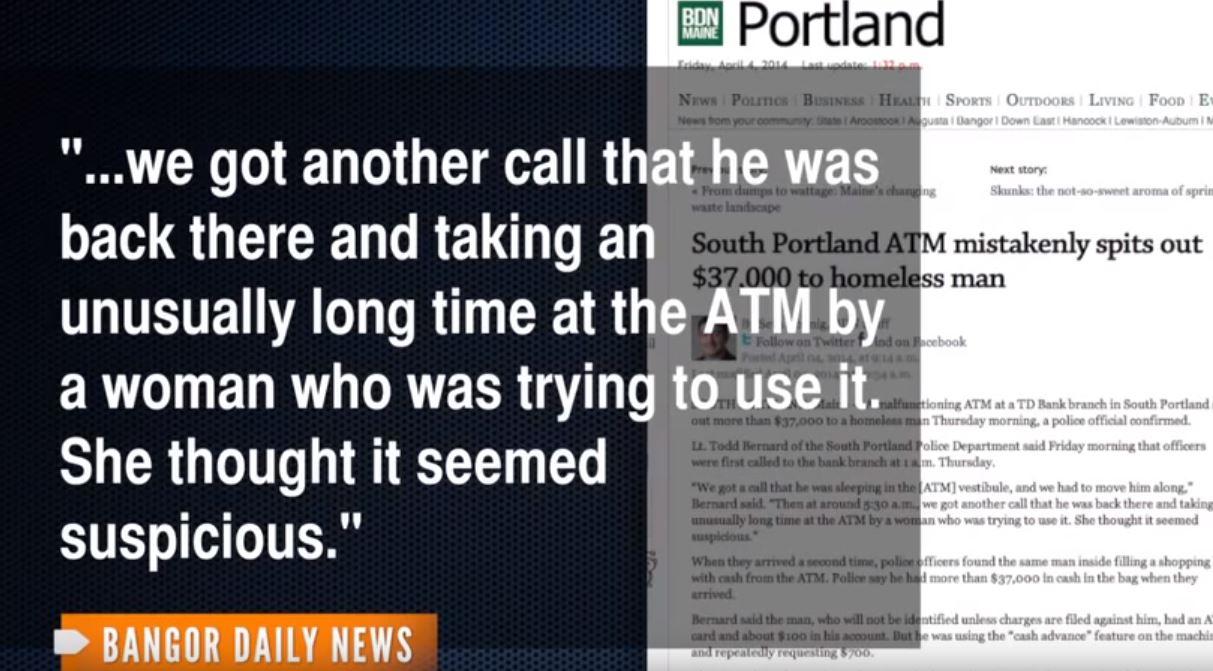 More often than not, however, ATM malfunctions aren't a good thing, something this man learned the hard way when he went to take some cash out of an ATM. The money was "taken" from his account, but it never came out of the machine.
Article continues below advertisement
Try explaining that to a bank, right? What stinks is that the man's bills were due in a few days and he was left high and dry. Thankfully, Fox 46 investigated the ATM and discovered that the machine was indeed malfunctioning. So they called up the bank and got the gentleman his money back.
Article continues below advertisement
Then there was this poor dude who tried depositing $880 into his bank account via ATM. The machine happily gobbled up his money, but wouldn't return it. Even worse, the cash taken by the machine wasn't reflecting in his account balance.
He was only able to get $680 back, as the machine was only "over" that amount when the bank checked. Better than nothing, I guess? Here's hoping if you ever experience an ATM malfunction, it's like the ones mentioned at the top of this story, because losing money sucks.