Jackie Chan's Estranged Daughter Just Got Married — And No, He Wasn't Invited
Jackie Chan's estranged daughter Etta Ng just married a Canadian influencer, and the two look happier than ever at their wedding on social media.
Jackie Chan's youngest daughter, Etta Ng recently announced her wedding to Canadian influencer Andi Autumn on Instagram. After dating for two years and making headlines this past April for a YouTube clip in which they said they were left homeless due to "homophobic parents," the couple tied the knot in Toronto before shipping off to Etta's home city of Hong Kong.
Article continues below advertisement
Since their wedding, it seems things are looking up for Etta, 19 who posted that "there's nothing greater than true love found" on Instagram. "Everyone deserves love and not until I felt love can I be sure that understanding, connecting, attention and love in the face of hate can heal the most depraved of hearts. Love always wins. Always," she continued.
So, who is Etta Ng, this daughter of Jackie Chan's we've never heard of?
Article continues below advertisement
Self-proclaimed "androgynous neo-samurai" Etta has never had a relationship with her movie star father, Jackie Chan, 64. A lovechild of his and beauty queen Elaine Ng Yi Lei's (occasionally credited as Elaine Wu), Etta has said the martial artist "is not my dad. I have no feelings for him. He is my biological father but he is not in my life" in an interview with Express back in 2015.
Article continues below advertisement
Newsweek reports that the movie star — who has a $350 million net worth, making him second only to Robert Downey Jr. in the ranks of highest paid male actors — has never given "a single cent" to his daughter, whom he conceived while married to his current wife, Joan Lin.
Etta's relationship with her model mom is fraught as well, with the former claiming "abuse and cruelty," per Newsweek. At the time of the YouTube video that propelled Etta into the public eye, Elaine told Asian media outlet Coconut that her daughter and Andi "should go find work. They shouldn't film a clip telling others they are broke and who Etta's father is. People all over the world work hard and don't rely on someone else's fame to get money." Ouch.
Article continues below advertisement
When asked whether she maintains contact with her daughter, she told Coconut, "I don't want to talk about it," and Jackie Chan expressed a similar sentiment when he curtly stated "Sometimes it is better to not talk about certain things. Let nature take its course" to Express. Jeez!
Article continues below advertisement
It's safe to say Etta's parents weren't invited to her wedding. And suddenly all the "We have been in the persuit [sic] of happiness the day we were born. Abused as children who never felt love, we have so much to give" captions Etta's been posting alongside her pics with Andi make a lot more sense.
Dying for more cute couple pics? Here's how to follow Etta Ng on Instagram.
Article continues below advertisement
Kids these days! Between Instas, finstas, and other offshoot accounts, it's hard to keep track of who is who on the platform anymore.
Etta Ng has several Instagrams, but it appears that @ettazen is now her personal account (@stolenmilktea, where she amassed over 30k followers seems inactive) and @uchux2 is an account the couple keeps together, which Etta shares with 31-year-old wife @andiautumn.official.
Article continues below advertisement
Does Jackie Chan have other children?
If you've ever looked him up on Instagram, you've probably noticed that the Rush Hour star's official account only follows one person — actor-singer and low-key identical son, Jaycee. Born in America to Jackie's wife Joan Lin, Jaycee has since returned to Asia and has made a name for himself through movies and records both in Hong Kong and Taiwan.
Article continues below advertisement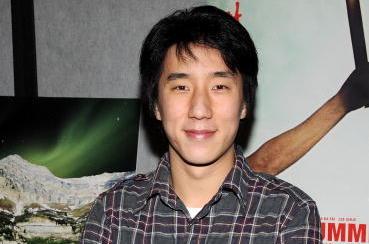 From the looks of Jaycee's social media accounts, it seems safe to say he wasn't present for his half-sister's nuptials either, but we wonder if the siblings will ever run into each other in Etta's new city of Hong Kong, which she describes as a "beautiful city full of life and passion."
We wish a long and happy marriage to the newlyweds, Etta and Andi!