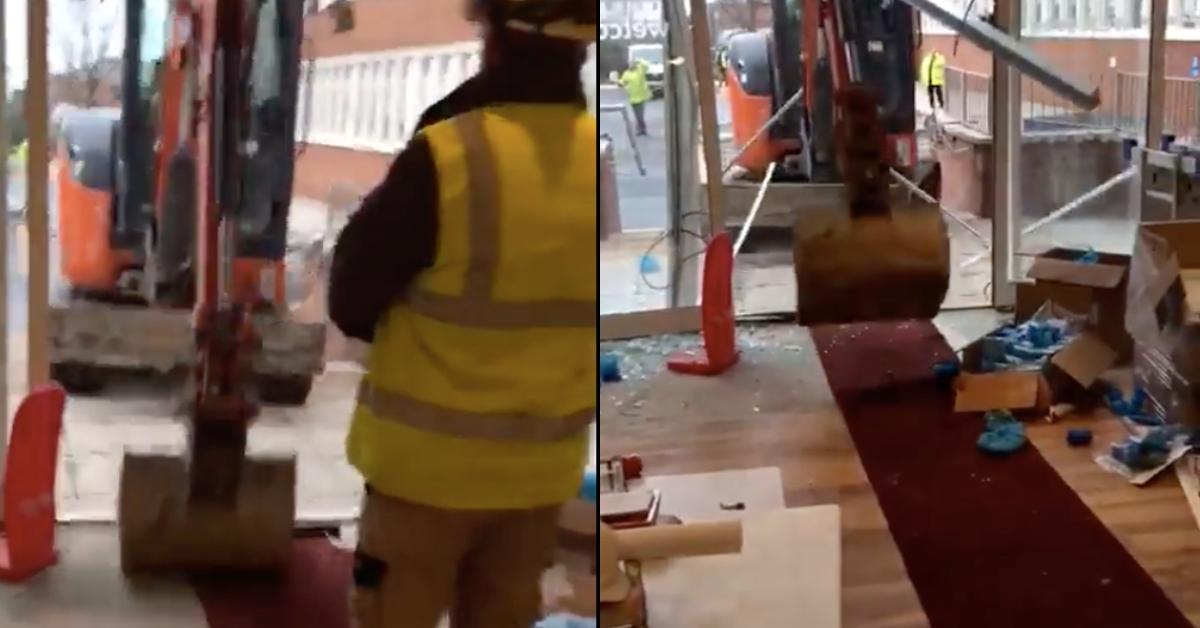 This Man Smashed a Motel Over Unpaid Wages — Only They Did Pay Him
As someone who's worked as a contractor for most of her career, I empathize immensely with workers who don't get paid for their time, or get the runaround when employers delay their invoices. I've seen my share of clients who expect work be done for free — even after both parties agree on compensation. It's the kind of thing that makes my blood boil.
Article continues below advertisement
Having been in one too many lawsuits of my own over unpaid wages, I understand the impulse to undo every piece of work one has put in for a client who doesn't pay for services. Sometimes that means not releasing files without payment, threatening to delete pages of a client's website, or occasionally using a bulldozer to plow through a motel reception area.
Article continues below advertisement
That's what happened when John Manley plowed through the lobby of a newly built Travelodge in Liverpool because he believed he was owed money for work. The 35-year-old contractor had spent the few weeks prior staying on a relative's couch and grew increasingly desperate after his £600 wages were not paid on time by MF Constructions, the sub-contracting firm for which he worked.
Around 3 p.m. yesterday, John smashed into the Travelodge site yelling, "If you'd just paid me my f***ing £600!" According to The Sun, John's damages to the lobby and the consequent delayed opening of the hotel could cost up to £500,000.
Article continues below advertisement
But there's a twist — because it seems the contractor had indeed been paid in full. He just hadn't logged into his bank account before unleashing his wrath on the Travelodge site. Coworkers of John's claimed a banking glitch led to their Friday wages not being paid until Monday, which they tried to explain through muffled screams while the damage was being done to the hotel.
Article continues below advertisement
Triton Construction, the main contractor to the site, said there was no structural damage done to the site. According to an interview with Liverpool's Echo, the managing director of Triton explained, "The laborer took it upon himself to drive a small mini-excavator through the entrance screen of the hotel and subsequently caused damage to finishes within the reception. The laborer then ran from the scene and to our knowledge is being pursued by the police."
Article continues below advertisement
However, other construction workers at John's company also claimed they had problems with their wages. One said they were owed upwards of £1,100 and mentioned their coworkers were owed even more than that.
Another told Echo, "The lad who was driving the digger today, he's owed £600 and for all of us, that's a lot of money. I stand by what my colleague did. We have been getting walked on for months and he done something about it."
Article continues below advertisement
John's cousin, Jason Pellegrini, denies the fact that John might have been paid for his labor, saying his cousin doesn't even have a bank account. "He had not been paid on Friday and he was trying to call his boss all weekend," he told the outlet. "His boss would not answer the phone."
Article continues below advertisement
By his account, John "just snapped" — which is what caused him to trash the site. "We are not condoning what he did at all; someone could have been seriously hurt and he's not a national hero like some people have been making out," Jason said.
Article continues below advertisement
According to Jason, his family has been trying to get John the mental health treatment he needs. "We have been trying to get him help but there's such a long waiting list. It's not down to the health care professionals, but it's a lack of resources in Sefton," he explained.
"He is very troubled and it's something when he has had to do what he did to get the kind of help he needs," Jason said. Today, John is finally receiving the help his family has been trying to get him for months. Instead of in police custody, he's being treated in a hospital for his mental health.
Article continues below advertisement
"I know he was technically of no fixed abode and could not claim benefits, so when he didn't work he literally had nothing," Jason said of the importance of John's unpaid wages. "He had no money for gas, electric, or food."
It's unclear who's right and who's wrong in this classic case of he said-he said. I hope John receives the treatment he needs and the wages he worked for. It's unfortunate the labor he put into the Travelodge site had to go down like this.