Cat Owner Shows The Aftermath Of An Accidental Attack On His Arm And It's Brutal
Cat owner gets caught in the middle of a fight between two felines, and the result is brutal.
Growing up, cartoons had me believing that cats were pushovers: that dogs bully them all over the place. That the term "scaredy cat" was indicative of how frightened and cowardly felines are.
But anyone who's ever lived with a cat knows that these little furry, clawed hell-bringers are anything but punks. Seriously, a cat will wreck you in a heartbeat and take on animals and people ten times their seize.
They may be jumpy, but that's just their superior reflexes working, plus, when they want to get brutal - they get freaking brutal.
Article continues below advertisement
Just ask Taylor Swift, who insured her legs and right after doing so, got scratched up terribly by her cat.
Article continues below advertisement
It's almost as if cats have something against pop stars. Remember when Miley Cyrus got torn up by an itty bitty kitty?
Article continues below advertisement
There are plenty of examples of the bad-assery of cats, but fewer as illuminating as the fresh wounds Imgur user 0x783czar suffered at the hands of their kitty.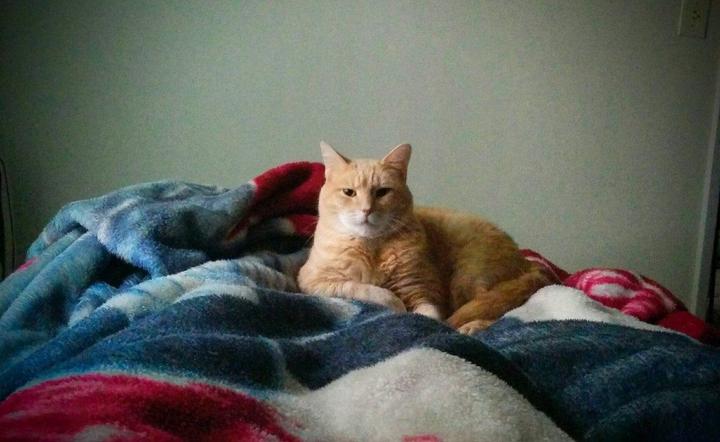 Article continues below advertisement
That's the little munchkin in question. You can tell from his unapologetic stance that he clearly doesn't give a damn about anyone or anything.
So when a rival cat came to the window and 0x783czar went to shut it to prevent a fight, his pet went into a murderous rage, thinking he was being attacked from behind. He tells the full story below.
Did you rub the belly one too many times, and got bitten? Did your cat take a whack at you while you walked by? Or hit you with drawn claws because you touched its tail? Trust me, they went super easy on you.There's this stray cat that occasionally comes by my window at night. My cat hates this suckers guts and wants him and all his friends and family dead. When this cat comes by, my cat enters a sort of trance of rage and will do his best to keep me up while growling at the interloper who dares approach his domain.Well this cat without a hat came back. And my cat was having none of that. So for the sake of my sanity and desperate need for sleep, I decided to move him away from the window so I could cover it up properly, and hopefully calm my cat down.Well apparently my cat thought my hand reaching over was this cat's ninja assassin friend hitting him from his blind spot. And. He. Flipped. Out.Next thing I knew he had wrapped his front paws around my hand, and sunk his teeth into my palm, while he let my forearm have everything his back legs could give me for two seconds. By then he realized it was me and I was able to shake him off. But when I turned on a light I was greeted by this bloody sight, as well as blood splatters across my windowsill.So let that be a lesson to you boys and girls, *this* is what a cat can do in two seconds of blind rage. So if your cat gets into a murderous mood, don't startle them or get in their way.
And here's the aftermath of the cat attack.
Article continues below advertisement
Lesson learned: DO. NOT. MESS. WITH. CATS.
More from Distractify