Jon Stewart Roasts Jimmy Kimmel During His Own Monologue
When Jimmy Kimmel started his monologue, he didn't think he'd be getting roasted halfway in.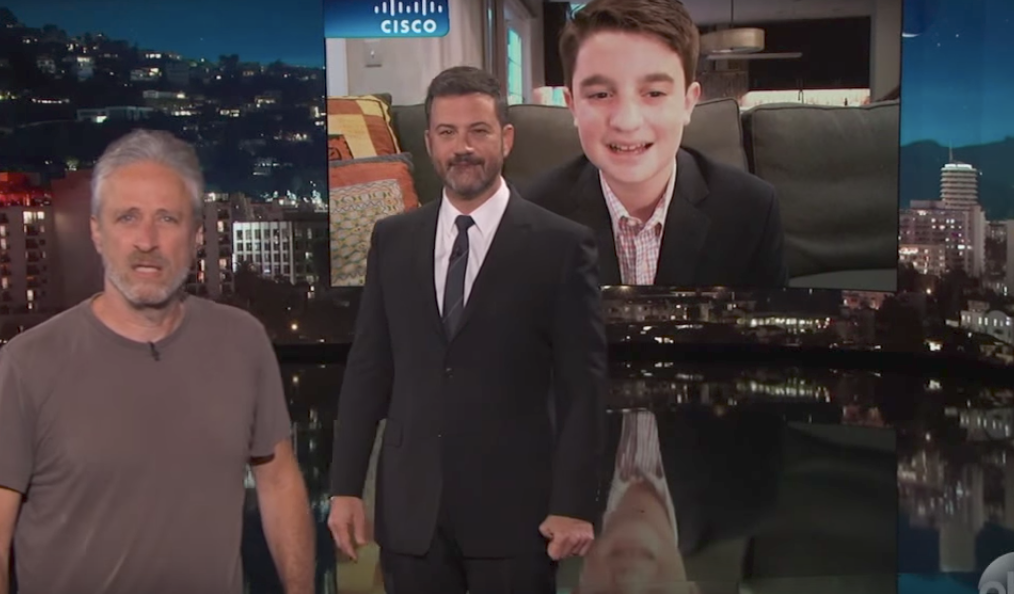 Pennsylvania teen Will Rubin held a Jimmy Kimmel-themed Bar Mitzvah, and Kimmel decided to talk to him on air about it—which was really, really cute. To everyone, that is, except actually Jewish talk show host Jon Stewart.
Article continues below advertisement
"You probably had your choice of idolizing any talk show host and you could've gone with a Jew, that's all I'm saying," Stewart said. "Will, don't be fooled by his learned-looking beard and his sad, puffy eyes. He's not rabbinical; he's just unhealthy."

Article continues below advertisement
"Wouldn't you rather idolize a talk show host that is also circumcised?" he asked. "I don't know how to put this. How do the kids say it? He's still wearing his hoodie."
People on Twitter found the skit hilarious, writing, "Maybe there's a funnier tribe than the Hebrews, maybe not. But certainly, we punch way above our weight class." Others added, "So many thoughts. 1. Very cool. 2. I thought why not Jon Stewart too? Keep it in the Tribe 3. HOW MUCH $ DID THEY SPEND ON THE BAR MITZVAH!" and "I need Jon Stewart to wander in from picking up his mail on TV more often. This is a delight." "The joy that late night hosts have around each other really makes me feel better," wrote another user.
But some people were less than satisfied, like this one Twitter user who didn't think it was very funny to have Jon Stewart make a cameo appearance on the show. "Please return Jon Stewart to Comedy Central and behind a desk. kthanxbye," they wrote.
Article continues below advertisement
Give him a break, Jon—the last time you were on air, he was still a boy. Now he's a man.
Though it seems like many adults were just happy to see Stewart back on TV.
Article continues below advertisement
Article continues below advertisement
We can only hope that the next time he's on late night, he's there permanently.