The Internet Has Some Crazy Theories About Ariana Grande and Pete Davidson's Relationship
The internet has some crazy theories about Ariana Grande and Pete Davidson's relationship.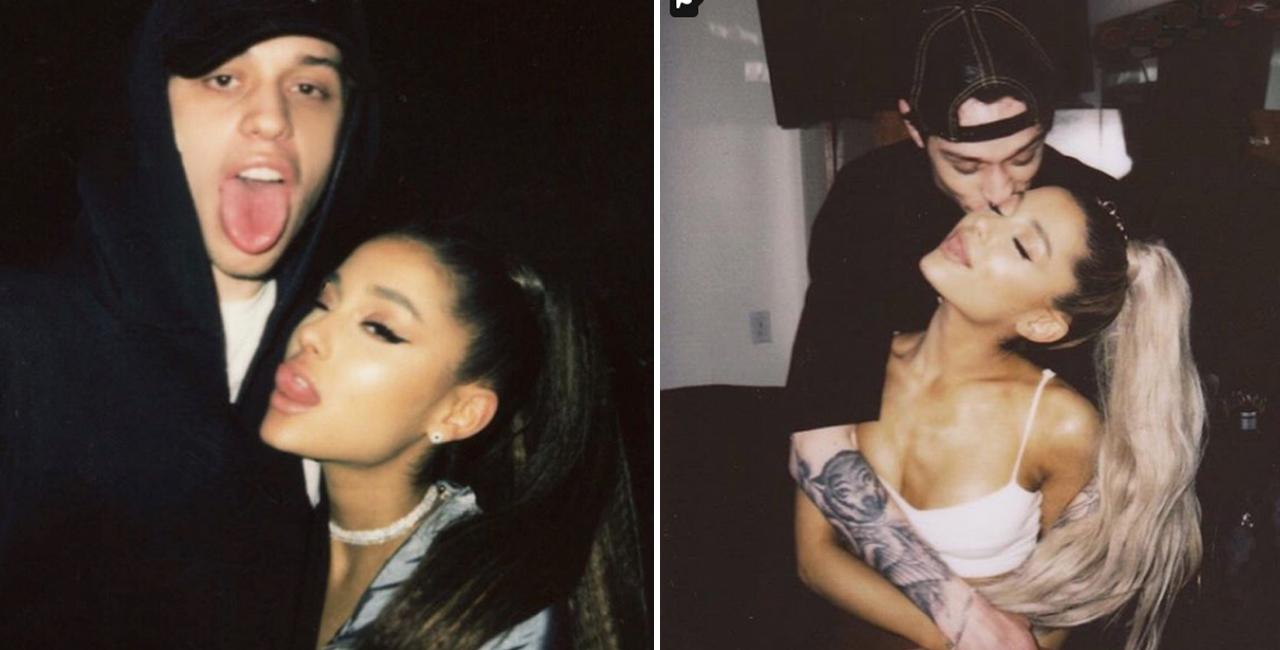 Ever since Ariana Grande and Pete Davidson announced they were dating back in May, everyone has been highly skeptical of the two. For one, both just recently got out of relationships—Ariana broke up with Mac Miller on May 10, while Pete and Cazzie David, his girlfriend of two years, called it quits just a few days later on May 16. Fast forward a couple of weeks and the happy couple is already engaged, buying million-dollar apartments together, and even sporting matching tattoos.
Fans are highly suspicious about the relationship, with good reason. The quickness of the courtship has prompted people to pull out their tinfoil hats and come up with theories for what the hell is happening. Is this just a case of lovebirds falling for each other really fast, or is something more sinister amiss? Here's what the Internet thinks so far:
Article continues below advertisement
Theory #1: They've been dating much longer than a few weeks.
This is by far the most popular theory. According to what we know officially, the two clicked at an SNL after party on May 12. Next thing you know they're getting engaged and purchasing $16 million condos together. Seems a little fast, right?
Fans immediately started dissecting the relationship timeline. Because the two were in relationships so recently, it was highly likely that both were cheating before they broke up with their respective exes. As the Internet tried to piece it all together, writer Nicole Boyce came up with this timeline of the couple's relationship.
Article continues below advertisement
Seems a little fishy, right? To make matters worse, when Pete gave a commencement speech at Kenyon College on Apr. 21, he reportedly told the audience that he was thinking of marrying his girlfriend. He was still publicly dating Cazzie then, so everyone assumed he was talking about her. But since they broke up a week later, it was an odd thing to say.
It's possible that maybe he wasn't referring to Cazzie at the time and was actually speaking about Ariana. That's what Refinery29 writer Kathryn Lindsay believes anyway:
If Davidson did refer to David as the girlfriend he was probably going to marry, this marks the most recent time that we know they were still together, but also makes his sudden engagement to Grande even more confusing. BUT! If he didn't refer to his girlfriend by name because he was secretly dating Grande, then the rest of this timeline makes a lot more sense.
Article continues below advertisement
However, probably the most damning evidence came from one eagle-eyed Twitter user who noted the similarities between a picture Ariana posted with Pete on May 31 and another picture of the pop star wearing the same clothes in a photo taken on May 13.
"Apparently they literally met for the first time when she attended an snl after party on May 12!!!!!" a Twitter user wrote. "Then may 13 ur taking pics like that?????"
Out of all the tinfoil hat theories, this one is actually believable.
Article continues below advertisement
Theory #2: The engagement ring was purchased years ago.
After Ariana and Pete announced their engagement (and the Internet collectively shat its pants), fans noticed that her new $100,000 engagement ring looked similar to a ring she wore on The Tonight Show in 2016. Has she had the engagement ring all along? That would make this situation 10 times more baffling, but that hasn't stopped the fans from theorizing anyway.
Article continues below advertisement
Article continues below advertisement
Of course, that theory is highly unlikely considering that Greg Yuna, the jeweler who designed the ring, told E! News that he made it back in May. "I told [Pete] that I had the right ring for him," he said. "He … told me to keep it a secret." The 3-carat ring took two weeks to make, a fact that further fueled the timeline conspiracy theorists since that would mean he ordered the ring a mere week after meeting Ariana at the afterparty.
However, a bigger question the "ring theorists" have is how the hell could he afford the ring in the first place? With a net worth of only $500,000, the pricey engagement ring cost 20 percent of Pete's overall income. This little fact really ticked off The Cut writer Amanda Arnold:
1. Where did a 24-year-old SNL comedian get nearly $100,000? 2. When did Davidson actually propose to Grande? 3. Whose idea was it to pick out a pear-shaped diamond?? 4. What is going on???
Theory #3: She's pregnant.
As shocked fans watched the happy couple buy an expensive apartment and go furniture shopping together, it was only inevitable they would speculate that Ariana was pregnant, hence the speedy relationship.
Article continues below advertisement
Article continues below advertisement
This theory makes a lot of sense. However, Ariana denied she was pregnant on Instagram back in April. But of course, a simple denial wasn't going to stop the Internet. They were busy inventing even crazier theories.
Theory #4: It's all in the name of performance art.
Is this a publicity stunt? Is it some meta art project? Although it's nice to see young love unfold on social media, you have to admit the PDA Ariana and Pete have been posting over the past few weeks has been next level. With Ariana about to drop a new album and Pete promoting a movie, it definitely makes you think.
Article continues below advertisement
Article continues below advertisement
Theory #5: Pete used a love potion on Ariana.
Hey, I told you the theories would get weirder. Considering how quickly things developed between the couple, some bitter Twitter users aren't 100 percent sold that Ariana's simply smitten by Pete's manly charms. Could something more afoul be afoot...like, say, sorcery? Highly unlikely, but hey, it's fun to think about.
Article continues below advertisement
Article continues below advertisement
Theory #6: "Dangerous Woman" was about Pete.
This theory was invented by Twitter user Jessica Danielle. According to her, she thinks the song, which was released in 2016, was actually about her secret relationship with Pete. She uses his new "bunny" tattoo as an example.
Article continues below advertisement
She then pointed at the lyrics as evidence, particularly this part:
Don't need permission
Made my decision to test my limits
'Cause it's my business
God as my witness
Start what I finished
Considering Ariana and Pete met for the first time in 2016 on SNL, this one could be a little plausible.
Theory #7: It's all a government conspiracy, obvs.
Article continues below advertisement
If you're on the Internet a lot (and let's admit it, you are), you're probably aware of an ongoing theory that says celebrities are hired by the government to distract the public with tabloid scandals. While the rest of the world is gasping at the latest cheating allegations from some B-list celeb, the government secretly does horrible things while no one is paying attention. Is Ariana and Pete on the U.S.' payroll?
Article continues below advertisement
Think whatever you want about these theories, but one thing is certain — we all have a little too much time on our hands.