The Many Accidental Innuendos of 'The Great British Baking Show'
A collection of the most unintentional naughty bakes from the show.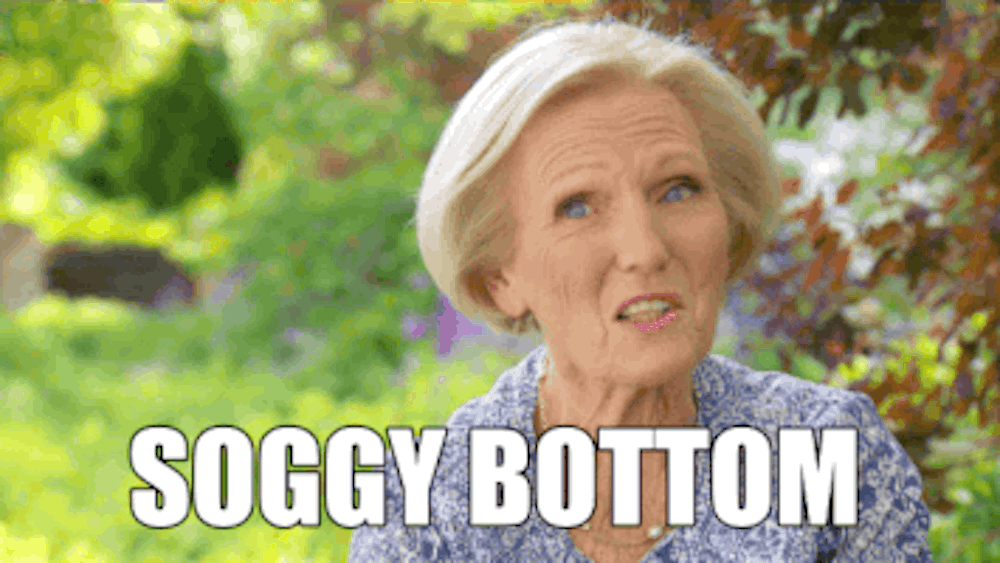 The Great British Baking Show is sort of notorious for its many innuendos. After all, it's a little unavoidable when you have contestants talking about chocolate balls, huge nuts, and of course, soggy bottoms. In fact, the many innuendos have gotten so out of control lately, the show has vowed to avoid them in later seasons. Eh, good luck with that. With all those weirdly shaped breads that look like you-know-what, they're gonna need it. But in until then, enjoy a collection of the most unintentional naughty bakes from the show.
Article continues below advertisement
1. Andrew's Caramel...Ahem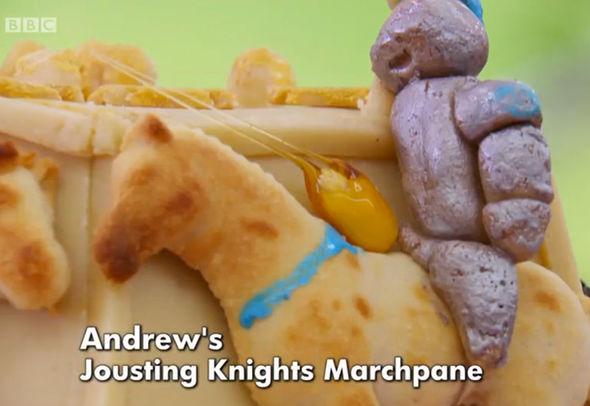 Tudor Week allowed bakers to show off their skills with making elaborate pies fit for kings, but for contestant Andrew Smyth, his marzipan creation was less Tudor and more Cinemax. His cake, which included a knight with a caramel jousting pole placed in a, ahem, creative location, left judge Paul Hollywood in stitches. "The jousting pole… that really should have gone on the hand," Paul said, amused.
2. Dan's "Special Delivery"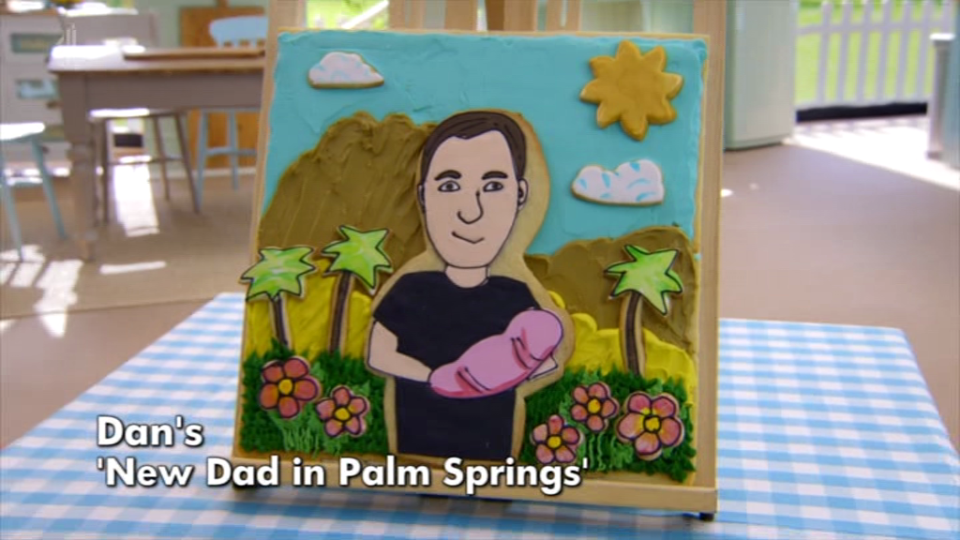 When bakers had to make a biscuit with a picture painted on top with icing, Dan Beasley-Harling decided to make an adorable scene of the day he helped deliver his child in Palm Springs. Unfortunately, the large, pink object didn't look much like a swaddled newborn. Because Paul couldn't say "phallic" on TV, he simply said it looked like a "large prawn."
Article continues below advertisement
3. Sophie's Chocolate...Uh?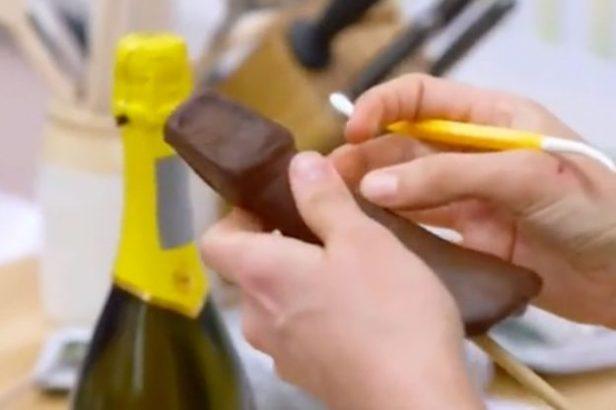 Although Sophie Faldo went on to win season 8, she had an embarrassing blunder when shaping some molding chocolate on top of a champagne bottle. When host Noel Fielding waltzed by her station to question what she was making, he was momentarily speechless. As were we.
Article continues below advertisement
4. Tom's "Hammer" Bread: Before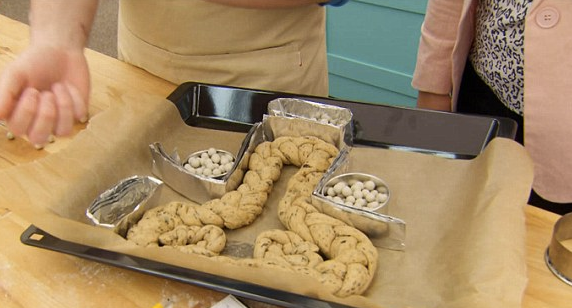 Tom's T-shaped bread was so blatantly suggestive, not even host Mel Giedroyc could contain herself. "It's very male isn't it?" she told him. However, Tom wasn't in the mood for any naughty jokes about his bread. "It's a hammer, it's strong," he explained to her. "It's also a T, T for Thor. T for Tom. I'm not being led. My mum is going to watch this!"
But if you think this looks bad, just wait until you see what it looked like after he baked it...
Article continues below advertisement
5. Tom's "Hammer" Bread: After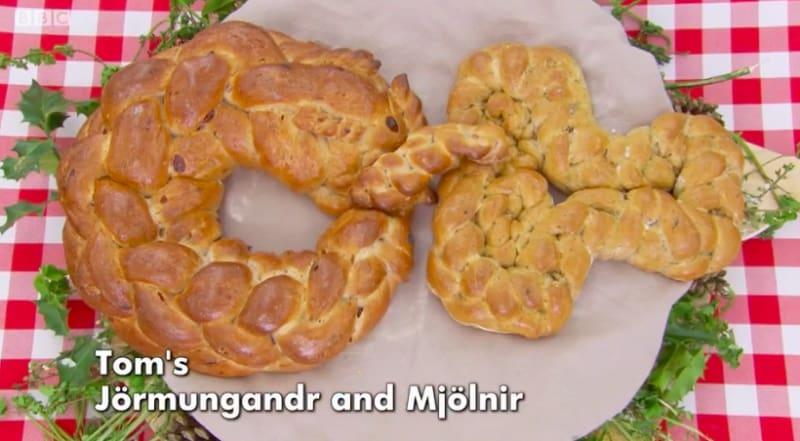 Despite being adamant his bread was not shaped like the male anatomy, the finished creation still looked pretty X-rated. Fortunately for him, he won Star Baker that week anyway.
Article continues below advertisement
6. "Snail" Bread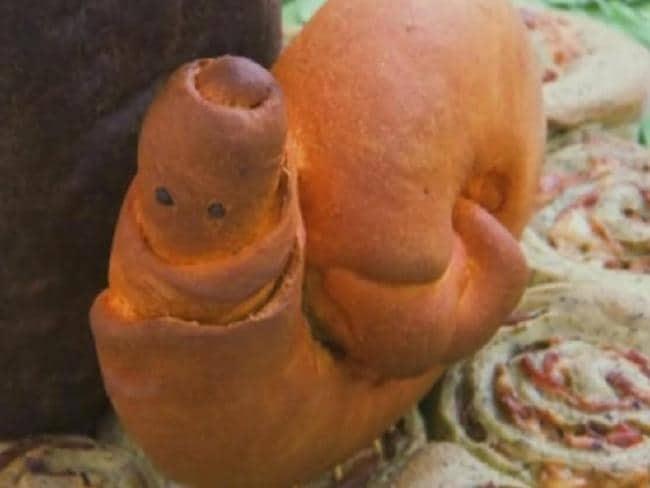 Contrary to whatever your mind is telling you, what you're looking at is actually bread shaped to look like a snail hiding under a mushroom. "I like the snail," Paul said when he saw the creation before bursting into an uncontrollable fit of laughter. "Is there something about the shape of the snail in particular?" host Sandi Toksvig asked. To date, the snail bread has become the most unintentional hilarious moments in Bake Off history.
Article continues below advertisement
7. Chuen-Yan's Weirdly-Arranged Chocolate Cakes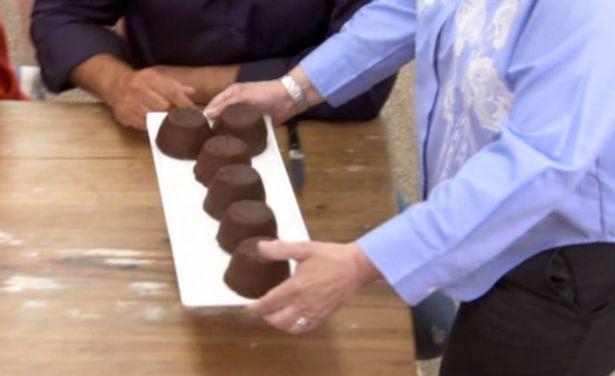 During a technical challenge, Chuen-Yan had to make six chocolate cakes filled with peanut butter. Once she was finished, she inadvertently arranged the cakes in a manner that made the judges lose it. Fortunately, she was a good sport about it. "If you're going to serve a cake, serve it phallic," she laughed.
Article continues below advertisement
8. Perfectly Innocent-Looking Bread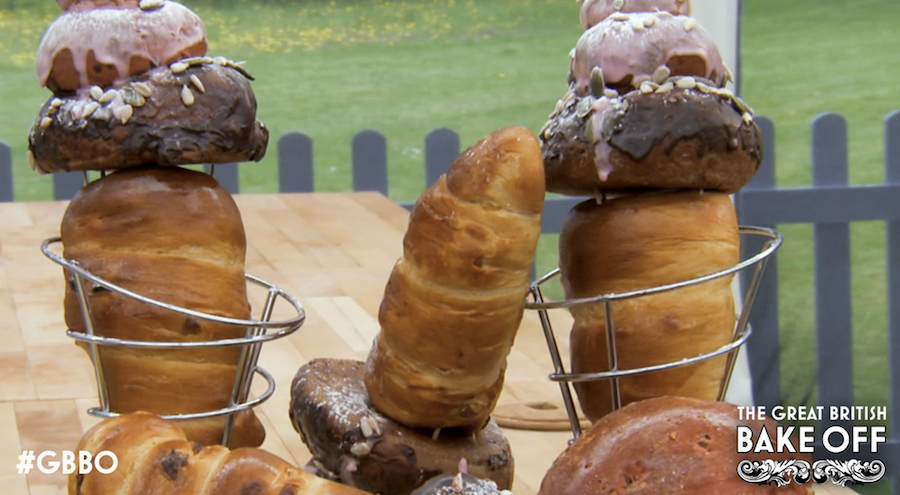 If you're not following Great British Bake Off's official Twitter account, you should. Most of the innuendo jokes are started by the 12-year-old boy (we're assuming) who runs their account. While promoting Bread Week, the account shared this conspicuous photo with the caption, "Sigmund Freud would have plenty to say about these showstoppers."
Article continues below advertisement
9. Mary Berry's Sausage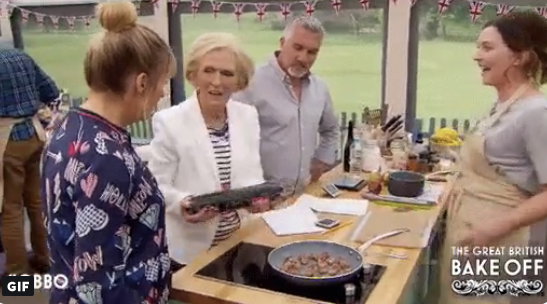 When Mary held a large piece of sausage during a pie challenge, it was a completely innocuous moment. At least until Paul chimed in with, "Feel the weight of that, Mary!" Geez, Paul, try a little subtlety?
Article continues below advertisement
10. This Hideous Baklava Thing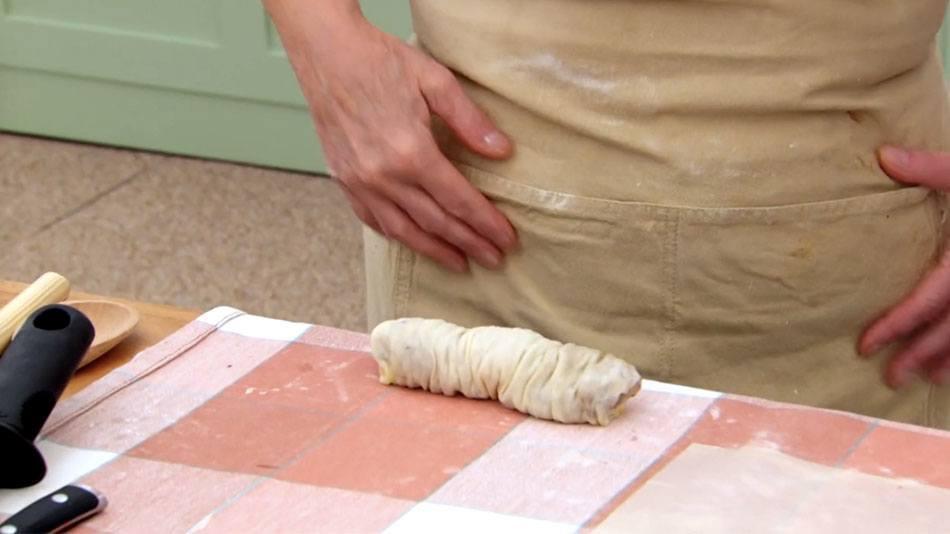 A recapper over at Previously.tv noticed and screencapped this baffling creation that seriously makes us not want to eat baklava ever again. Is it a male anatomy? Is it a Shar-Pei? Who knows.
Article continues below advertisement
11. Stacey's Cottage Loaf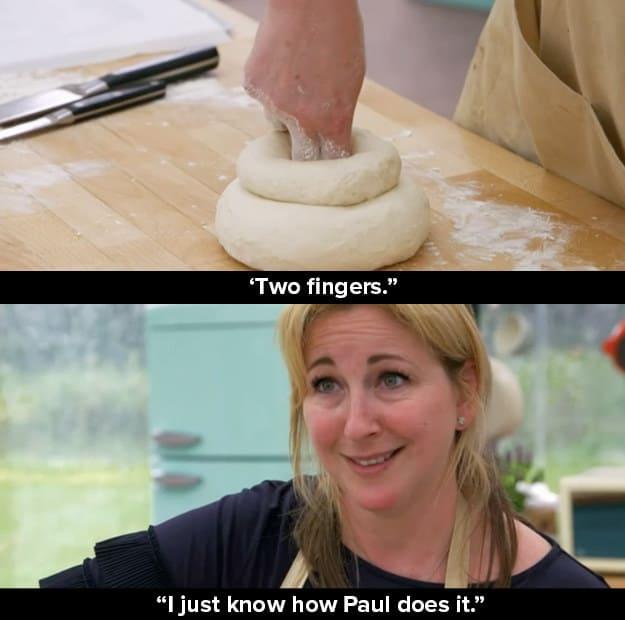 When the bakers had to make a "cottage loaf," Stacey Hart accidentally dropped this gem. A fan on Twitter wrote, "I sometimes wonder how Bake Off can up their innuendo game even further and yet they still do it." It's like a miraculous gift the show keeps giving.
Article continues below advertisement
12. Jamie's Banana Cake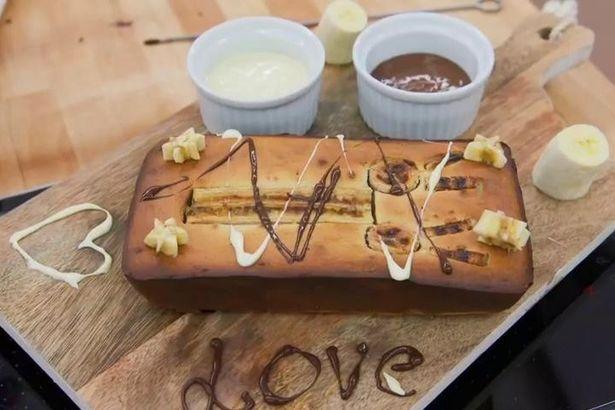 During a Stand Up for Cancer special that had celebs try out their baking skills, Made in Chelsea star Jaime Laing made an unpopular banana cake with an even more baffling design on top. "That has got to be the worst cake that's ever been baked in the tent," Paul said after tasting it. "Ever. That's impressive."