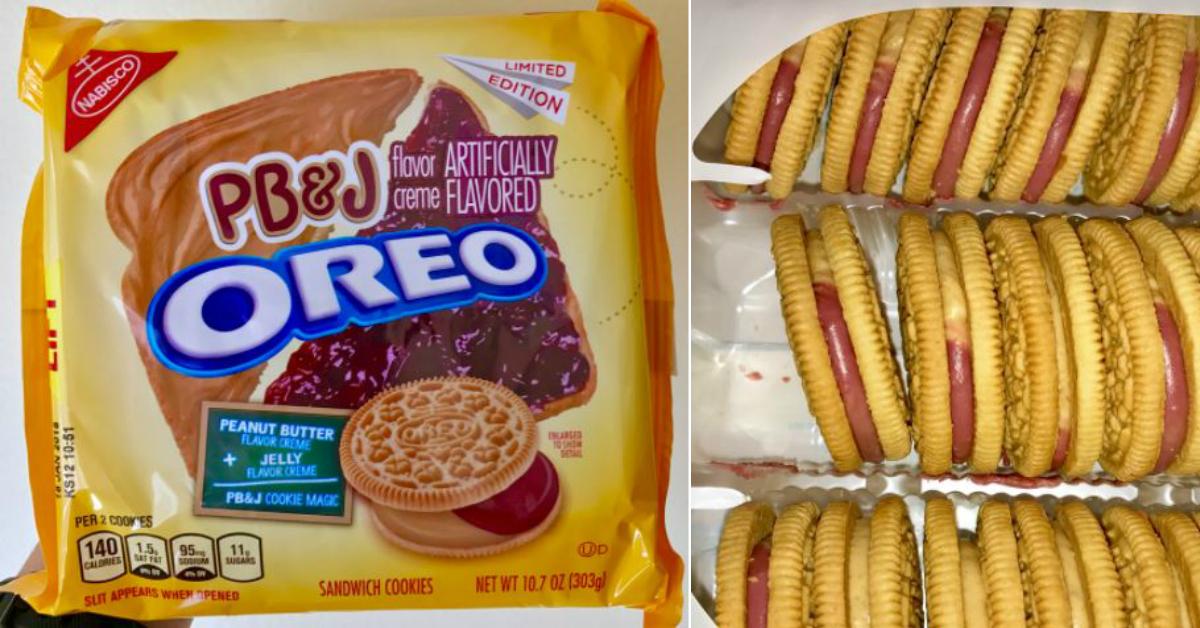 Peanut Butter & Jelly Oreos May Be Arriving Just In Time For Back To School
By Mustafa Gatollari

Jan. 15 2020, Updated 3:10 p.m. ET
Oreo has been known for making some absolutely amazing and pretty confusing flavors. Of course you've got amazing limited edition flavors, like Cookie Dough, that are just delightful, but then you have wild card flavors like Peeps and Swedish Fish.
Article continues below advertisement
Well fasten your seatbelts all you Oreo lovers out there because reportedly, Nabisco has decided to walk out of the cookie-making laboratory with a new flavor that in no way shape or form ventures into the arena of the foul. 
They're making Peanut Butter & Jelly Oreos. That's right: Full nostalgia. It's worth noting that Nabisco has yet to officially confirm that these beauties are real, but junk food bloggers seem to already have their hands on some packages...
Article continues below advertisement
The sadness of going back-to-school has been softened by this latest nostalgic offering that merges the bagged lunch glory of PB&J sandwiches with the deliciousness of Oreo cookies. And I'd like to salute Nabisco for their efforts in ensuring that children all across America (and I) will have these discs of deliciousness to munch on this fall.
Article continues below advertisement
The newest flavor was posted by munchie food extraordinaire @JunkBanter, who's also posted some other incredible Oreo flavors recently. If you're doing well on a diet and don't need the temptation, please, ignore these posts below.
You just had to scroll down more and see these bad boys.
Just look at these Cookie Butter Oreos. I know. I know.
Article continues below advertisement
Article continues below advertisement
It's almost too much to handle, but not for these people on social media who were lucky enough to get their hands on some of them already. Not that I'm jealous of them or anything but what the heck that's not fair I don't see them on the shelves of my local grocery store I hate them.
Article continues below advertisement
Unless you were making them yourself this whole time.