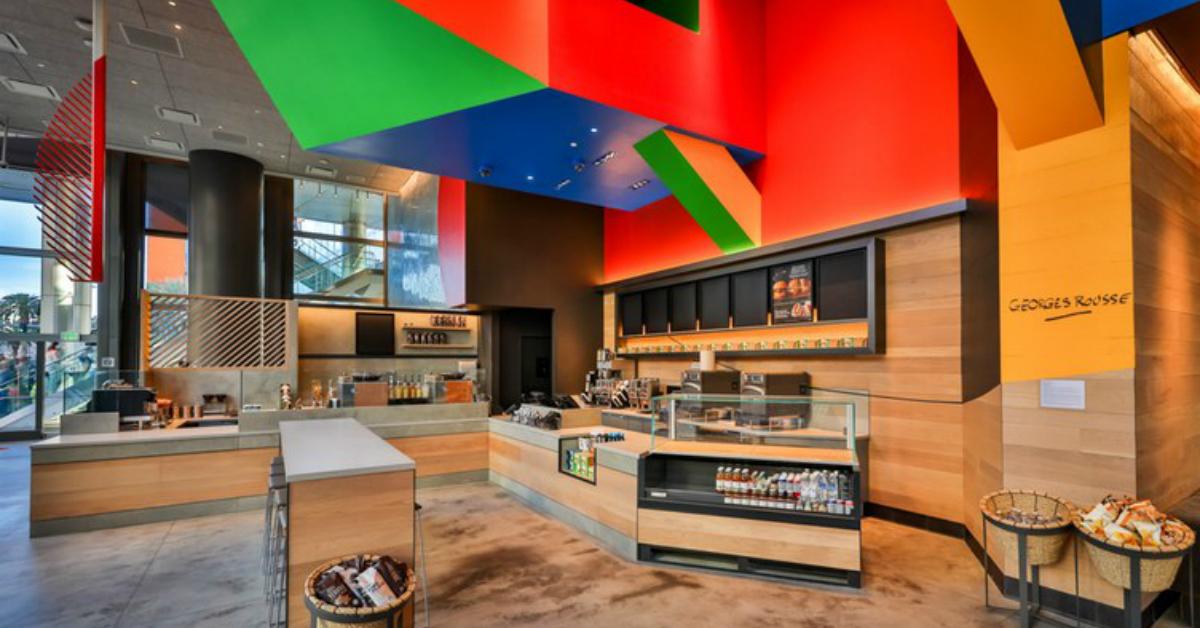 17 of the Most Beautiful Starbucks Locations in the World
By Mustafa Gatollari

Updated
There have been many thought pieces on the internet from coffee lovers urging people to forego the Starbucks chain and spend their $5 on a more worthy beantacular hot beverage (unless you're hitting up Starbucks Happy Hour, then go you!). It seems like people who ardently dislike Starbucks go out of their way to tell people how much they can't stand it.
Regardless of whether you think Starbucks is overrated, it's one of the most popular food and beverage chains in the world. For example, in China, it's not only the top coffee spot, but also one of the top fast-food chains in the country, competing with the likes of McDonald's, KFC, and Burger King.
While their plain cups of coffee can be quite pedestrian, some of the store's flagship locations are not. These are some of the most beautiful Starbucks spots in the world, and they're jaw-droppingly gorgeous.
Milan, Italy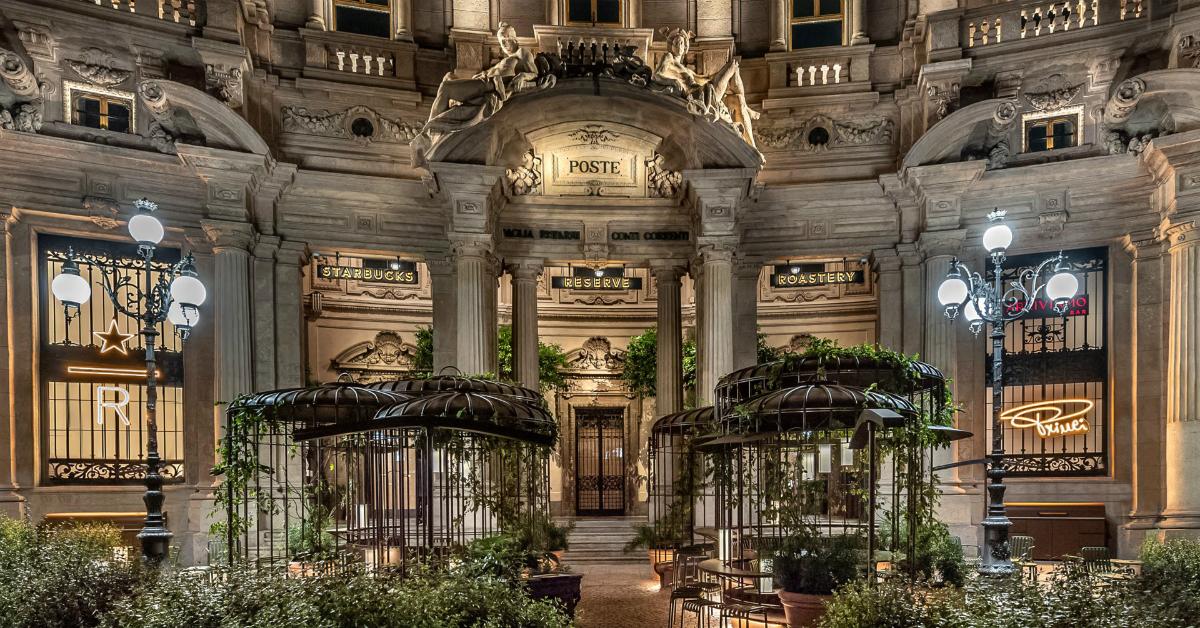 Located in Piazza Cordusio, Starbucks was definitely trying to "go big" before "going home" in Italy, a country that doesn't really care for Starbucks coffee all that much. But can you really blame them for having such a lukewarm reception to the franchise?
I mean, this is Italy we're talking about. In the span of a few meters, you could trip and fall on about 20 different cafes that are all amazing and serve delicious cups of coffee. This is why this Starbucks Reserve Roastery had to make this location so downright incredible.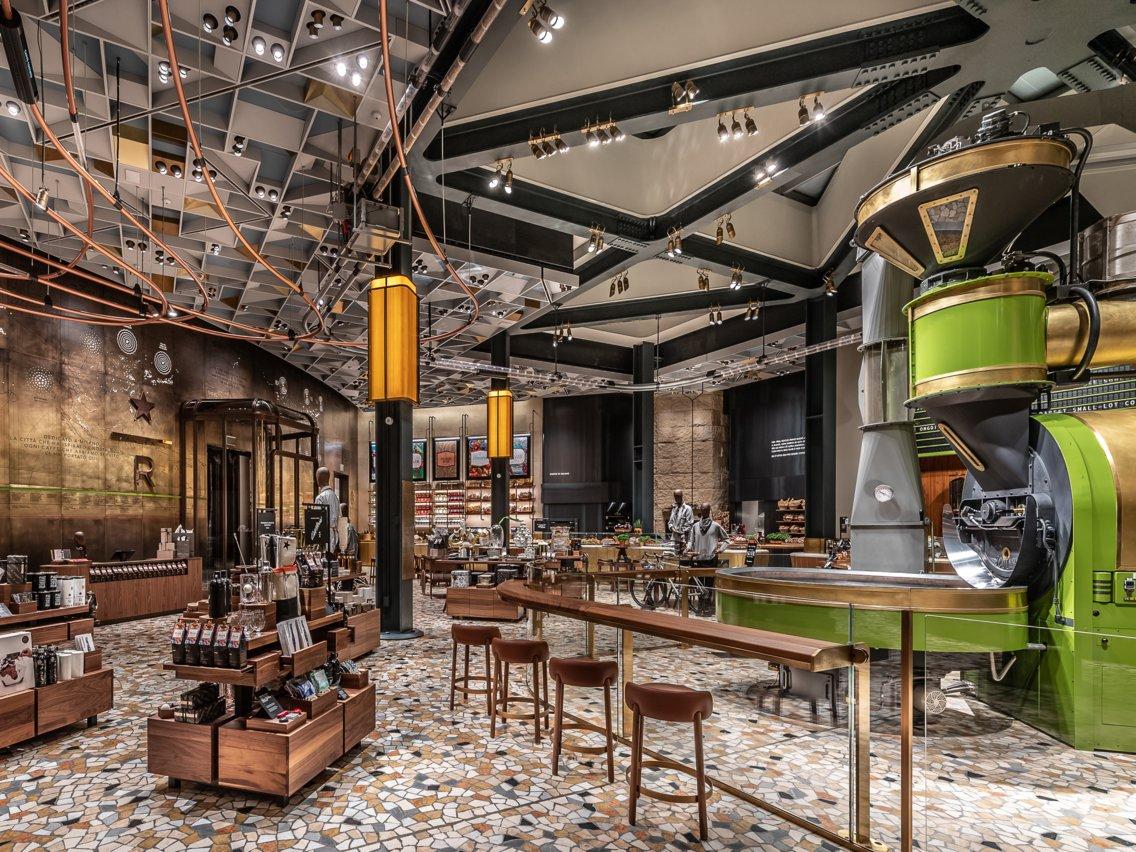 It boasts a Scolari coffee roaster and a custom Milanese bronze unfolding cask that's totally unique to the store. Its main bar is decked out in expensive-looking wood and Tuscan marble, along with an Arriviamo Bar that also serves cocktails and food.
That's not all, though. The Italian roastery is also going to be the first Starbucks location with an affogato station serving made-to-order ice cream.
It also features its own custom drink named after its location: the Cordusio. It's an espresso mocha sprinkled with a bit of cocoa powder.
Shanghai, China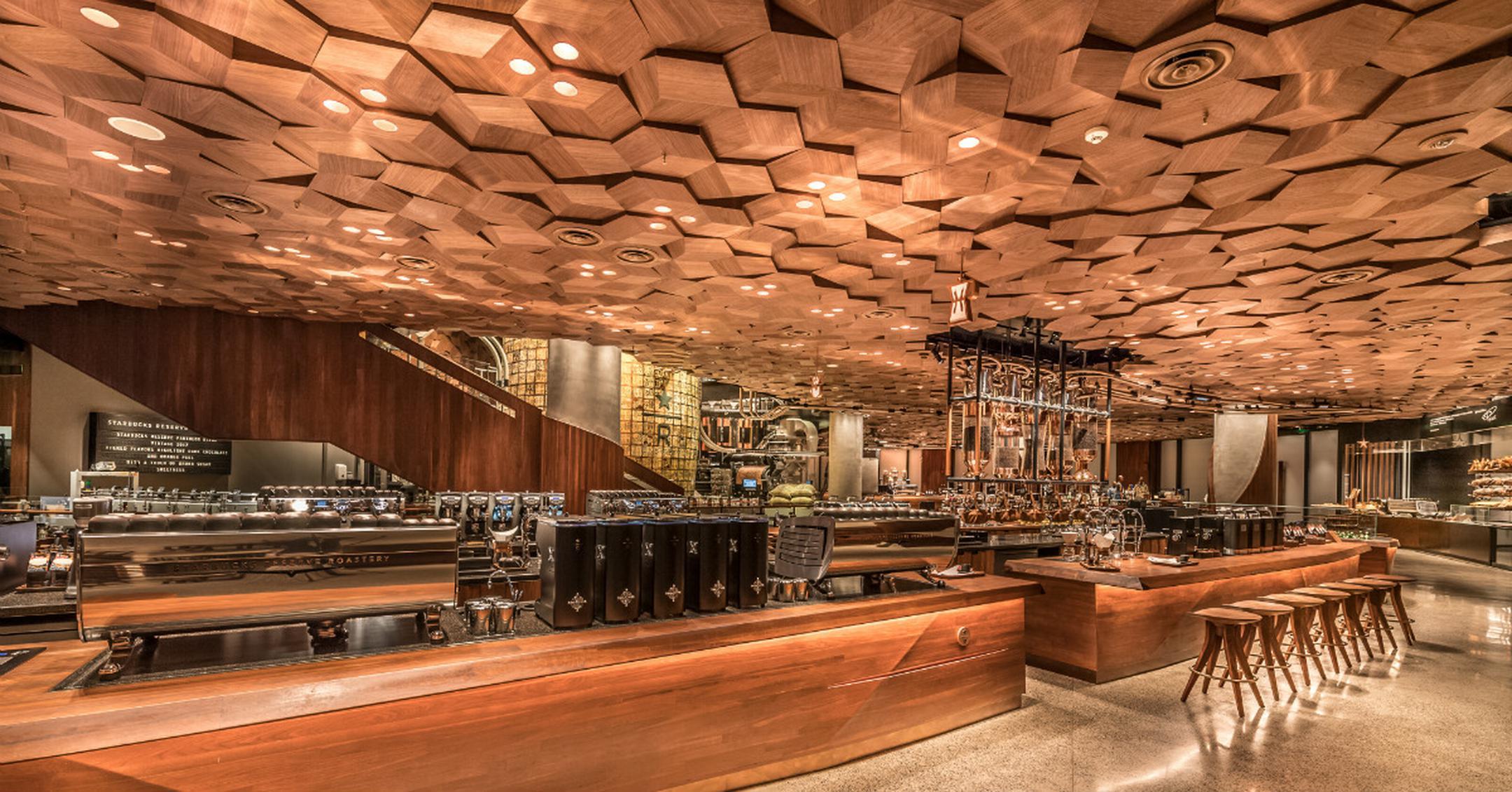 When I wrote about this  Starbucks Reserve Roastery in Shanghai, China, it was the biggest Starbucks in the world. Like the Milan location, this store features exclusive services and items, like a 3D-printed tea bar and an augmented-reality app that users can play around with while they sip and talk shop in the 30,000 square-foot facility.
Like some other reserve roasteries, the Shanghai location also serves beer, but it's still the only one to have 3D-augmented reality technology that's  developed and run by online mega-retail giant Alibaba. Talk about a collaboration.
Seattle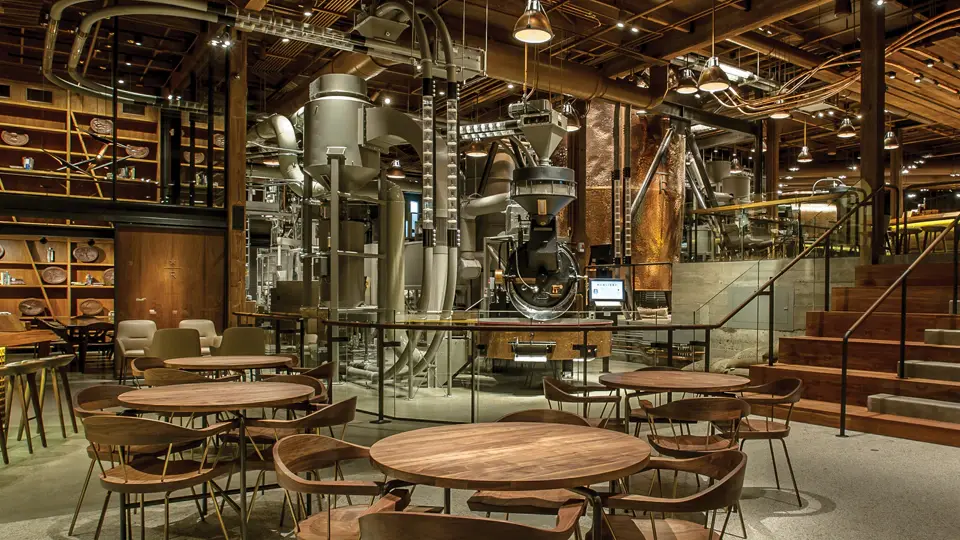 Where it all began: the original Starbucks Reserve Roastery in Seattle has to come correct because it is the hometown of the coffee mega-giant, after all. It's the largest in the United States and has a few things that make it stand out from the other Roasteries out there.
One: you can actually watch them roast the beans they sell under their Starbucks Reserve label in  store locations across America.
Two: there's a "tasting room" on premises where they do all sorts of crazy things to coffee, like heat it up in big bulbs to brew. It's quite a spectacle.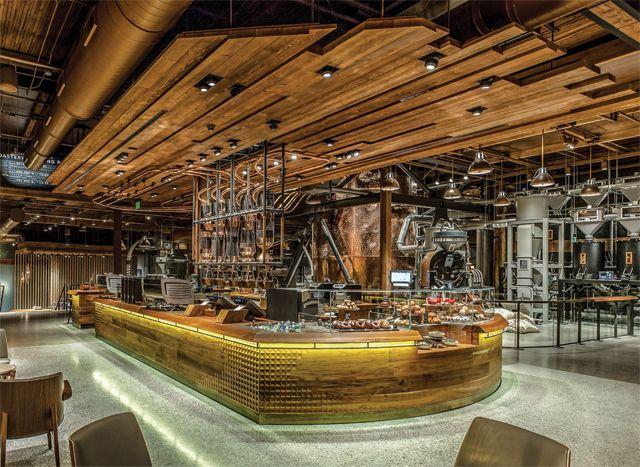 Some argue that this doesn't make the coffee taste any better despite costing six times more than a regular cup of black caffeine juice, but you do get to select your beans and see the unique brewing song and dance up close and personal.
It's also the only Starbucks location in the United States to bake its pastries fresh on premises. There's also a bunch of fancy Starbucks swag you can only get at this spot, including locally made bicycles. I know, it's super hipstery, but still kinda cool.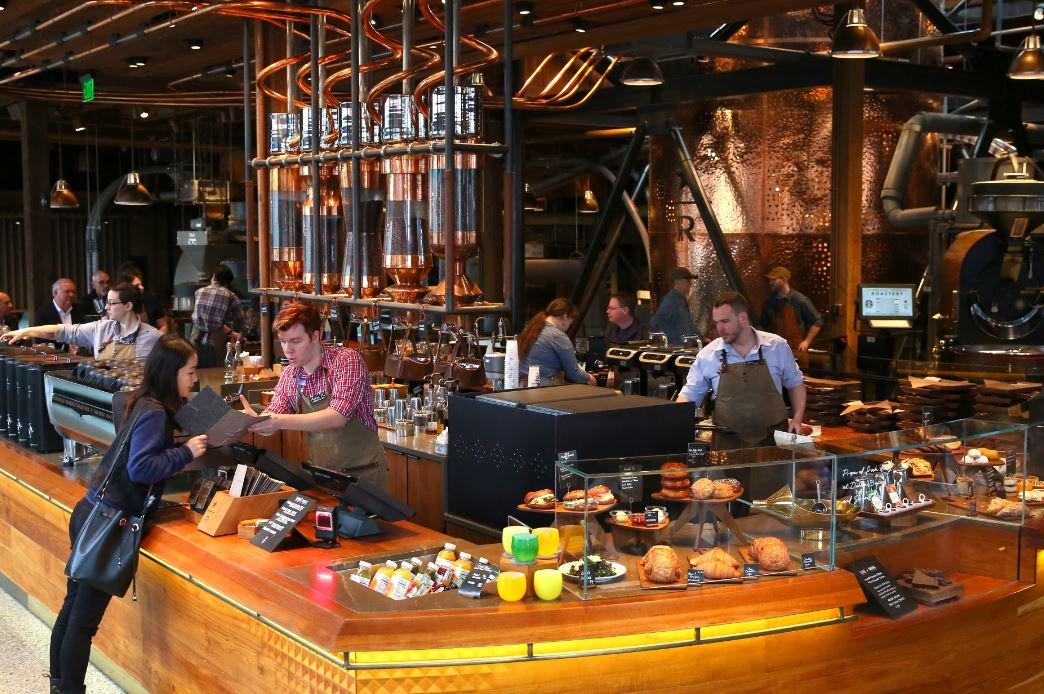 Medellin, Colombia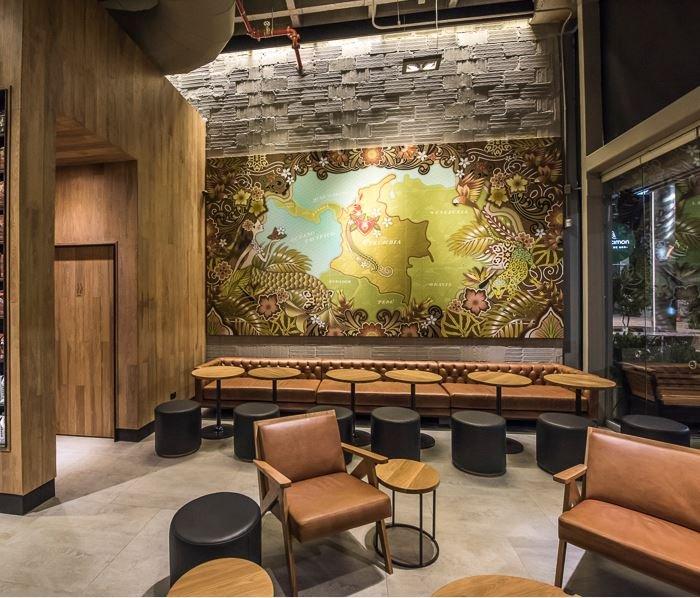 When it comes to coffee, Colombia provides some of the world's best beans, so it makes sense Starbucks would create a store there.
The interior design is an open layout, with bold paintings by Colombian artist Natalie Penagos. The furniture is made by local designers and businesses. The space also has a "living" green wall where plants from the region are cared for and put on display for thirsty patrons to enjoy while they procrastinate writing their screenplays.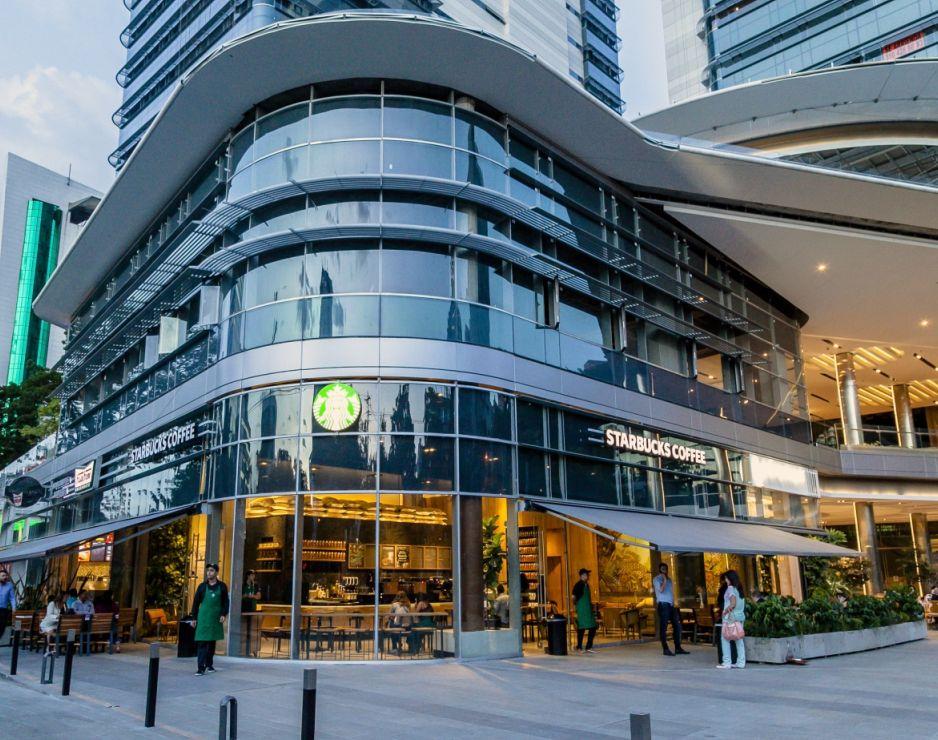 Paris, France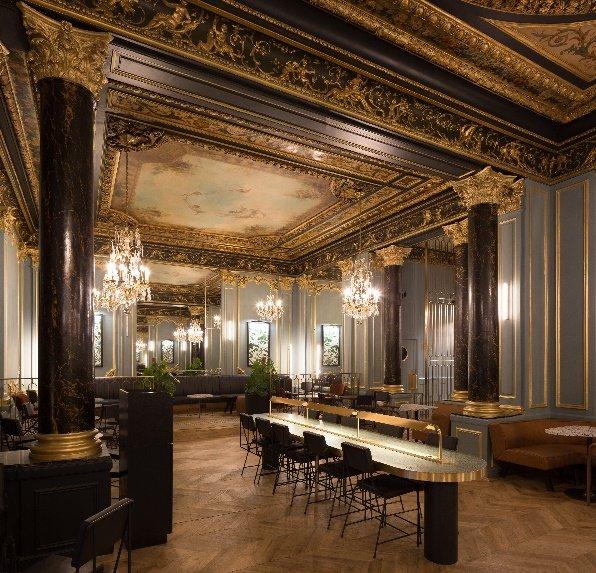 You'd think that, like Italy, the French wouldn't take too kindly to Starbucks, and that might very well be the case. But it hasn't stopped the mega-brand from creating a truly beautiful location on the Boulevard des Capucines.
Situated in the heart of Paris, it features 19th-century murals, crown-molding, and designs that are undeniably French and undeniably gorgeous. What's great about this location is that Starbucks really didn't do much to its original architecture: they just dumped a ton of resources and time into restoring it to its original historical glory. Classy move — now if they can only get my name right on their cups...
Cité des Jeunes, Montreal, Canada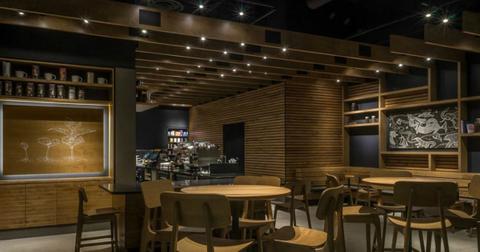 The modern-wood design of this Starbucks also incorporates design cues from its location: Two Mountains Lake in Vaudreuil. The locals have an affinity for water, and this "Town of the Young" Starbucks location pays homage to that passion with nautical-themed details.
Barcelona, Spain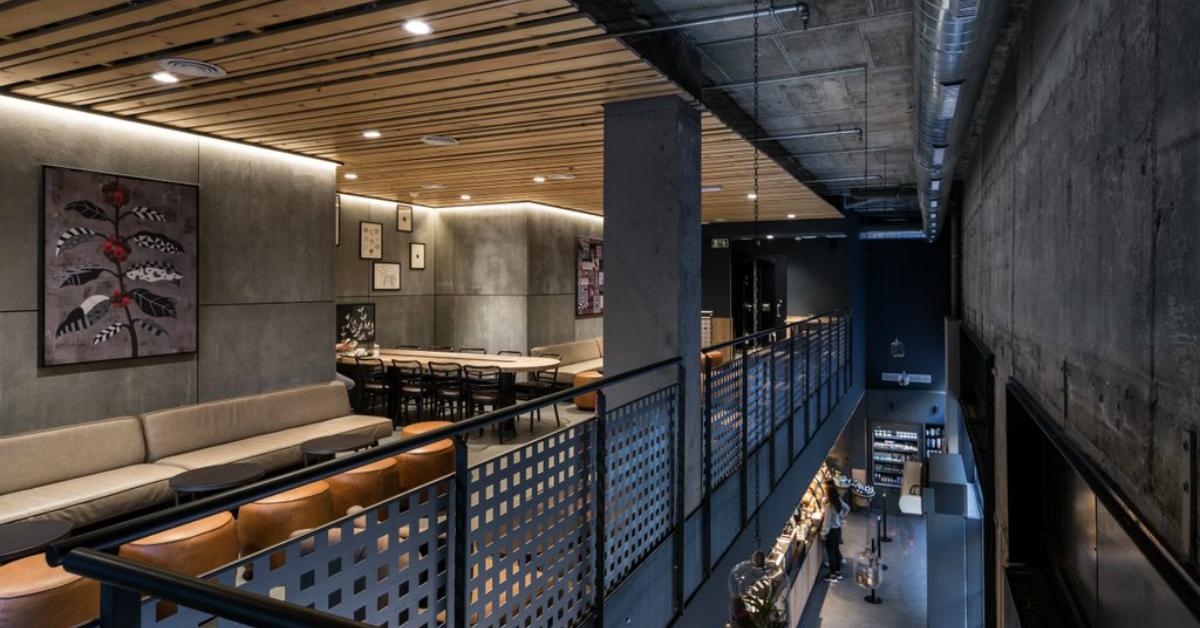 Barcelona is known for its amazing architecture, and the Carrer de Pelai location, situated near Plaza de Catalunya, is no different. What's interesting about this spot is that it's a blend of both modern and classical designs. Concrete slabs and unique light fixtures highlight this juxtaposition.
Kyoto, Japan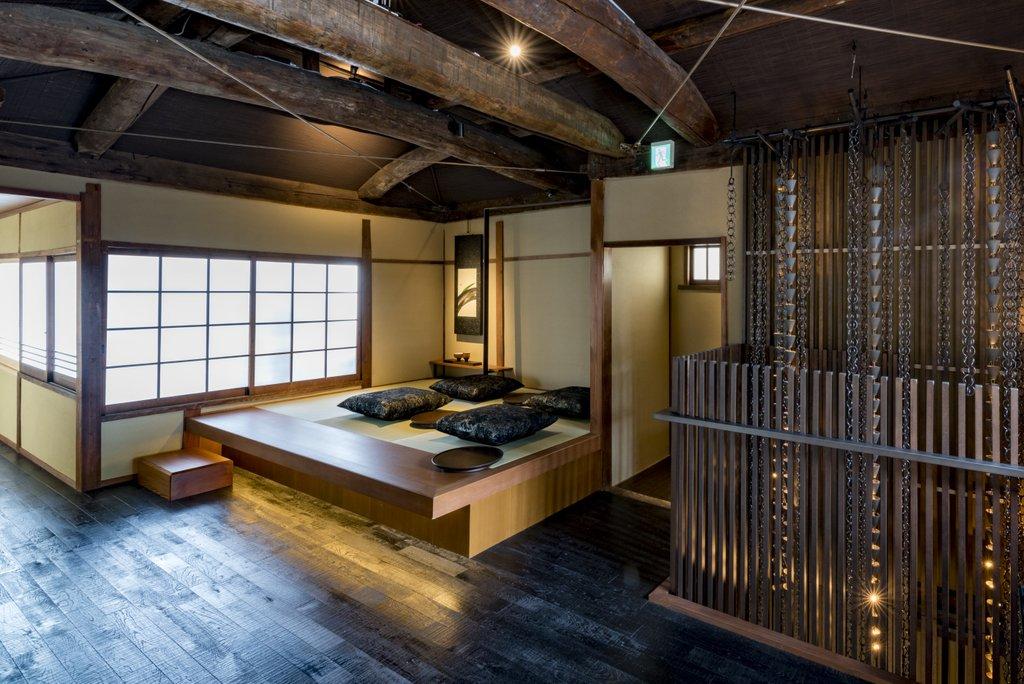 What's cool about a lot of the Starbucks locations on this list is that they're far from the cookie-cutter, corporate food spots that look like they were shipped in a box and put together with an Allen key. The  Ninei-zaka Yasaka Chayaten Starbucks is yet another example of that.
It's a 3,000-square-foot, 100+ year-old Japanese townhouse surrounded by gardens packed with stone pools, tress, and moss. What peaceful scenery to enjoy while you're sipping a hot cup of coffee.
Oh, and there are tatami rooms upstairs where guests can take off their shoes to hang out while they sit low to the ground and enjoy their beverages. It would feel kind of wrong slurping on an iced Unicorn Frap in one of those rooms though, right?
Phra Nakhon Sri Ayutthaya, Thailand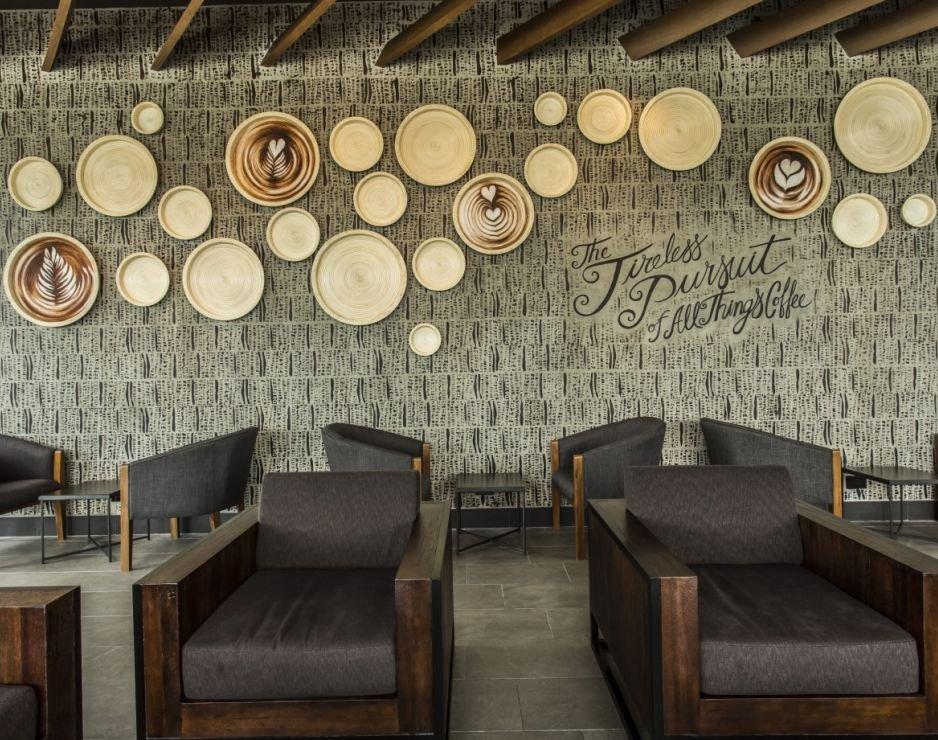 This absolutely stunning building has a floor-to-ceiling design that is pretty awe-inspiring when you walk inside. There's also some gorgeous wall-art featuring bamboo baskets designed to look like lattes and interior design that is uber-modern and understated but full of a character. They did an amazing job with this one.
Miami, Florida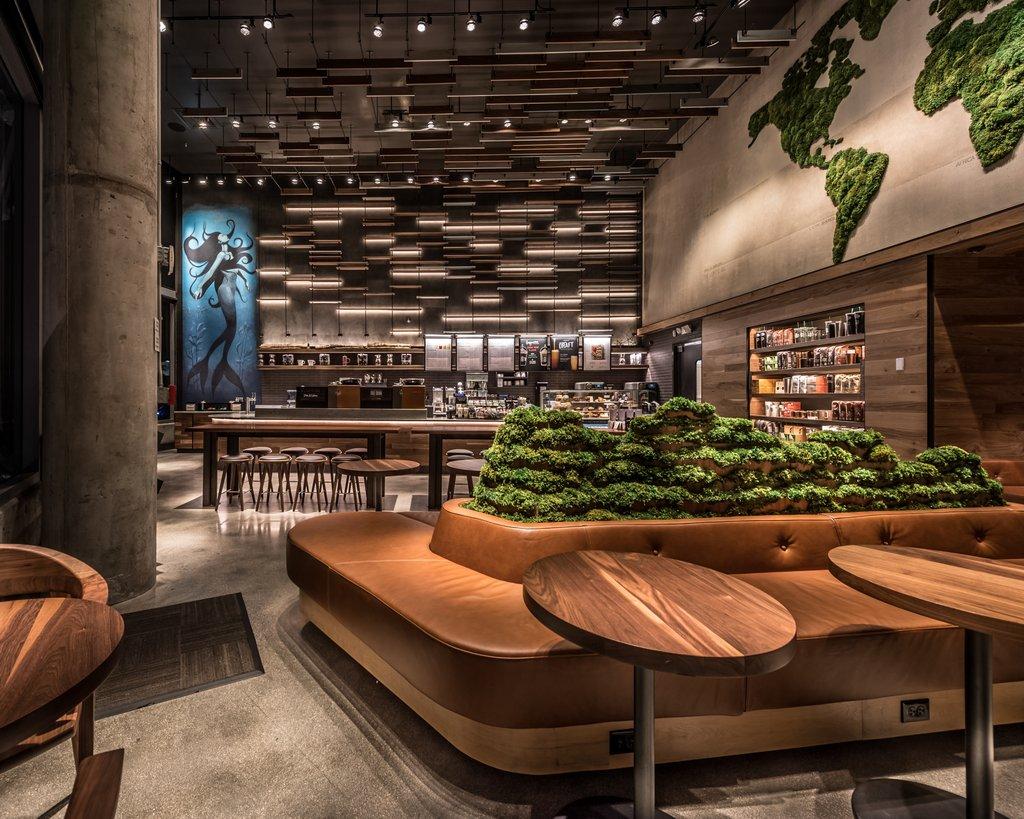 If you're a chain restaurant in Miami, you have to work extra hard to draw people inside to spend their hard-earned dollars, especially when it comes to coffee, because there are tons of local Cuban spots where you can get a $1.50 cafe con leche or cold sugar cane juice.
That's probably why the Miami spot delivers on such a high level. They've got a the globe growing out of moss on a wall, along with an island of greenery surrounded by a brown leather seating area. The mural of the Starbucks Siren is also pretty cool-looking, and it doesn't hurt that the spot is within walking distance of the beach. Primo real estate.
World Trade Center, NY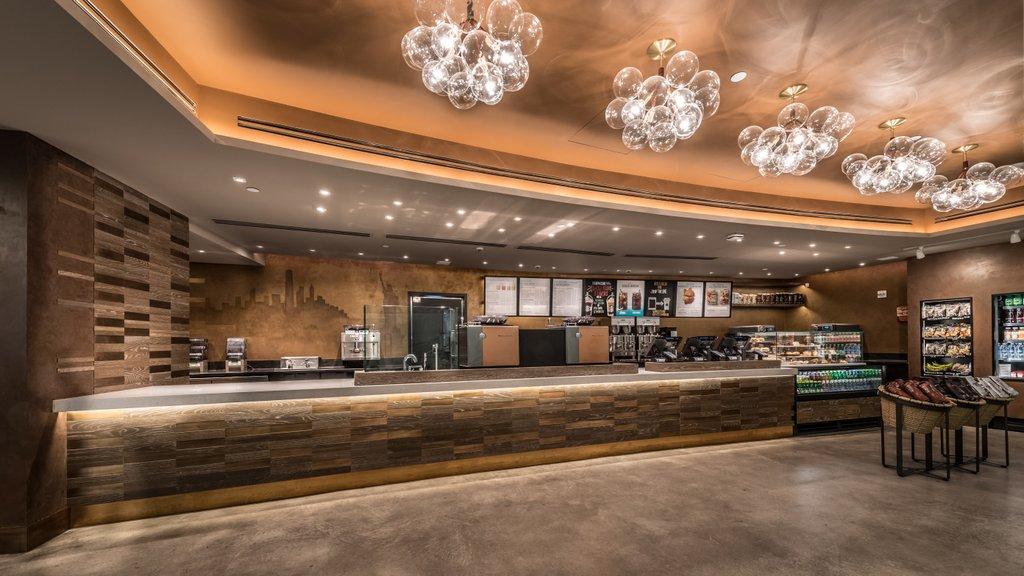 If you're a big retailer and you've got a store in New York, then you've got to come correct, and Starbucks does with their World Trade Center Oculus location. It's a modern marvel with a huge open space (which is hard to come by in sardine-packed city like NYC) and peppered with beautiful details. If you want to grab a cup of joe and you're in the area, you should definitely check it out.
San Luis, Mexico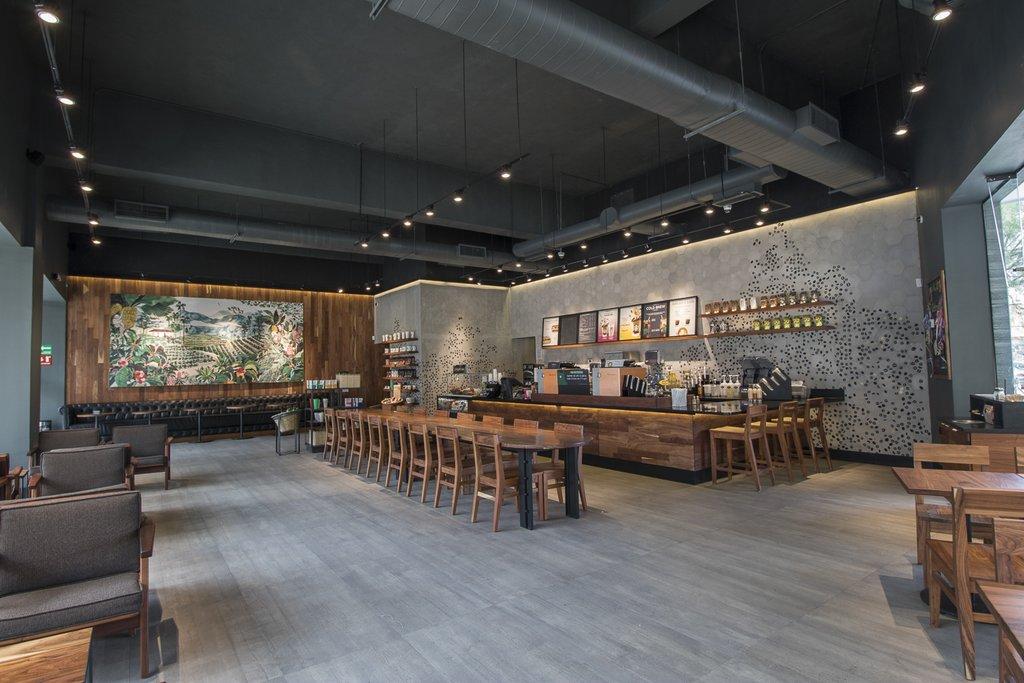 Despite its concrete walls and a brown and grey motif, this store's huge windows bring copious amount of natural light into the venue. It's a delicate balance that the store manages to pull off incredibly well.
Chengdu, China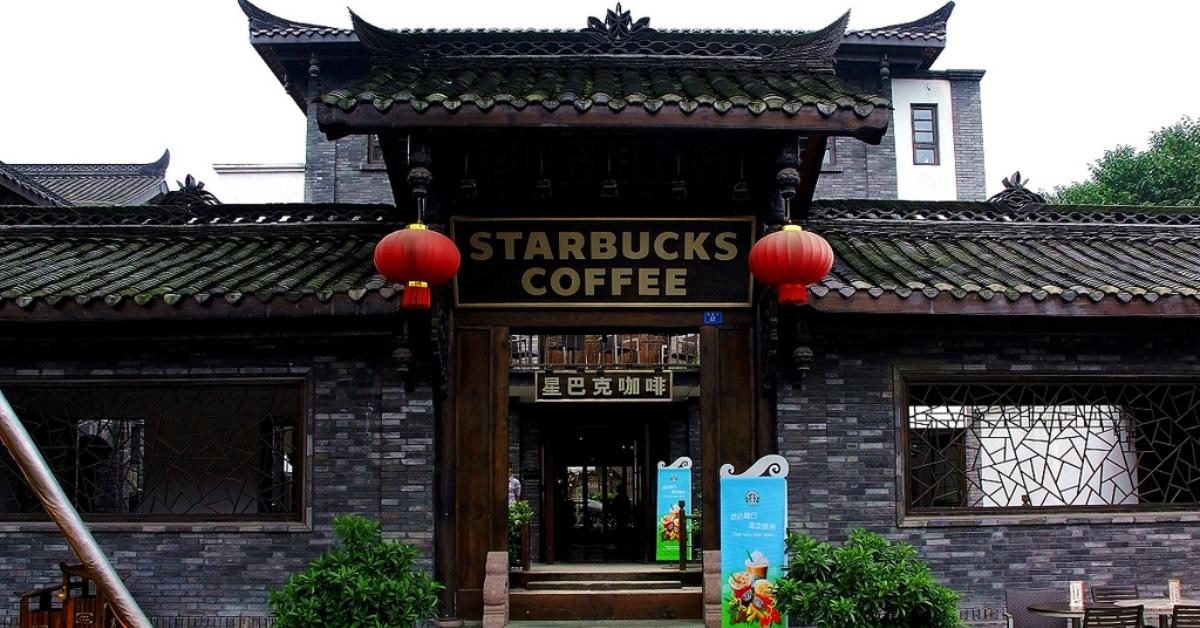 There's not much on the exterior of this location that would hint that there's a coffee franchise serving customers corporate fare on the inside, save for the big "Starbucks" sign out front and the promotional product signs. A big gabled roof and huge wooden doors make you feel like you're touring old-school Chinese architecture and not stopping in for a vanilla bean frap.
Chicago, Illinois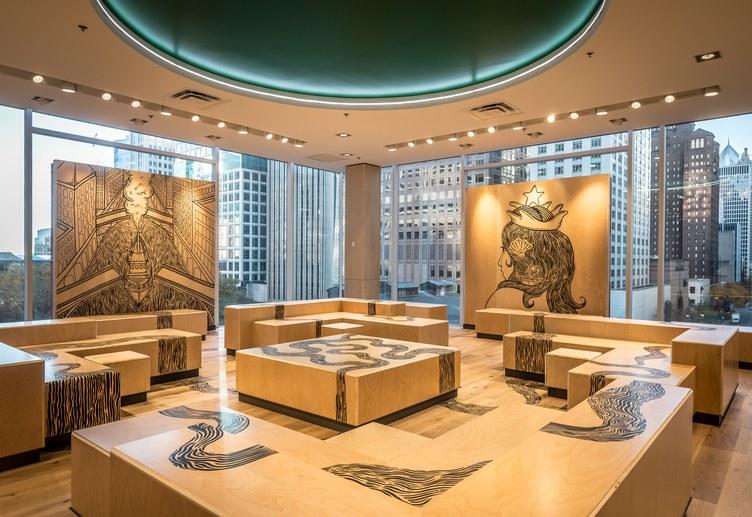 Located in a Uniqlo, this location allows you to get coffee while shopping for pants only the skinniest legs can wear.
Its interior perfectly captures the Windy City on both floors. The huge windows on the top floor lets you peer out at the downtown area, and the bottom floor sports a clean, dark-wood design that's undeniably sexy.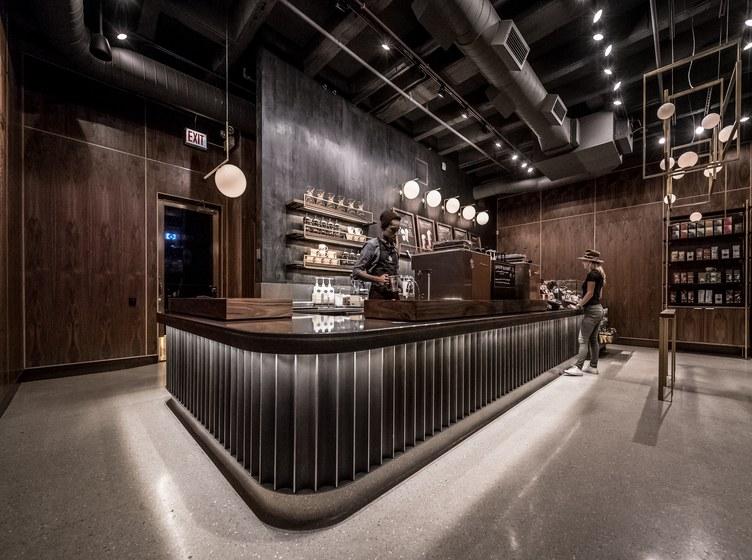 Las Vegas, Nevada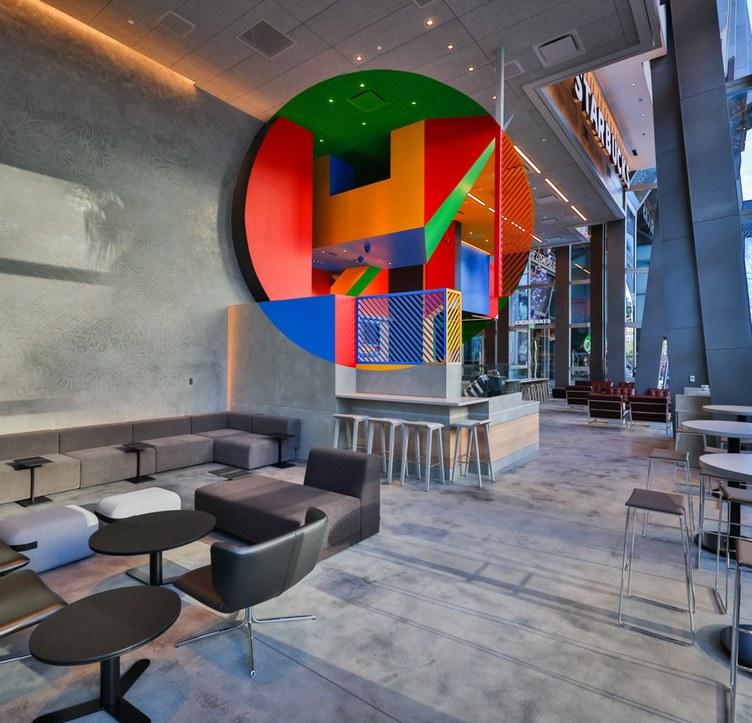 You like colorful art installations? Huh? You like weird geometric designs that are bursting with all sorts of bold hues while you sip your coffee in a gray and muted space? Then you're going to love the Starbucks in Vegas, baby.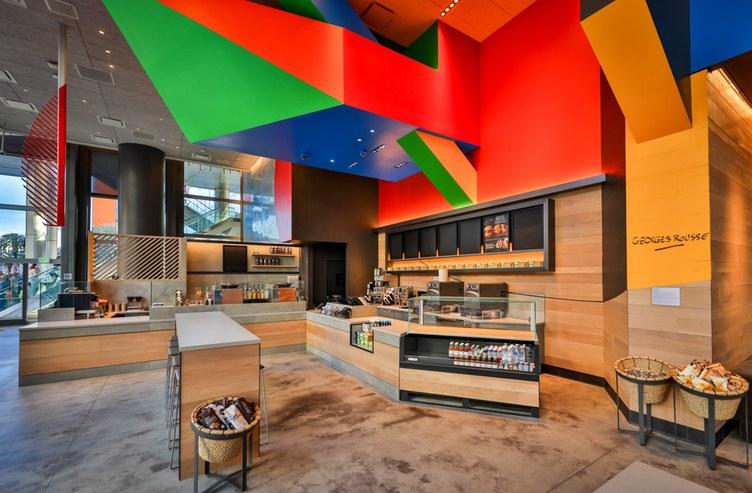 The real star of the show is located right above the main counter, with it's Playskool/Lego aesthetic assailing you as you try to pick the best caffeinated beverage to make you feel better about losing a whole lotta money at the roulette table. Sorry.
Willemstad, Curaçao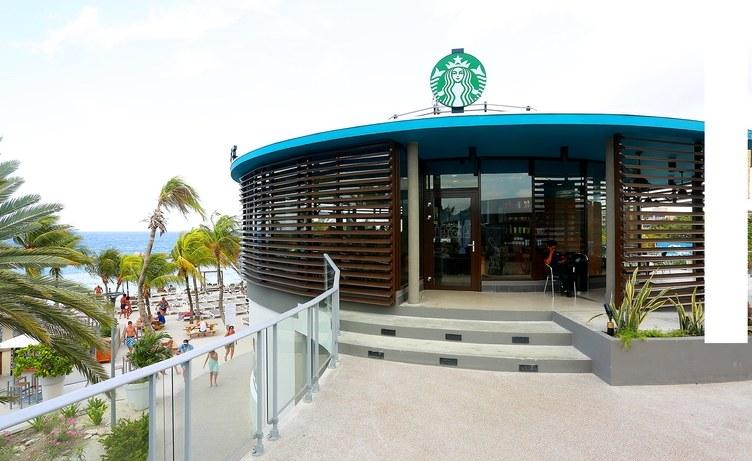 The Dutch colonized island of Curaçao features a 360-degree design that gives customers a gorgeous shoreline view wherever they sit. Now that's a romantic thought: sipping on coffee and being happy that you're not potentially being eaten by sharks.
Long Beach, California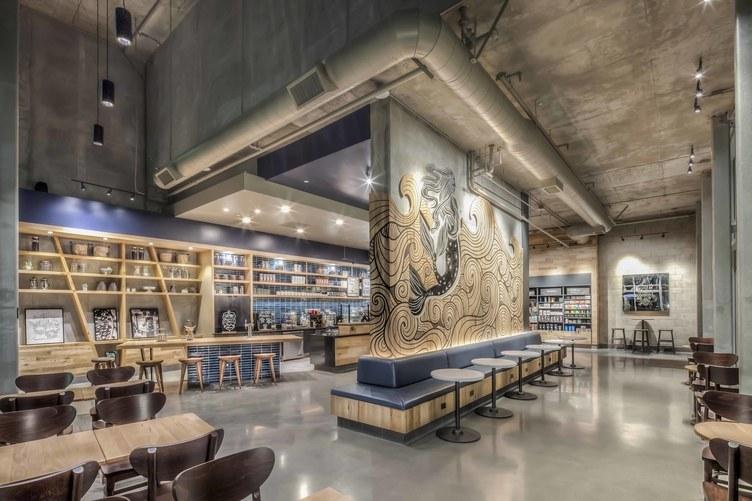 With so much drama in the LBC, it's kinda hard to enjoy a cup of coffee, but Starbucks somehow created this funky place I'd want to visit every single day. May, I, point you to the nautical themed blue and beige palate hanging on the wall. 
OK that was a stretch (sorry for disappointing you, Snoop), but the interior and exterior of this spot is absolutely gorgeous.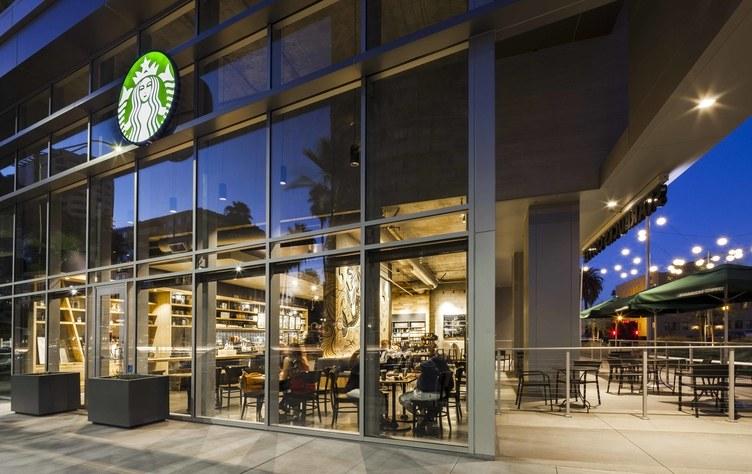 All right so there are even more amazing Starbucks locations popping up all over the world, and the NYC Reserve Roastery isn't even open yet (which should be insane), but the ones on this list aren't too shabby, right?
What are some of your favorite Starbucks locations that weren't pictured here?