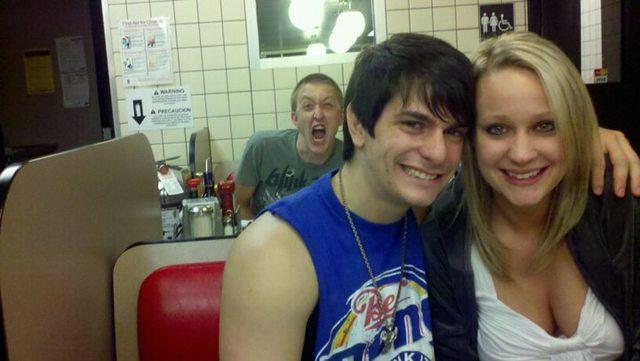 These Hilarious Photobombs Will Make You Double-Check Every Photo You've Been In
By Zachary Brenner
Personally, I hate being photographed and if you make me be in your photo, I promise you, I will ruin it. That may sound like a jerk move, but I think it is what someone get for making me do something I don't want to do. I mean, the nerve!

I just bring this up because people can photobomb for a number of different reasons. Revenge, boredom, humor. All equally valid reasons to ruin someone's photo, if you ask me.

Think on that as you look at these photobombing heroes.
We're your family now, right?
When your cat doesn't like your new haircut...
Hi there! Beautiful day, isn't it?
I don' think I'm supposed to be here.
Have you guys tried swimming? So hard!
Lovely people on a lovely beach
You know what? He's earned it.
Why doesn't anyone hug me?
Oh. Walk BEHIND the camera!
Did you not see the man in the banana costume?
If only they were my friends
Now if you could just step to the left. Eh, good enough.
I'm part of the team, right?
Someone is having a good time.
He's rooting for you kids.
There is a monster behind you!
I thought I was the favorite dog
I get to be on TV? Yee-haw!
Thank goodness we're not still relying on Polaroid prints, am I right?