Revenge is a dish best served cold, but honestly, I think that phrase could be reworked depending on the individual to "revenge is a dish best served petty."
I know the word petty gets a bad rap, and it's because petty people are usually just the worst, always arguing about the way the bill's split up or bringing up gas money while conveniently forgetting all the times you hooked them up.
But sometimes, you just need to get back at somebody without causing a big stink. Now that could be a form of vengeance that's surreptitious. Maybe someone doesn't know you let the air out of their tires? Or put a few pebbles in their shoes, preferably under their soles, so they walk a bit before they get so uncomfortable they have to take their kicks off and shake the rocks loose.
Whatever your form of petty revenge, sometimes the passive aggressive, small-scale approach gives you more satisfaction than letting someone know you were the maestro of their demise, the architect of their doom.
1. Someone call Fred Durst, because there's about to be some hot dog flavored water up in here.
2. This woman who put Icy Hot in her husband's underwear.
3. Pork livers under the windshield wipers.
4. Lipstick in toilet water. My God.
5. Hope you guys like .net addresses.
6. If their boss is OCD...this'll get them.
7. That looks like a good piece.
8. So I write, I write, I write, I write, I write...
10. Great now they're all too ripe!
11. That's just laziness.
16. Always close your sunroof.
17. Yeah don't mess with a biker gang.
18. These garbage men getting revenge on a dumb car parker.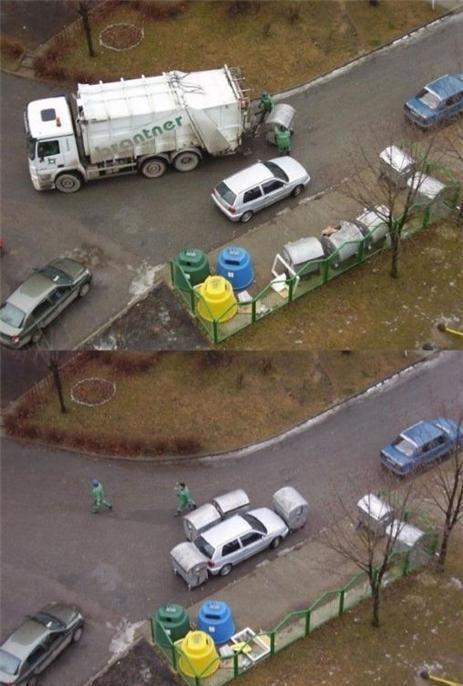 20. OK the act of removing half a car isn't petty...but...my God, why only leave half of it?!
21. You look great for your age, ma'am!
22. That's right, you walk now, lady.
23. I'll just take a knife and saw through half that pint, stupid.
25. That's one angry barista.
26. You don't mess with someone's movie seat.
28. eBay crybabies beware.
30. This guy who discovered his girlfriend was cheating on him.