These Cops Have No Problem With Perpetuating the Donut Stereotype
When a Krispy Kreme truck ran into some trouble on a highway, these cops mourned appropriately.
It's almost always comforting to see that police officers are capable of having a sense of humor, like these cops did when they responded to an incident involving a Krispy Kreme truck.
Cops are usually such intimidating figures, it's kind of hard not to straighten up and get all sorts of nervous whenever you see those flashing blue and red lights popping up in your rear-view mirror.
Article continues below advertisement
Cracking jokes with a police officer is usually the last thing on your mind when you're rifling through your glove box praying that you put your updated insurance cards in there. Surely, you wouldn't offer one a donut if you happened to have some sitting on your passenger's seat. Would it be a hilarious thing to do? Absolutely. Would it probably result in you getting a ticket? I'd wager money that it would.
That is, unless, you got one of these police officers from the Lexington, Kentucky police department who responded to a Krispy Kreme truck emergency. From the looks of it, one of the donut chain's trucks somehow caught fire and needed to be towed off the road.
Before anyone could make the joke about cops flying their flags at half-mast out of respect for the delicious treats, Lexington PD went ahead and made it themselves.
Article continues below advertisement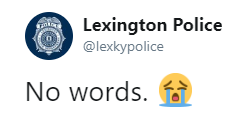 Article continues below advertisement
They tweeted a crying face about the incident, along with several photos of officers mourning the fate of the donut truck. The good news is that no people, or donuts, were harmed in the fire, as all deliveries had already been made. Thankfully, firefighters were able to quell the blaze before it spread too quickly.
Still, that didn't stop funny cops from using the opportunity to crack a joke, nor did it prevent other police departments from chiming in.
Article continues below advertisement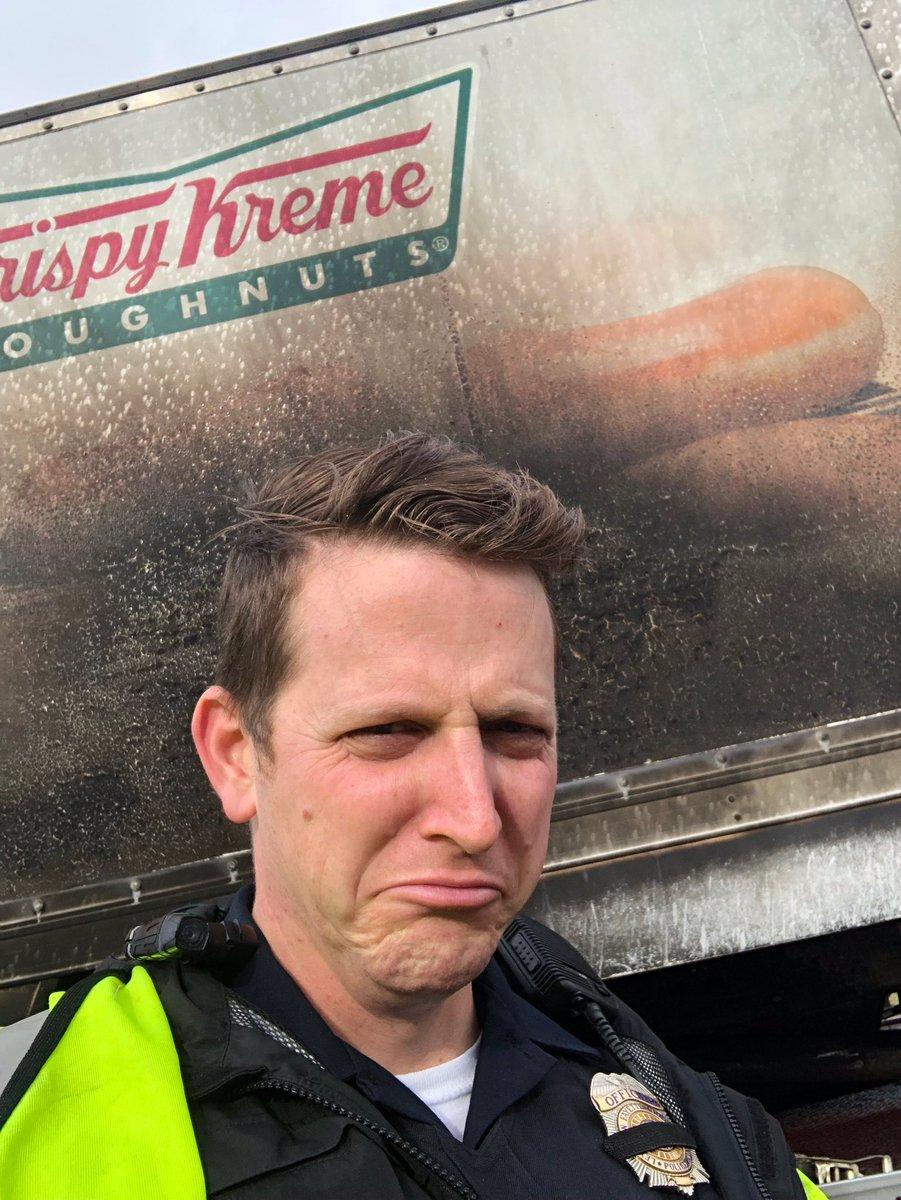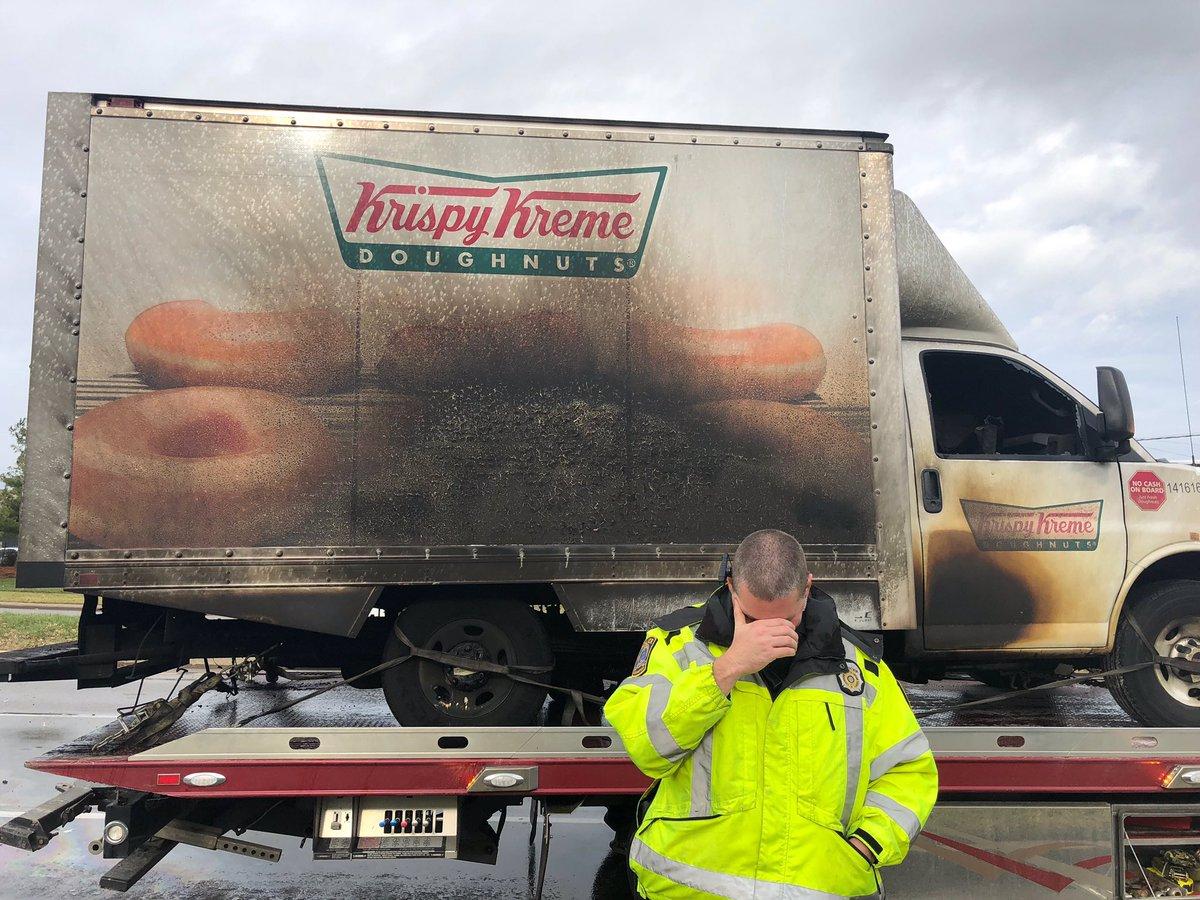 Article continues below advertisement
From Toledo to New York City crime-fighting organizations from all over began pouring in their support for the officers of Lexington, Kentucky in their hours of sorrow. Even bobbies across the pond in London shared in their grief. Some upped the stakes by making donut-themed puns to help soften the blow of such a heavy loss.
But the best response they probably could've received is from Krispy Kreme themselves.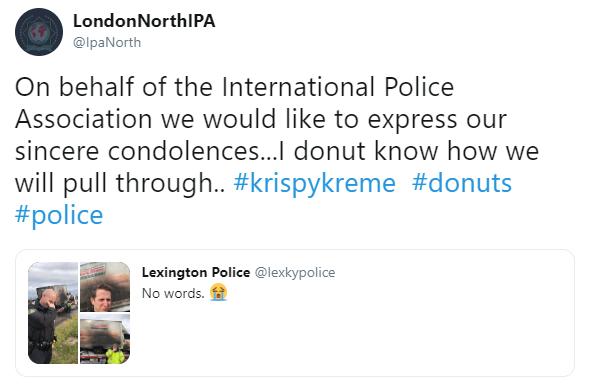 Article continues below advertisement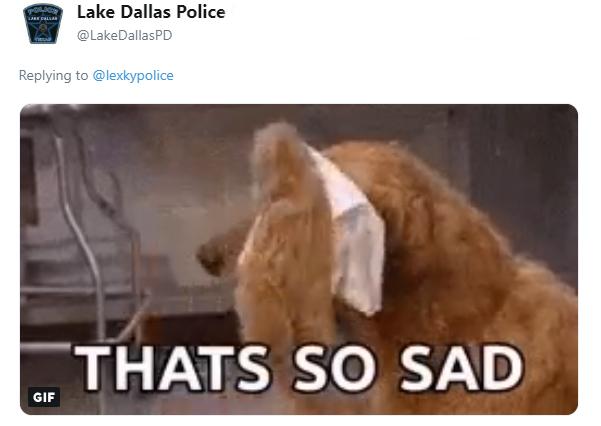 Article continues below advertisement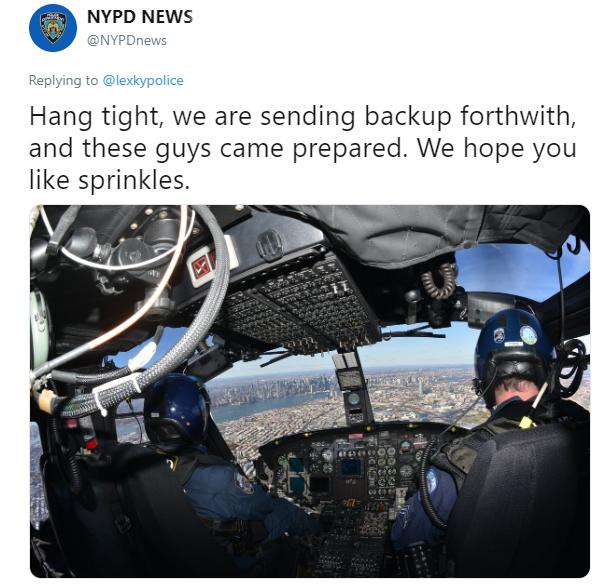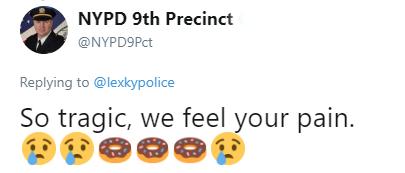 Article continues below advertisement

The objectively best large-scale donut chain in America (sorry Dunkin' and Tim Horton's, the Kreme's got you beat) responded to the Lexington PD's sad tweet with the promise of more donuts on the horizon. Not to put them on the spot, but this has all the makings of some viral news magic. If I were head of KK's PR division, I'd send a non-burnt truck to the Lexington precinct with a few dozen donuts for the officers. Some black coffee wouldn't hurt, either.
Article continues below advertisement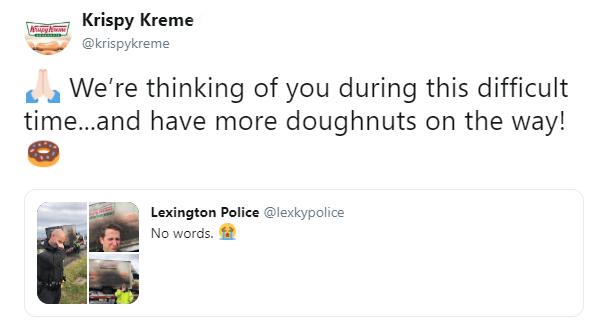 This isn't the first time cops have decided to poke fun at thee donut-loving-stereotype, however. Earlier this year, in honor of National Donut Day, cops at the Fulshear Police Department in Texas decided to create a hilarious spoof video where one of their officers was "bribed" with a donut. The way he looks side-to-side before accepting the tempting glazed and sprinkled treat is comedy gold.
Article continues below advertisement
Then there was Officer Baker, who uploaded this hilarious gag to YouTube where he shared a tearful video that ominously promised footage of the "worst accident" he had ever seen. He speaks sincerely into the camera on the brink of tears, really selling to viewers that they're about to witness something truly traumatic they'll wish they could unsee.
Then the camera pans to an upturned box of donuts on the ground. Priceless.
Article continues below advertisement
These Iowa police officers also made headlines with their pun-laced viral video that promised free donuts to those who "donut disrespect, donut discriminate, donut harass, and donut hate" their fellow citizens. All while scarfing down donuts in the process. They also mention that cop donuts taste better than regular donuts, and I have to admit the ones they've got on the plate in front of them look incredible.
Article continues below advertisement
All of the above-mentioned cop-donut stories are intentionally funny, but not this next one. A Florida man was awarded $37,500 after cops mistakenly thought residual flakes from a glazed donuts were crystal meth. In the officers' defense, the "crystals" came back positive for methamphetamine when run through their testing kit, but it turns out it was a false positive. 64-year-old Daniel Rushing had to spend a night in jail anyway.
Article continues below advertisement
At least all the charges were dropped once further tests revealed he had a sweet tooth and not an affinity for Biker's Coffee.
Well, well, well it looks like I was right and Krispy Kreme totally did take advantage of the Lexington PD's hilarious joke and used it as an opportunity to provide the hardworking boys in blue with some well-deserved donut goodness, all free of charge of course.
Article continues below advertisement
They posted photos of the kind gesture from the popular donut franchise on their official Twitter account:
"The Lexington Police Department has been blown away by the positive messages and support received in the wake of the New Year's Eve Doughnut Truck Fire. The impact of that tragedy was felt not just across the country, but around the globe. We are grateful to so many who helped ease the pain of a doughnut-sized hole in our hearts.
And of course, Krispy Kreme. Your delivery of fresh doughnuts provided a sprinkling of joy at the East Sector Police station, filling officers with joy and warming our souls.
Article continues below advertisement
Officers are still investigating what could've caused the original fire. While they work on that, at least they've got dozens of complimentary donuts to help power them as they get to the bottom of such a tragic incident.