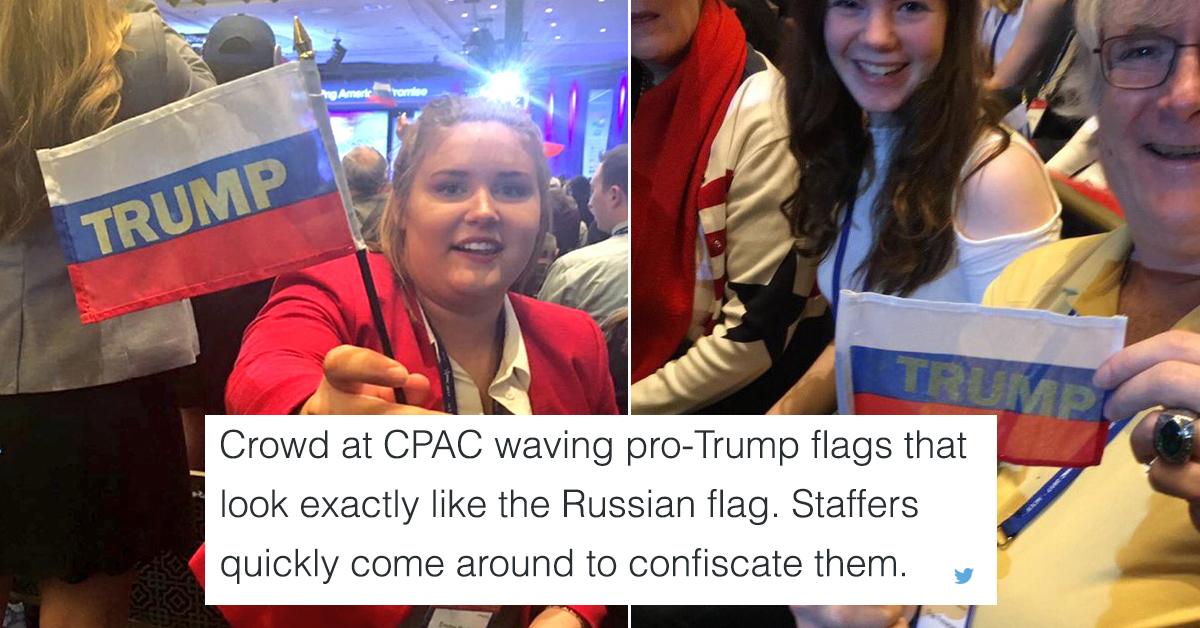 Activists Handed Out Russian Flags At Trump's CPAC Speech As The Ultimate Troll
President Donald Trump gave a speech at the Conservative Political Action Conference on Friday. While he was speaking, he probably noticed some of his supporters waving tiny Russian flags emblazoned with the name "TRUMP."
Article continues below advertisement
Donald Trump's administration has been condemned for alleged ties with Russia, who are believed to have hacked the servers of the Democratic National Committee and released emails to Wikileaks during the presidential campaign.
Last week, national security adviser Michael Flynn resigned after weeks of speculation over his links to Russia. Transcripts showed that Flynn had communications with Russian officials when he was part of the transition team but not in his post.
Article continues below advertisement
So one clever protester decided to hand out flags just before Trump's speech, to people who were apparently unaware what they were. Staffers who spotted them were quick to confiscate them all.
Article continues below advertisement
Article continues below advertisement
The Conservative Political Action Conference confirmed to reporters that activist Ryan Clayton of Americans Take Action was ejected for handing out the flags.
Clayton told BuzzFeed News he had put on a "Borat-esque" Russian accent while handing out the flags and things along the lines of: "Trump and Putin great leaders, yes?"
Article continues below advertisement
While some photos show another man, Jason Charter, also handing out the flags.
A group of CPAC attendees said that they assumed the man handing out the flags was a staffer and only saw "red, white and blue."
Charter said that the two of them arrived with about 1,000 flags and left with none, but that some attendees did notice it was a Russian flag. He added that the goal of the protest was to highlight the "danger" of Trump's ties to Russia.
"Putin picked Trump because it's good for Russia, not because he's great for America. We must impeach Trump immediately; he's a traitor to the country that I love," Clayton said.