Dani Mathers Is 'Not Sorry' About Body-Shaming Backlash After Snapchat Scandal
Dani Mathers was criticised after she Snapchatted an image of a woman changing in the gym.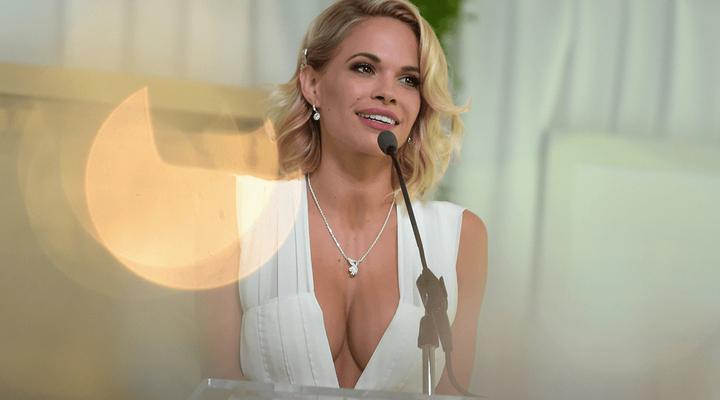 You may know Dani Mathers as the former Playboy model who blew up her life when she Snapchatted an image of a woman changing in the gym, then a selfie of herself grinning in mischievous delight with the caption, "If I can't unsee this then you can't either." People were shocked that Mathers would violate someone's privacy that way, and also that she seemingly thought it was a funny thing to do:
Article continues below advertisement
Mathers was banned from the gym, lost her job, and faced jail time. Now, she's getting free coverage for being the mascot for awful behavior. US Weekly interviewed Mathers following the end of her court case, and guess what? She ain't sorry.
Article continues below advertisement
"There is no doubt I regret that stupid choice," Mathers begins. "I am sorry that it happened to this woman."
Hold up. You're sorry it happened to this woman? That is the most passive way to describe what you actively did I've ever heard, but okay.
"But I am not sorry about what happened to me," Mathers continues, "I would not have this push to create positivity and try to change people's minds about how they act without thinking. My life flipped upside down. But it's a blessing in disguise."
Article continues below advertisement
Mathers says she's working with anti-bullying campaigns and says the words, "I'm so sorry." But she also says, "I never intended to hurt her."
Is that really true? If you do something supremely messed up behind someone's back and think they'll never know, is that the same thing as not meaning to hurt them?
Article continues below advertisement
Maybe you've forgiven Mathers, too, and think she should be given a second chance. If not, though, you might be happy to hear that the last year has been hellish for her, and she stopped using social media for a long time:
"People have been relentless. That's a lot of why I had to step away. All I want to do is defend myself. But if I spend every moment defending myself, I wouldn't be getting anything positive done. I have to block it out. I can't feed my mind and my heart with negativity."
And as a bonus, she seems to think a large part of the reason people were so mad is because she's hot. After being asked if her appearance played into the response to this story, she says,"Absolutely! Prior to this, I would get unfortunate comments about my physical appearance. I was pigeonholed into this stereotypical view. It discounts the work I put into my career. Being in the public eye isn't all rainbows."
The stereotype that an extremely beautiful person could do something very ugly with zero self-awareness? Poor you. Is Mathers the real victim here?