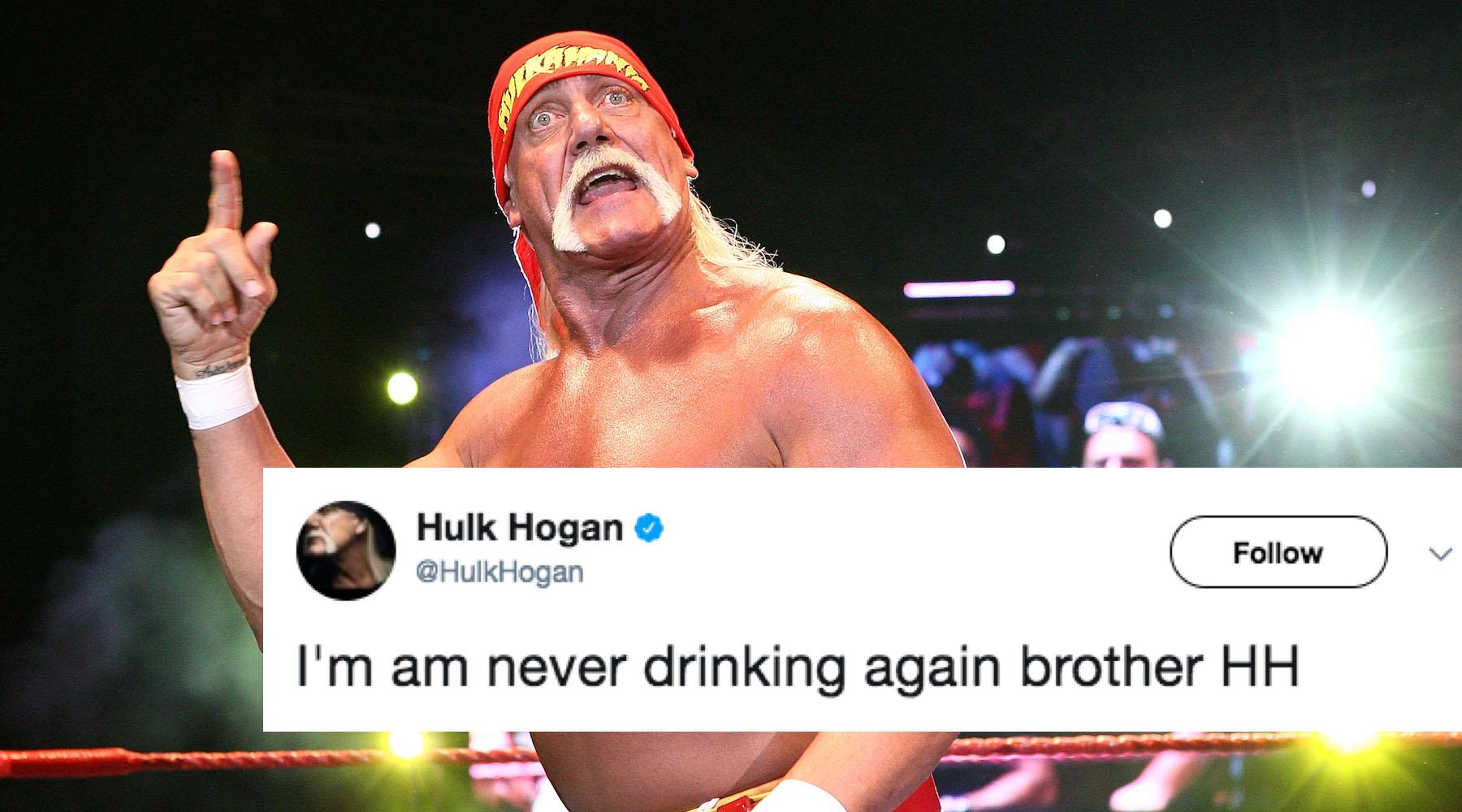 Hulk Hogan Tweeted About His Hangover And The Internet Lost It
By Aimee Lutkin

Updated
Not sure what Hulk Hogan did on Sunday night, but it was Labor Day weekend. Anything can happen when you have Monday off, brother! Hogan has been around and partying for awhile, but for some reason, his evening out this weekend broke the camel's back. He has renounced alcohol on Twitter in favor of a water and caffeinated beverage diet:
Only water ,coffee and iced tea brother from now on,brother HH

— Hulk Hogan (@HulkHogan) September 4, 2017
And many a Hogan Energy if I start making them again!!! HH

— Hulk Hogan (@HulkHogan) September 4, 2017
Perhaps a Hogan Energy, though only he can decide about whether or not those will exist again.
The Internet is loving the image of Hogan clutching his head in agony as the ring spins:
Don't they believe him? Hulk Hogan said he'd give up drinking, folks.
Terry Gene Bollea, born August 11, 1953, in Augusta, Georgia, is better known by his ring name Hulk Hogan, an American semi-retired professional wrestler, actor, television personality, entrepreneur and musician. According to IGN, he is "the most recognized wrestling star worldwide and the most popular wrestler of the 1980s." Hogan is best known for being a face of the World Wrestling Federation between 1984 and 1993.
In April 2012 a sex tape of Hogan and Heather Clem, the then-wife of radio personality Bubba the Love Sponge, was leaked online. Both Hogan and Heather claimed they did not know they were being filmed. Gawker published a short clip of the sex tape in October 2012, and Hogan sued Gawker for defamation, loss of privacy, and emotional pain and was awarded $140 million in damages. Gawker later filed for bankruptcy, and the company was sold through an auction to Univision for $135 million in August 2016.