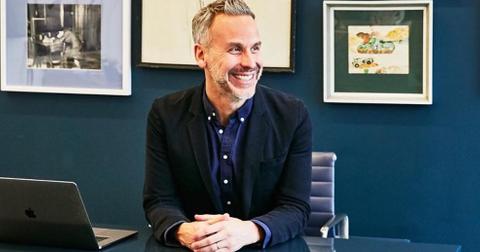 'Bon Appétit' EIC Adam Rapoport Is Being Called out for Racism
By Katie Garrity

Jun. 8 2020, Published 7:34 p.m. ET
It seems like every day there is another celebrity or internet personality being called out for racist actions or words and promptly being outed and canceled. A new one to add to the list is the editor-in-chief of Bon Appétit magazine, Adam Rapoport.
Article continues below advertisement
In 2013, Adam and his wife, Simone Shubuck, dressed up in "brown face" for some sort of costume party. The post was published on Oct. 31, 2013, but the internet dug it up, and now Twitter and staff members at Bon Appétit are calling for Adam's canceling and for him to resign from his position.
Adam Rapoport portrayed "brown face" in the photo.
In the photo, Adam and his wife are seen posing for a photo dressed up in "brown face." In the caption posted by his wife, she wrote, "#TBT me and my papi @rapo4 #boricua".
"Boricua" is the local name for a Puerto Rican.
Article continues below advertisement
Adam and his wife were not the only ones to come under fire for the photo.
Many users also noticed that Jane Larkworthy, an editor for The Cut, commented on that photo and wrote, "This was so dead on, I was so afraid of you two that night!!!!"
Article continues below advertisement
This is a function of my ignorance and privilege. I understand that I have work to do. I humbly apologize for my unacceptable behavior and vow to do better.

— Jane Larkworthy (@JaneLarkworthy) June 8, 2020
In response to the recent criticism over her comment, Jane Larkworthy replied to a tweet, "My comment on this post, with its implication that I'm afraid of people of color — in particular, Puerto Rican people — is shameful. What's even more shameful is that I didn't approach the people in the photograph at the time and tell them why this was racist."
Article continues below advertisement
Many believe Adam to now be a hypocrite based on his outspoken support for BLM.
The two most recent photos on his Instagram feed are in direct response to the protests over George Floyd and seem to express support and solidarity for Black Lives Matter.
Article continues below advertisement
Another post of his was the now-infamous black square that millions of people posted to Instagram on June 2. The caption reads, "Support, demonstrate, donate if you can. If you need recommendations, here are some of the charities that we at Bon Appetit have been raising funds for…"
Other employees have started to speak out about racial discrimination at 'Bon Appétit'.
Sohla El-Waylly, a member of the magazine's very popular Test Kitchen team, released an Instagram Story in which she said she was "disgusted" by the photo of Rapoport in "brown face," and that she has asked for his immediate resignation.
Article continues below advertisement
She also exposed Bon Appétit for only paying white video editors. "I've been pushed in front of video as a display of diversity," she wrote. "In reality, currently only white editors are paid for their video appearances. None of the people of color have been compensated for their appearances."
Article continues below advertisement
The magazine is also under fire for touting support for the Black community but not showing any action.
Adam Rapoport and Bon Appétit posted an article of Black-owned restaurants organized by city, which the article said is "one practical, actionable way to stand in solidarity with the Black community now, and always."
Writers and food lovers have been pulling together lists highlighting Black-owned businesses in their cities. We wanted to share the work they've done, and will continue to update this page as more resources become available. https://t.co/Kx2ad6iOGF

— Bon Appétit (@bonappetit) June 7, 2020
Article continues below advertisement
Twitter went nuts with this post and fired off in their replies. One user wrote, "Hire them and put them in front of the camera! You don't have a single Black person who is a regular contributor on the Test Kitchen YouTube channel. In New York City. Food. Is. Political."
Adam Rapoport recently announced that he is leaving 'Bon Appétit'.
After much criticism and backlash, it seemed inevitable that Adam would leave his role. In an Instagram Story, Adam announced that he will no longer be working for or associated with Bon Appétit magazine.
Article continues below advertisement
He wrote, "I am stepping down as editor in chief of Bon Appétit to reflect on the work that I need to do as a human being and to allow Bon Appétit to get to a better place."