Woman Shares Exhaustive Rules Her Airbnb Host Plastered Throughout the Rental in Viral Thread
A Twitter user uploaded a series of photos from the host of the Airbnb she was staying at and they are a doozy.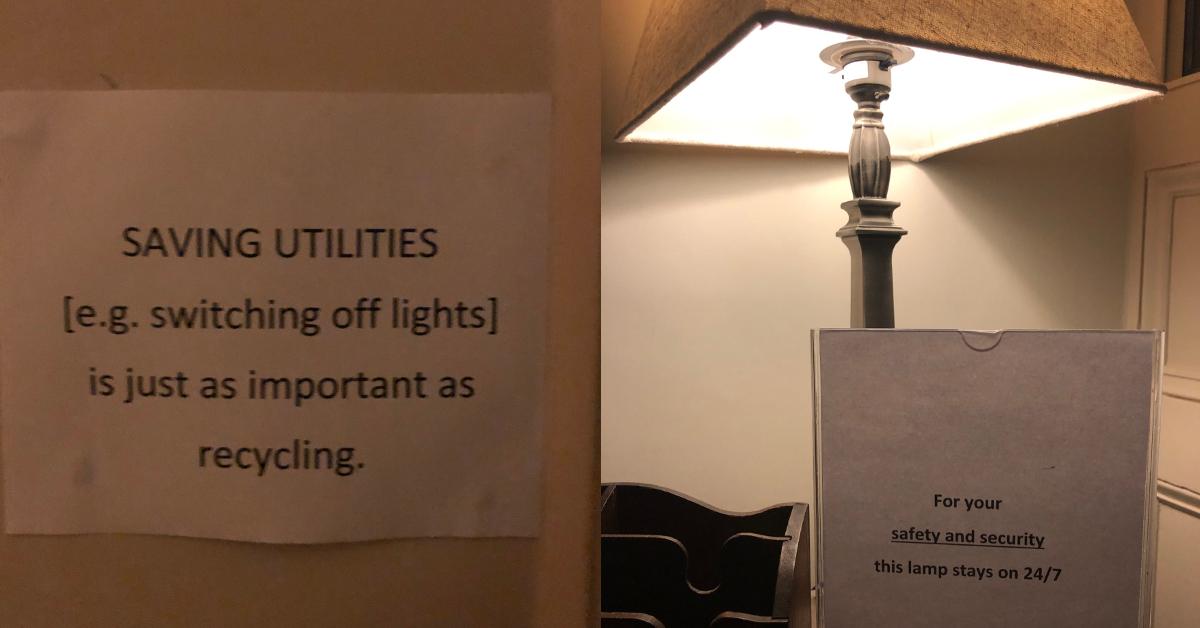 Airbnb has helped a lot of people earn some extra income by renting out space in their own homes or properties that they own where they can function as an independent hotel/innkeeper of sorts.
And just like any commercial exchange or independent contractor, the experience varies depending on who you choose to do business with.
Article continues below advertisement
Now many would argue that in the case of Airbnbs, where you're more than likely dealing with a property owned by an individual, you're subjected to the rules and quirks that this particular individual decides to implement on their property. Obviously, Airbnb has its own set of guidelines for both hosts and guests to follow, but that hasn't stopped some hosts from putting up additional rules of their property for prospective guests to abide by.
And there are definitely some locations with owners who are a bit more pedantic, or maybe ones that just like to overshare. Comedian Rose Johnson hopped on Twitter to share some of the signs that were posted in the Airbnb she was staying in that seem to paint a picture of a host that many would describe as "a bit much."
Article continues below advertisement
"I inherited this sofa — I felt I had to take it but it has proved a terrible mistake and it keeps being damaged — spilt drinks etc and then rubbed with a cloth — which is the very worst thing that can be done if there is a spill. PLEASE — would you cover it with these sheets if you have a party or even just decide to use the room for drinks. I do this myself. Jonathan [last name redacted.]"
This is one of the many signs posted throughout the Airbnb Rose stayed in.
Article continues below advertisement
Article continues below advertisement
Rose uploaded tons of signs that were hanging in the Airbnb, from those urging guests to not fiddle with a particular sideboard, to random facts about the items in the house, the host clearly has a deep-rooted affinity for their home.
Article continues below advertisement
One might call the affinity one born out of sheer delusion in that Jonathan (the host) appears to be treating the property as an actual museum, with informational placards and everything.
Article continues below advertisement
Article continues below advertisement
Folks who responded to the thread had a litany of reactions to the assortment of signs Jonathan plastered all over the Airbnb that ranged from hilarious, unsettling, to inconvenient.
Article continues below advertisement
Many expressed that they would much rather stay in a traditional hotel rather than risk incurring the wrath of Jonathan by breaking one of his rules.
Article continues below advertisement
Article continues below advertisement
Others were just puzzled by all of the additional information Jonathan was relaying to the guests: did they really need to know about the TV personalities in the photos? Or Jonathan's age? Or the essay he wrote about the home's heating system being linked to the WiFi and why it's so integral that folks don't fiddle with it.
Article continues below advertisement
What do you think? Would you want to stay in an Airbnb with a ton of different rules posted all over the walls? Is Jonathan just ensuring that his property is maintained the correct way and has had a ton of bad experiences with guests in the past? Would you just get a hotel? Or do you want to pour a beverage in his "I'd rather be drinking Champagne" mug?