Student Wins AirPods, Says She Needs to Sell Them to Afford Tuition in Viral TikTok
A TikToker sparked a debate about the cost of college tuition in America after sharing that she sold the Airpods she won at a college raffle.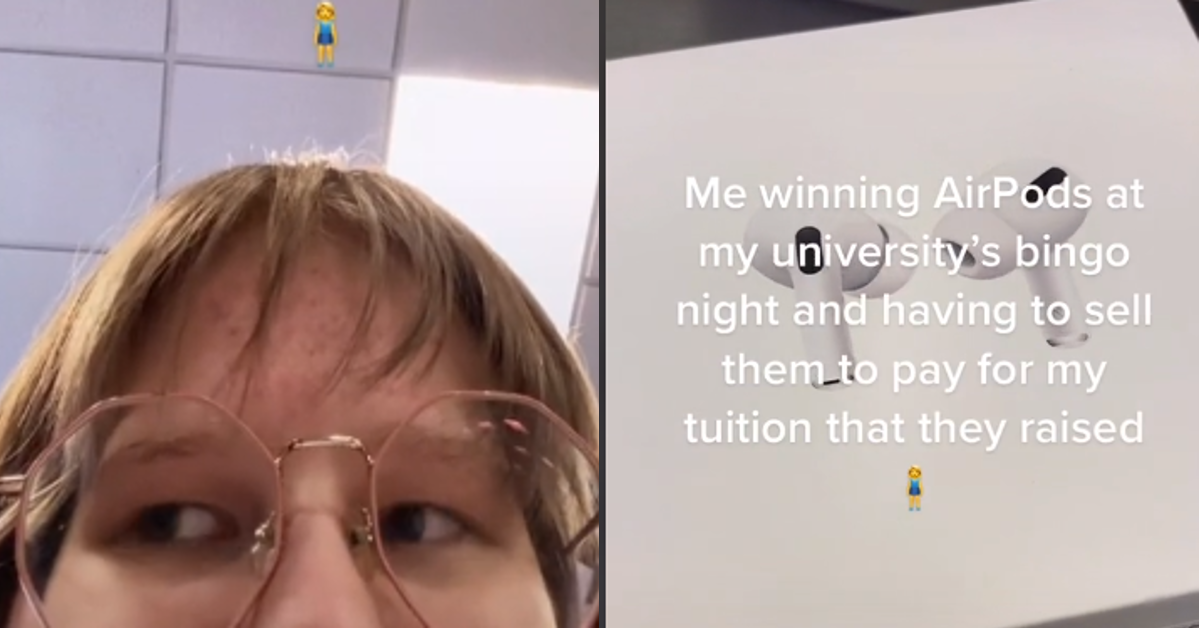 The cost of attending university/college in the United States has increased exponentially over the years — well over the cost of inflation. However, for the first time since the COVID-19 pandemic, it hasn't. Many speculate that this has to do with the fact that many higher learning institutions were worried that enrollment rates would dip as folks weren't too enthused about the prospect of attending school 100% virtually.
Article continues below advertisement
Of course, lower maintenance costs as a result of fewer in-person attendees could have something to do with it, but it's no secret that college is ridiculously expensive in the United States due to a slew of political initiatives that lifted the cap on how much students all over the country could borrow from Federal student lending programs.
After that cap was lifted there was an enormous spike in the amount of per semester tuition across the board, gone were the days when students could work a summer job and save up enough to pay for a year of school. Now, the cumulative student loan debt is $1.58 trillion, and it doesn't look like there's going to be any relief in sight.
This could be why this TikToker's clip is going viral.
Article continues below advertisement
In the caption, Lillith, who posts under the username @lillith.hmm, writes: "My school is a material gurl." In the post she indicated that she won a pair of Airpods at her college.
Article continues below advertisement

While most folks would be stoked to have a pair of the popular and beloved pair of Bluetooth earbuds, it wasn't really a victory for Lillith, because she said that she needed to sell them in order to help pay for her college tuition.
Article continues below advertisement

She writes in a text overlay: "Me winning Airpods at my university's bingo night and having to sell them to pay for my tuition that they raised."
Article continues below advertisement

It seems kind of odd that Lillith's school would raise tuition, considering that Forbes reported overall Universities have slowed the roll when it comes to jacking up the cost of enrollment, but there were several other TikTok users who sympathized with her.
Article continues below advertisement

Some wrote that "the tuition was raised so you could win the AirPods" others quipped, "How a university can afford these extra things but not financially...America at its finest."
Article continues below advertisement

Others mentioned that they didn't feel sorry for Lilith because she made a conscious choice to go to school and knew what she was getting herself into. "We all gotta pay tuition you aren't the exception," another TikToker said.
Article continues below advertisement

There were other people who downplayed AirPods, stating that they were "overrated" while others just encouraged her to take out more student loans if she couldn't afford to pay for her tuition.
Article continues below advertisement

And although there were more than a few commenters who expressed that they were in the same boat, many others remarked that their respective universities had locked their tuition rates.
How about you? Are you currently struggling to pay off your student loans? Or did you get scholarships to go to school and were able to get away without breaking the bank?