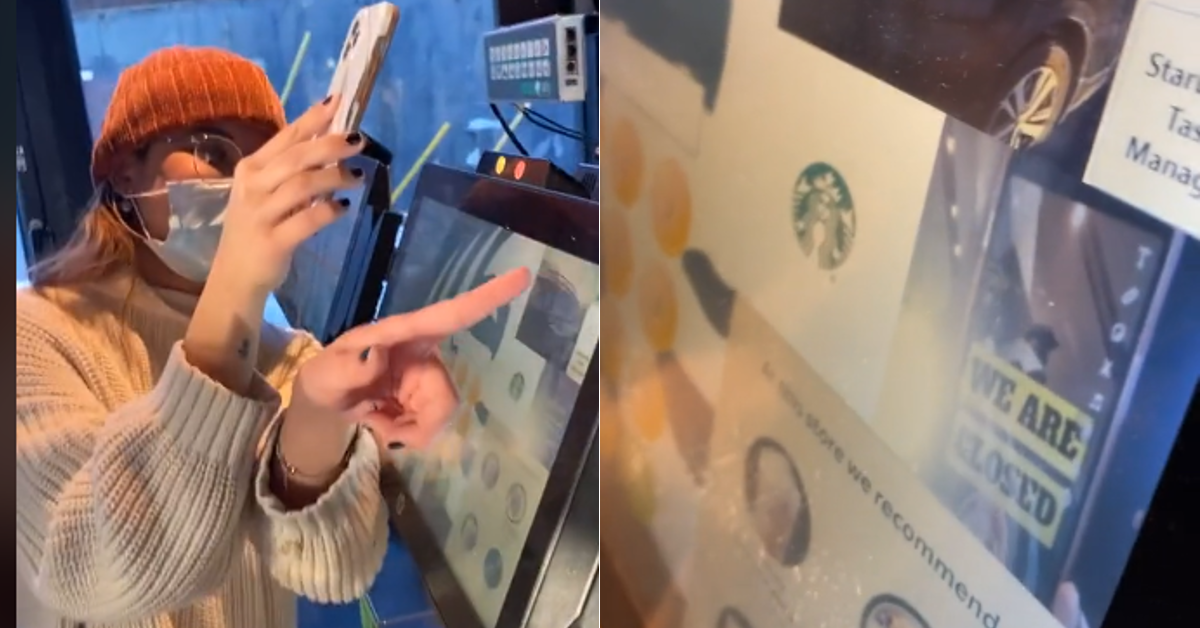 Starbucks Employees Make Personal Closed Sign for Drive-Thru Customer Who "Can't Take a Hint"
Working in the foodservice industry can often be a thankless job and social media is full of viral clips and stories about customer meltdowns. Whether it's folks throwing a fit over mask mandates, to people who are absolutely gobsmacked that they weren't allowed to get a discount the exact way that they wanted.
Article continues below advertisement
And while there are plenty of customers who have gone out of their way to make servers' and restaurant workers days a bit better (even if some say that they're virtue signaling for views or "clout" online) there are still folks who just "can't take a hint" and seemingly go out of their way to inconvenience employees.
TikToker and Starbucks worker @laurenkendallm28 posted a clip that went viral that shows a drive-thru customer who wouldn't leave the location. Lauren captioned the clip with "when customers can't take a hint...and yes, there was a sign."
Article continues below advertisement
Even though there was a sign indicating that the location was closed, the customer wouldn't leave the drive-thru until the TikToker created a "We are closed" sign on her phone via Snapchat and then shared a video through the terminal's two-way screen with the person in the car.
Article continues below advertisement

Her clip soon went viral and it appears that tons of other food service workers had similar experiences at their own jobs with customers who would try and slip in orders after closing.
Article continues below advertisement

A TikToker who goes by Colton wrote, "This lady moved our sign and said 'if you're in there, I don't know why you can't make my coffee.' Like ma'am you moved the sign….we aren't making it."
Article continues below advertisement

According to another user, one customer was willing to put their own health at risk and flout fire protocols in order to get their service: "We had a gas leak and had to kick everyone out to wait for the fire department and this one guy wouldn't leave and argued back about it."
Article continues below advertisement

Apparently, that happens quite often according to users on the platform: "We were shut for 2 days for an ice storm. & had to open late the 3rd day. A lady cussed me out for us not being open when it was not safe to drive…"
Article continues below advertisement

For the most part, though, there were tons of tales of customers who outright refused to believe that a location was actually closed: "We would have people drive up and bang on the windows so we'd have to crouch and shuffle to do our closing tasks it was annoying."
Article continues below advertisement

Some employees in the comments section even expressed their ire with customers who arrive 15 minutes before a location opens and will wait to be the first person to order from a place: "they'll really wait in the drive at 4:45 am for us to open 😩 GO HOME."
Article continues below advertisement

What do you think? Are these food service workers making valid points? Or should they be happy that the products they're helping to sell are in such high demand? Have you ever tried to get food or drinks at a location after it closed or waited early before it opened?