TikToker Reveals How Wing Stop's Ranch Dressing Is Made and People Are Shocked
Wing Stop fans love the chain's Ranch sauce, which is probably why this TikToker's clip revealing how its made is causing such a stir.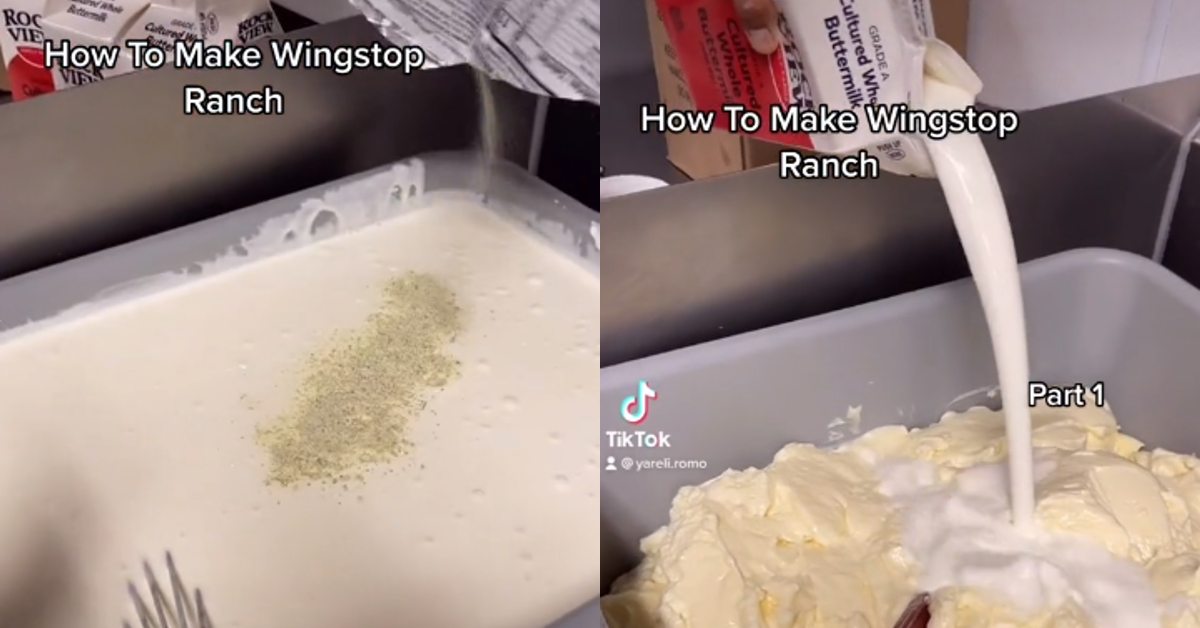 Peering behind the curtain of the Great Wizard of Oz is a scary prospect for lots of people. Sometimes, ignorance is bliss and it's better to not know how or where your favorite product is made. Like the first time you saw how imitation crab is made, or when you discovered that the folks who were making your iPhones hated their work conditions so much they were throwing themselves off of balconies.
Article continues below advertisement
Things get really heated when taking someone who really loves something and forcing them to take a look behind that proverbial curtain, which could be why so many Wing Stop fans are getting up in arms about a video that demonstrates how the franchise's famous Ranch sauce is made.
TikToker @yareli.romo's viral clip shows the "secret" recipe behind Wing Stop Ranch, which is made of mayonnaise, buttermilk, and ranch seasoning.
She piles all of it into a bowl and then she begins stirring it all up, then book, the sauce is made.
Article continues below advertisement
The video received tons of different reactions. Many folks were absolutely gobsmacked at the idea of Ranch sauce containing mayonnaise.
"RANCH IS MADE OUT OF MAYO???" @k00nhunteriv wrote.
Jevon commented, "IVE BEEN EATING MAYO? I CANT BELIEVE THIS."
Article continues below advertisement

But there were others who thought that it was common knowledge mayonnaise was one of the main ingredients in Ranch dressing/sauce: "what did people think ranch main ingredients was," shark said.
Article continues below advertisement

But there were plenty of other TikTokers, some who claimed to work at Wing Stop, who were more than happy to further delineate the recipe for everyone else checking out the viral clip: "2 cup mayo, 2 ranch hidden valley seasoning, 1 gall buttermilk."
"I used to be a WingStop manager… 1 batch of ranch is 3 gallons Mayo,6 cartons buttermilk, 9 packets of hidden valley ranch seasoning🔥🔥🔥 ur welcome."
Article continues below advertisement

Many homemade Ranch recipes place mayonnaise as the first ingredient, like this Barefeet in the Kitchen post indicates.
And then there were other TikTokers who burst the bubbles of other popular dressings/foods that people liked eating.
Article continues below advertisement

Like Caesar Dressing incorporating ground-up anchovies in its recipe, or you could just use anchovy paste if you want.
Joseph Paul said, "To those who don't kno mayo is in ranch. I hope you all know Caesar dressing always contains blended up anchovies as well."
Article continues below advertisement

So how healthy or unhealthy is it to eat Wing Stop's buttermilk ranch dressing? Well a lot of that could depend on whether or not you're eating a ketogenic diet and how well you do with foods that're packed with fat.
Article continues below advertisement

That's because a single serving of Wing Stop Ranch Dressing contains 33 grams of fat and 313 calories. There are different outlets with differing opinions on whether or not Ranch can be incorporated in a healthy diet, but if you're counting calories, it could definitely eat into your daily allotment.