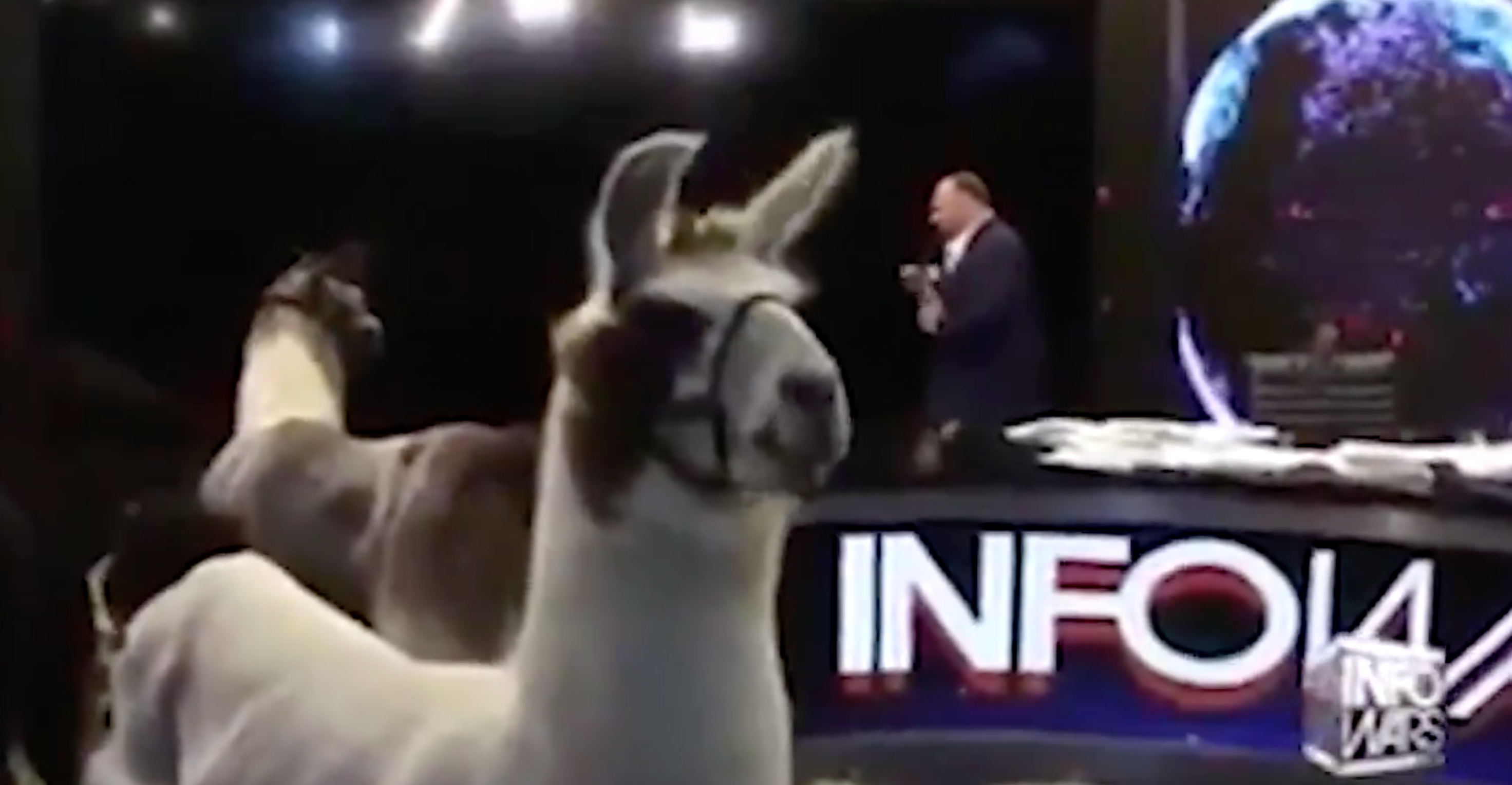 Alex Jones Has Gone Viral for Bringing a Bunch of Llamas on 'InfoWars'
Alex Jones, the super right-wing show host infamous for his conspiracy theories about the Sandy Hook Elementary School shootings, Oklahoma City bombing, and 9/11, has recently reached a new level of viral fame. This time, even though it cannot be stressed enough how damaging his extremist ideology is, we can't help but chuckle. Jones brought a flock of llamas to his website/show, InfoWars.
Article continues below advertisement
What's up with Alex Jones and his llamas?
"Now that I have llamas, now that I have the secret weapon...here you go my sweetsie," Jones says, after telling his viewers that he knows the truth about everything, from fluoride to Jeffrey Epstein, and that his llamas were the missing key component to...maybe persuading everyone that his conspiracy theories should be taken seriously? We're honestly not sure. The clip that's going viral shows Jones attempting to give a big llama named Polko a cookie; Polka initially wants nothing to do with Jones and the cookie and Jones has to coax him by telling him there's "no fluoride" in the treat.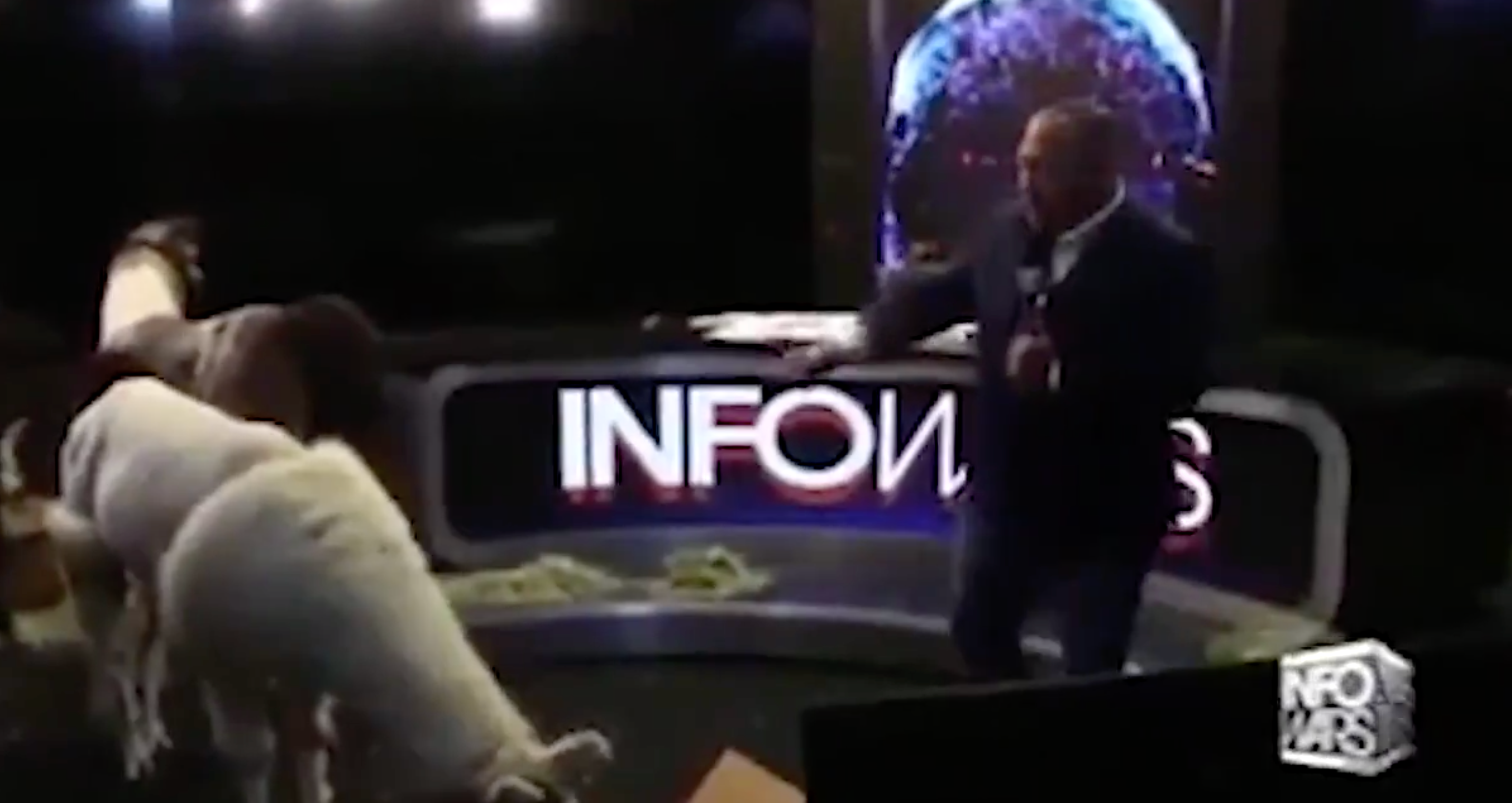 Article continues below advertisement
"Alex Jones brought in llamas. I can no longer resist the conspiracy theories," one Twitter user wrote.
Article continues below advertisement
Another joked, "They always show you angry megaphone Alex Jones. They never show you llama caregiver Alex Jones."
Article continues below advertisement
Maybe the llamas really do hold all the power. "I always knew that Llamas had psychic powers. It's their telekinesis that you have to look out for!!" One person wrote on Twitter.
Article continues below advertisement
Most likely, the llamas were part of a publicity stunt to get people to start talking about Jones and InfoWars again. Which, apparently, is working. If you have to make your show seem more relevant by sprinkling your content with a few llamas, well, that sure is a statement. "i'm aware that personally messaging everyone I know the link to Alex Jone's llamas is playing right into his plan to use llamas to get everyone's attention but it's too hilarious not to send to people so i guess well played alex jones well played," one person thoughtfully tweeted.
Article continues below advertisement
Since Alex Jones and InfoWars are banned on Twitter and YouTube, it's hard to know exactly what Alex Jones is thinking. In March, Google finally followed suit and banned the InfoWars app after Jones started spreading conspiracy theories about COVID-19. Through the app, Jones was reportedly earning $15 million in sales from alternative medicine supplements back in 2014. Most recently, Jones was trying to hawk supplements with "nanosilver" which he claimed "protects" people from COVID-19 (there is no such proof that it does).
The video that finally led Google to banning InfoWars for good contained nonsensical conspiracy theory talk about New World Order (another Jones major talking point) and aliens. "Everybody dies under the New World Order except maybe one tenth of one percent that believe they're going to merge with machines and have made deals with this interdimensional thing that gave them all the technology. You can't make a deal with these aliens that the Bible tells you about and ever get off the planet," he said.
Will the llamas help Jones rebrand himself? Will the political extremist realize his true calling (becoming a llama caretaker) and abandon his mission at InfoWars? It's too soon to tell, but anything is possible.