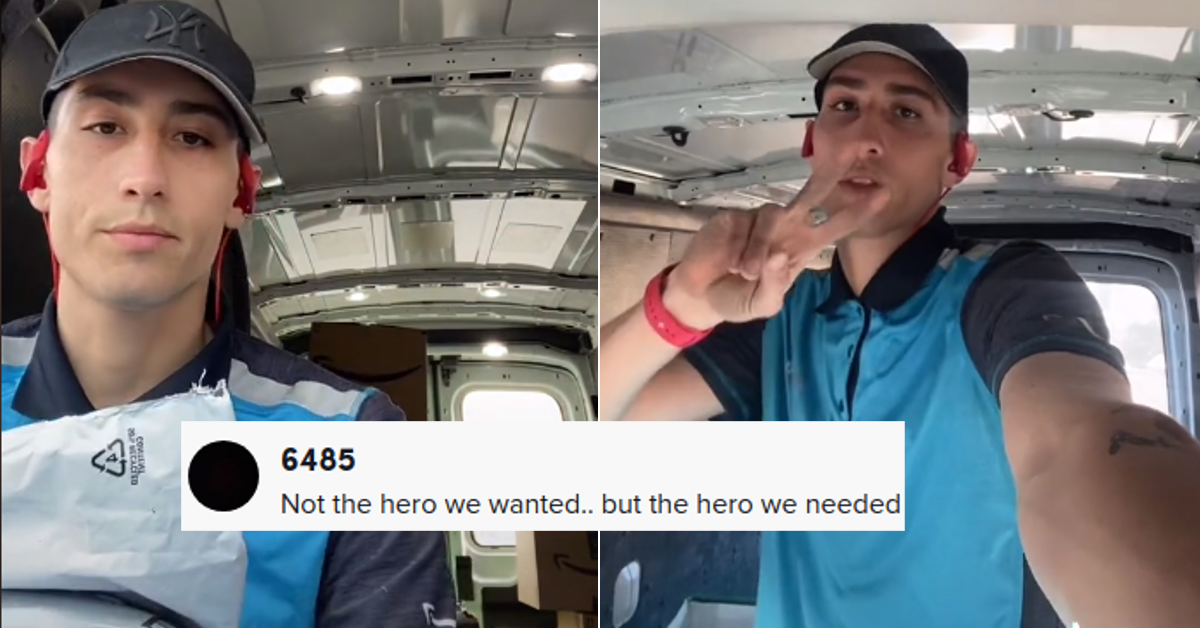 Amazon Driver Reveals 3 Things He Wish He'd Known Before Taking the Job in Viral TikTok
An Amazon Driver shared 3 different aspects of his job that he wish he knew before he signed up for it, and his admissions went TikTok viral.
Starting a new job is (usually) really exciting, even if it isn't the dream vocation you spent hours of your life staring up at the ceiling as a kid fantasizing about doing when you were finally a grown-up.
Maybe you're stoked about seeing if you have cool co-workers. Or maybe there are some sweet perks to the job, like being able to work independently, or maybe there are some cash bonuses if you fulfill a certain number of duties/orders.
Article continues below advertisement
But every job, even the most glamorous of ones, all have tedious sides to them. Just because a job is great on paper doesn't mean that you're necessarily going to be great in it or that you're not going to encounter tasks and/or requirements that'll take you out of your comfort zone. Or maybe there's some busy work that gets boring real fast and requires a lot of personal fortitude to liven it up.
And sometimes jobs aren't as great as they appear or as you thought they would be. Maybe there are parts of a job that you wish you knew about sooner before signing on the dotted line. This could be why this TikToker's clip about being an Amazon Driver is going viral.
The online retail giant is worth over a trillion dollars (and counting) and is constantly hiring to fulfill the massive amounts of orders it processes on a daily basis.
Article continues below advertisement
@revengekkid signed up to work as a driver for Amazon and states there are three major things he wishes he knew about the job before accepting it.
The first is how much time it takes to deliver to apartments.
Article continues below advertisement

It's no secret that Amazon employees are overworked, so when you've got an enormous amount of packages to deliver in a short amount of time, anything that breaks your stride or takes longer than you'd like can put you on the backburner right quick.
Article continues below advertisement

It appears that one of the biggest reasons that apartments take up so much time is that customers won't put down their apartment or unit number in correctly, forcing employees to search for them or stop by the building's front office, which takes up time.
Article continues below advertisement

The second thing that he wishes he knew is that if you're done with your day's work "super early" then management will probably make you go and help a co-worker.
Article continues below advertisement

What appears to irk him the most is that while management urges employees to get their deliveries done as quickly as possible so that they can go home early and get paid for a full shift, he says that is rarely the case and he will still have to stay on the clock to help someone else to fulfill their orders.
Article continues below advertisement

He then said that the last thing he hates about working as an Amazon driver are "group stops." He says that there are some instances where 3 houses will count as one-stop. He believes the practice should be done with altogether, as it isn't an accurate representation of the work that drivers do on a daily basis.
Article continues below advertisement

Some folks in the comments section of the video offered up their own gripes in working with Amazon, like aggressive dogs making delivering packages difficult, or having to deliver heavy items like massive bags of pet food.
Have you ever worked as a delivery driver? Can you add anything to this list?