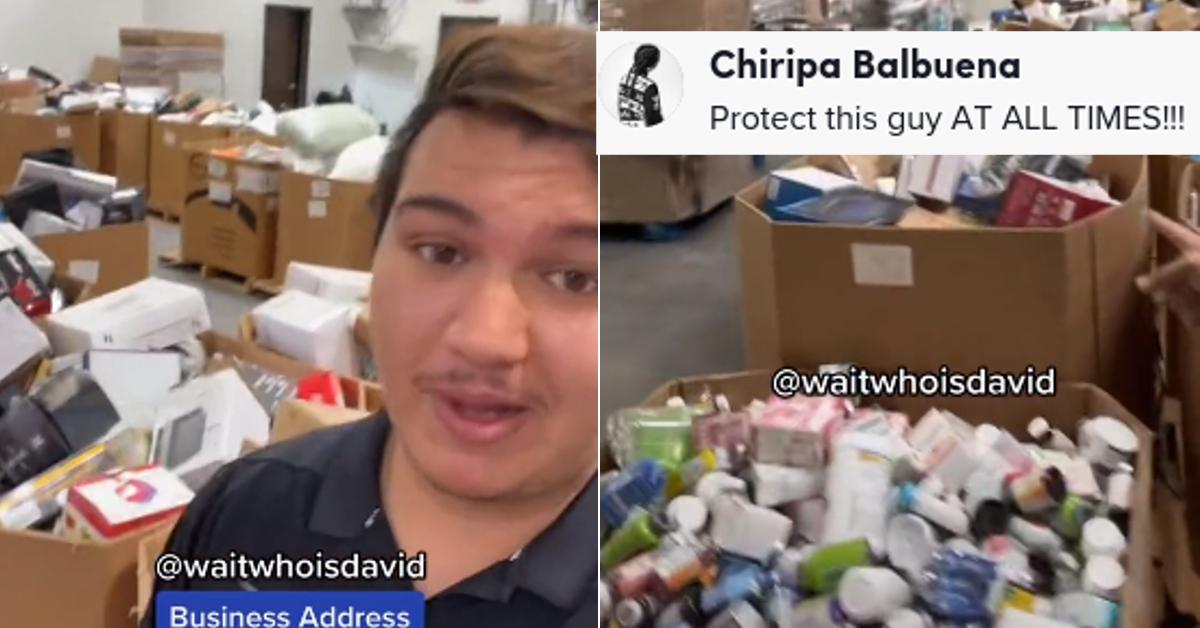 TikToker Outs Secret Amazon Warehouses That Sell Ridiculously Discounted Items
Everyone's always trying to get a deal on whatever they're buying, and it's hard to fault them for that. It'd be kind of foolish to not try and find a particular product for a more affordable price online, just as long as you are getting it through a reputable seller.
Sure, there are plenty of scam artists out there, and product hunting can become a slippery slope once you start to look at "dupe" or "just as good" products that mimic the original one you wanted.
Article continues below advertisement
And while finding a hot new item for cheaper than what it retails for is a tough prospect, especially for those that have been adversely affected by the supply chain shortage, there are ways to get specific products at a discount if you're willing to get a returned and/or refurbished version of it.
Oftentimes, retailers are so intent on moving these products that they offer some pretty great warranties on them, and/or discounts for extended ones to allay your fears about buying used.
But let's say you're looking for a really really steep discount that goes beyond the 10-20% you'd be saving on a refurbished item? And let's say you wouldn't mind selling some of the product yourself to try and make some extra money in the process?
Well, if that's the case, then you might want to live out your inner Storage Wars episode and head on over to an Amazon Liquidation warehouse.
Article continues below advertisement
David Guzman, who posts under the handle @waitwhoisdavid filmed a video while at a Vegas Liquidation center for the online retail mega-giant. He says in the clip, "Amazon is lying to you guys."
Article continues below advertisement
"Everything that you actually send back to them ends up in these return warehouse liquidation pallets. Anybody can buy pallets full of thousands of dollars worth of returns in each pallet for only a couple hundred dollars, and most people do not know about it."

Article continues below advertisement
That's right, according to David, Amazon stores all of their returns in these centers, placing tons of items inside massive pallets. The pallets are filled with items that appear to be grouped together by their type, like a bunch of beauty supplies and cosmetics that were all placed together.
He talks about how he purchased a $600 pallet filled with makeup for his girlfriend who asked for a specific product. He says that he doesn't know which one she was talking about, so he decided to just buy the thousands of dollars worth of cosmetics instead.
Article continues below advertisement
"My girlfriend has been telling me that she's been wanting this specific makeup pallet or something. I don't know what she said so I found this place online that sells makeup pallets. It's a full pallet box of makeup, I'm going to buy it for her, it's only $600. I hope she likes it. It's a lot."
Article continues below advertisement
While he probably purchased enough makeup/beauty products to last her and her family an entire lifetime, thanks to the ability to resell things on applications like Poshmark, him and his girlfriend could easily make their money back on that pallet if they wanted to or turn a great profit.

Article continues below advertisement
What's more, is that Guzman says these liquidation prices pertain to all sorts of different items. We're talking headphones, electronics, cell phones, laptops, television sets, streaming boxes/devices, tablets, cutlery, kitchen supplies, flatpak furniture, lighting, home goods, soaps, clothing, shoes, costume jewelry, etc literally anything and everything.
Other TikTokers mentioned that these "mystery boxes" weren't just restricted to Amazon liquidation warehouses, but that several major retailers have the same practice: like the Home Depot and Walmart.
However, there were a few folks who cautioned against purchasing these "mystery pallets."
Article continues below advertisement

Some stated that many of the items in the pallets were ultimately either damaged or destroyed. A lot of retailers also implement no refund policies on the purchases of these pallets, hence the steep discounts offered on them.
Article continues below advertisement
Someone else wrote: "Ok but why spend money on returns that are mostly damaged or used or unsanitary. a coworker of mine purchased a mystery box n everything was damaged."
Perhaps folks have dreams of spending a few hundred dollars in the hopes of finding at least a few items in there that are worth their while.

Article continues below advertisement
Reselling is a big business, too. Private shoppers hit up discount stores and scan various items to see what they're going for online. There are plenty of folks who are candid about their experiences reselling products with services like Amazon FBA, as well. So if this is a business venture you were thinking of getting into, there are plenty of resources available to help you get started.
Many commenters were suspicious of the TikToker's post, however, and speculated that the man was actually promoting his own business in the TikTok. Others said that big-ticket items, like expensive smartphones, computers, and consoles, wouldn't be found in these warehouses.
Article continues below advertisement

Have you ever had any experience in picking up liquidation pallets from Amazon or other retailers? Is it something you'd want to check out? Or do you think that it's ultimately not worth the risk?