Here's Why We're Rooting for Amie and Krystle on 'LEGO Masters'
Amie Dansby and Krystle Starr are one of the two-person teams on this season of 'LEGO Masters.' They love LEGO, cosplay, and women in STEM.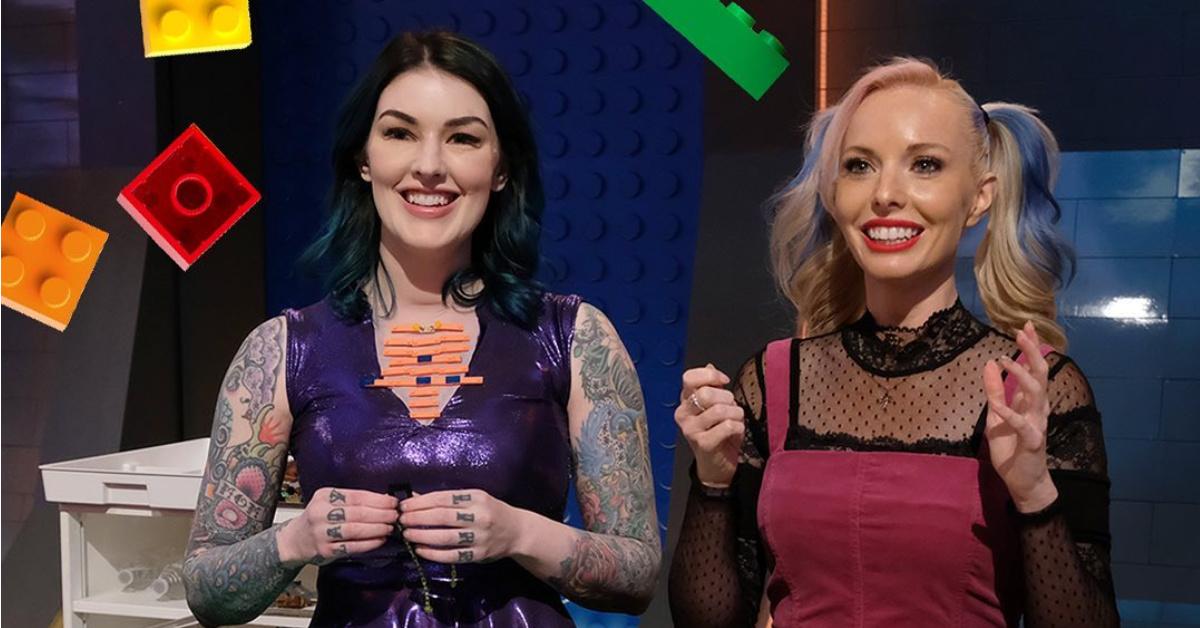 If you're not already watching LEGO Masters every Wednesday, you're missing out on some excellent television. It has LEGO bricks, hilarious contestants, and Will Arnett — it really checks all of the entertainment boxes, ya know? Each week, each two-person team on the show has to build a LEGO creation on a given theme within a set amount of time. The builds they come up with are seriously incredible.
Article continues below advertisement
Some of our favorite LEGO Masters competitors right now are Amie and Krystle. The two friends have already impressed the judges with their builds from the first few episodes, but their LEGO creations — while amazing — might actually be the least impressive thing this duo brings to the table. Here's what you need to know about Amie and Krystle from LEGO Masters.
Article continues below advertisement
Amie and Krystle were just a couple of "cosplay girls" when they first met.
Both Amie Dansby and Krystle Starr are very active in the cosplay scene. In fact, Amie says that's actually how they met! They're both from Texas, so it's probably safe to assume they took part in a lot of the same local cosplay meetups. In fact, they both dressed up in cosplay for a recent episode of LEGO Masters.
Amie's cosplay looks feature a lot of 3D printing.
On her website, Amie refers to herself as a "maker of things," and honestly, it might be the most accurate title ever. She shares many of her projects on social media, and they are seriously incredible. In the first episode of LEGO Masters, she wore a dress that featured a LEGO brick detail — that she actually 3D printed onto the fabric!
Article continues below advertisement
She also 3D printed the dress she wore in Episode 3 of the show. Apparently, being a master builder just wasn't enough. She also had to "build" her entire outfit!
Amie is super passionate about helping other women get their start in a STEM-related field. As part of the National Video Game Museum's Scholarship Program, she created the Dansby Scholarship Award for Girls in STEM — a scholarship made with the intention of increasing the number of women in the largely male-dominated STEM industries.
Article continues below advertisement
Amie is also a software engineer and has worked on several video games from Marvel Studios, including X-Men: Destiny, Captain America: Super Soldier, and Marvel Super Hero Squad. She now works in Research and Development, specifically with PlayStation and Xbox.
Krystle Starr also wears many hats.
In addition to her impressive LEGO chops, Krystle Starr is, as we mentioned, a cosplayer. In fact, she's been cosplaying for nearly a decade at this point. She's also a web host, YouTuber, and video game designer. She co-founded and hosted NerdNinja.com, a nerd culture-focused new site. She splits her time working in both Dallas, Tex. and Los Angeles.
So far, we haven't seen too much of Amie and Krystle on 'LEGO Masters.'
Although their builds have been amazing, the show has definitely seemed to focus more on some of Amie and Krystle's contestants — maybe as the show goes on, we'll get to hear more from them directly! In the meantime, we're definitely rooting for them!
Catch new episodes of LEGO Masters on FOX Wednesdays at 9/8c.