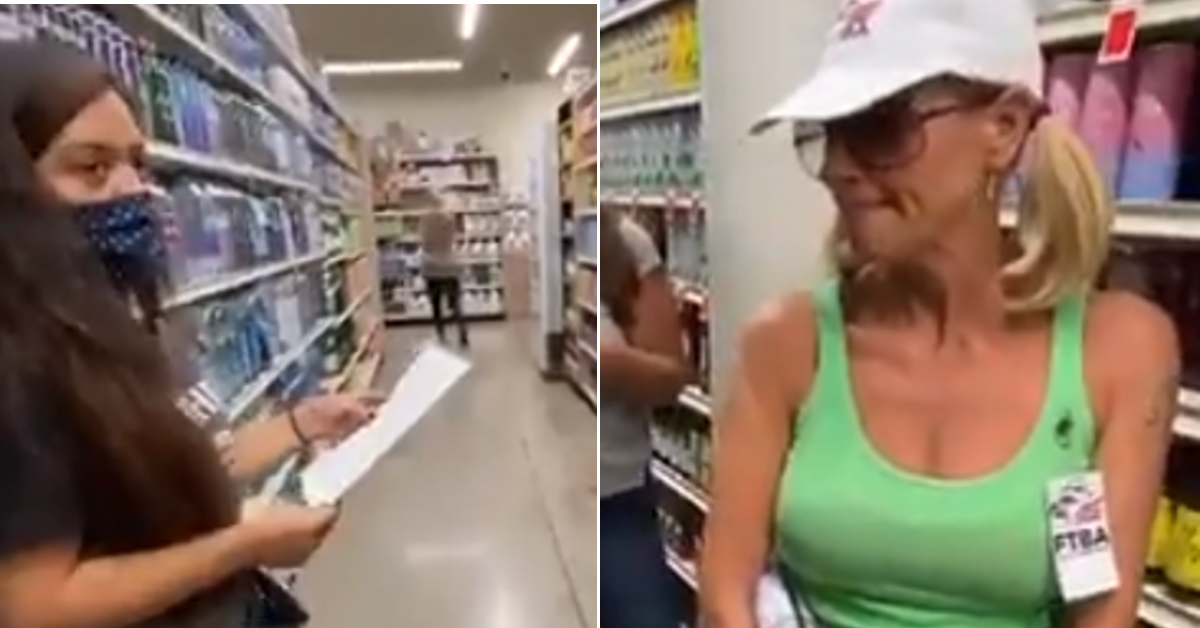 Anti-Mask Agency "Faking" Government Ties Is Intimidating Essential Workers
The FTBA, "Freedom to Breathe Agency" is frequenting brick and mortar retail outlets to disseminate literature threatening litigation.
Ever since individual state lockdown orders were mandated toward the end of March 2020, and mask-wearing initiatives were implemented some weeks after that, there have been a number of varying reactions to the novel coronavirus pandemic and people's willingness to comply with mandates. As of now, there aren't any federal regulations in place that require citizens to wear masks. For the most part, states and businesses are left to formulate their own mask-wearing and social distancing policies.
Article continues below advertisement
Airlines have been throwing people off flights for not adhering to their mask-wearing rules, and tons of restaurants and food service retailers, like Starbucks, have had their fair share of viral moments featuring unruly customers who weren't happy about being denied service for not donning proper facial coverings.
However, this popular TikTok video featuring agents from "Freedom to Breathe" may feature some of the most extreme lengths people have gone to not wear masks.
The video features 31-year-old Liz Chavez, a supervisor at an Orange County, Calif., health food retailer. As per the store's policy, cashiers are supposed to inform supervisors when a customer isn't wearing a mask. Liz is no stranger to enforcing the mask-wearing rules in the store, as there are several customers who amble into the location without coverings.
However, the two women who also appear in the video, provided a unique rejoinder to Liz's request they put on face masks.
Article continues below advertisement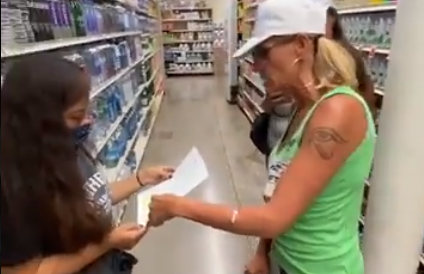 According to BuzzFeed, Liz said that the women threatened her with legal action for telling them to put face masks on and presented her with a litany of different documents and information. She also said that they were from the "Freedom to Breathe Agency" and that they were a group formulated to ensure that people's "constitutional rights" weren't being compromised, and "civil and federal laws [were] not broken."
Article continues below advertisement
Liz said, "I went up to them like, 'Hey, in order to be inside the store you're required to wear a mask,' they told me, 'No, we're not required to wear a mask.'"
The woman in the video talking to Liz is Lenka Koloma, the founder of the "Freedom to Breathe Agency." She handed Liz a sheet of paper while stating, "You personally need to take this to your manager because you personally can be sued for this, OK? You are putting yourself into major legal liability — you personally."
Article continues below advertisement
"The piece of paper they gave me was basically telling me I could go to prison for up to 3 to 5 years and I could get fined up to 10,000 dollars for telling them to wear a mask if I'm not a doctor,' Liz said. She also added that it was evident Lenka and her associate clearly weren't at the health food store to buy anything. "They weren't there to shop. They honestly were probably just waiting for somebody to come up to them and ask them to wear a mask so they could do this."
Liz's supposition that the FTBA "agents" were just there to disseminate their information seems to be supported by the fact that Lenka's associate immediately began recording their conversation.
The video is amassing tons of views and shares on both TikTok and Twitter. Some people have stated that the FTBA is masquerading as a Federal Government agency with their tactics.
Article continues below advertisement
Article continues below advertisement
The Department of Justice has spoken out against the FTBA, which has come under fire to handing out fake face mask exemption cards that wrongly invoke the "Americans with Disability Act" (it's supposed to be the Americans with Disabilities Act). The card states, "Denying access to your business/organization will be also reported to FTBA for further action."
U.S. attorney G.T. Martin warned folks not to fall for the "chicanery" of the FTBA: "Do not be fooled by the ... misappropriation of the DOJ eagle. These cards do not carry the force of law. The 'Freedom to Breathe Agency,' or 'FTBA,' is not a government agency."
The FTBA also used to have its own website and a public Facebook page, but they were both taken down. Now they operate under a private Facebook group.
Article continues below advertisement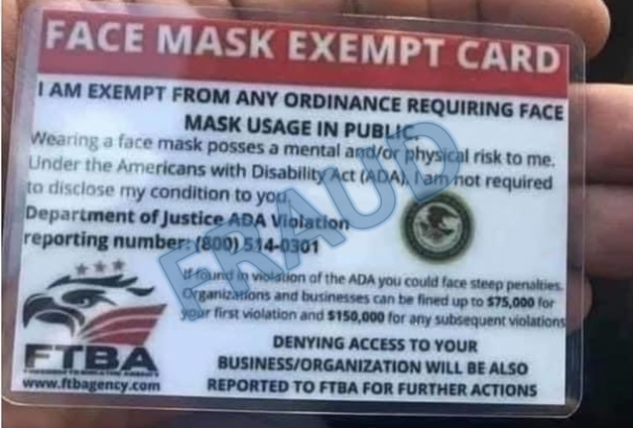 BuzzFeed reports that when they reached out to Lenka, she said that her and the woman in the store "both have medical, health conditions and also religious beliefs that do not allow us to wear a mask," but the outlet continued by stating Lenka didn't further elaborate on those medical conditions.
It's important to note that Lenka's claim Liz couldn't tell shoppers to wear a mask because she's "impersonating" a medical doctor is categorically false.
Article continues below advertisement
Not only did Liz not pretend to be a doctor, but she was simply following California state mandated health orders: Customers and employees at retail outlets need to wear masks. "To prevent infection, you must cover your nose and mouth when outside your home. So wearing a mask is now required statewide," the state's COVID-19 website reads.
On the same token, Lenka has also denied representing the FTBA as a government agency: "That's absolutely false because we are a legitimate organization, we introduced ourselves as FTBA, the Freedom to Breathe Agency. There's nothing illegal or fraudulent," BuzzFeed reported.