Man Creates "Genius" Anti-Theft Sprinkler System to Stop Thieves Stealing His Work Tools, and It Works Like a Charm
A TikToker went viral after showing their homemade anti-theft system in action when a stranger on a bike rolls up to their house.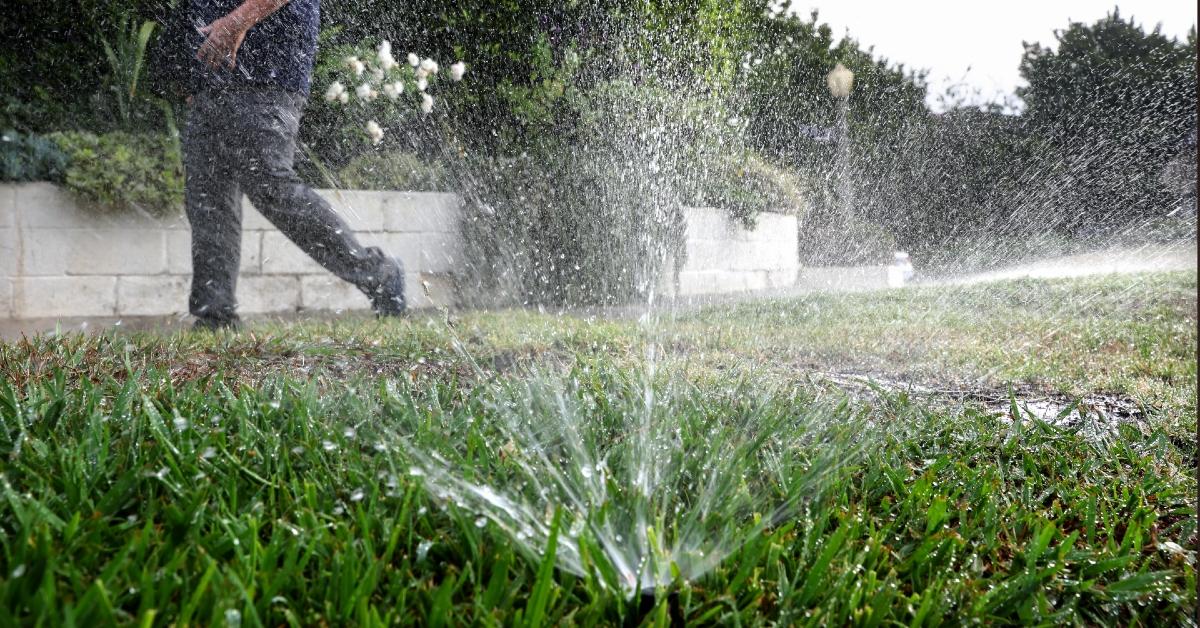 Every year in the United States. there are 2.5 million home burglaries, and it doesn't always look like someone dressed all in black with a ski mask, creeping around through your back door, using a paper clip to jimmy the lock to pilfer gems from a safe they put their ear up to as they twist a little dial.
Article continues below advertisement
Oftentimes, these burglaries are crimes of opportunity. Have a bike in your backyard and a fence without a lock, or no fence at all? Someone might just come and take that thing because they decide they want your property. Left your car door unlocked? Well, anything in your whip is up for grabs. Heck, you might even get your window smashed in (like I did) just by leaving a backpack in the backseat of your car depending on the neighborhood you're in.
A big target for thieves are construction workers, who often have expensive equipment just chilling in the back of a pick-up truck. Even with bed covers, adroit thieves can usually figure out how to mess with these often-times simpler locks in order to extricate whatever goodies/products one is using for their contracting gigs.
But one TikToker found a way to curb thieves and it looks like it works.
Article continues below advertisement
An account called "All Seeing Machine" posted a video of what appears to be footage from a home security camera that shows a pick-up truck with a bucket and some other items in the bed of the vehicle. Early on in the clip, a person with a face covering can be seen rolling up into the driveway wearing a face covering.
Article continues below advertisement

The individual nears the back of the pick-up truck in what appears to be an attempt to look at what's inside, and that's when the sprinkler system in the truck is activated.
Article continues below advertisement

Motion proximity must be what sets this particular device off and as the water started to shoot out in the direction of the supposed thief, they ended up booking it right out of the driveway.
Article continues below advertisement

Judging from the setup in the back of the pick-up truck, it looks like whoever concocted this wonderful anti-theft solution is using a product similar to the Orbit 62100 Yard Enforcer Motion-Activated Sprinkler that's currently for sale on Amazon for around $55.
Article continues below advertisement

The device is a simple one: the sprinkler was placed in a bucket of water, which serves as its water source. Since the sprinkler system has its own battery, it is extremely mobile.
Article continues below advertisement

Interestingly enough, the motion-activate sprinkler system seems to have been devised as an intentional deterrent. The item's product description was listed online as such: "The only deterrent sprinkler on the market with options for day only, night only, or 24 hour protection, giving you the flexibility to ensure the Yard Enforcer only activates when you need it."
Article continues below advertisement

TikTokers who say the would-be thief get sprayed in the video were loving the system:
"How very Breaking Bad of you"
"i love this idea they need to get this in stores so i can buy one"
"Genius!!"
Article continues below advertisement

And then there were some folks who came up with some modifications of their own: "love it, fill it with cheap paint."
Are you thinking of trying this out? Or is it enough for you to just lock up your belongings?