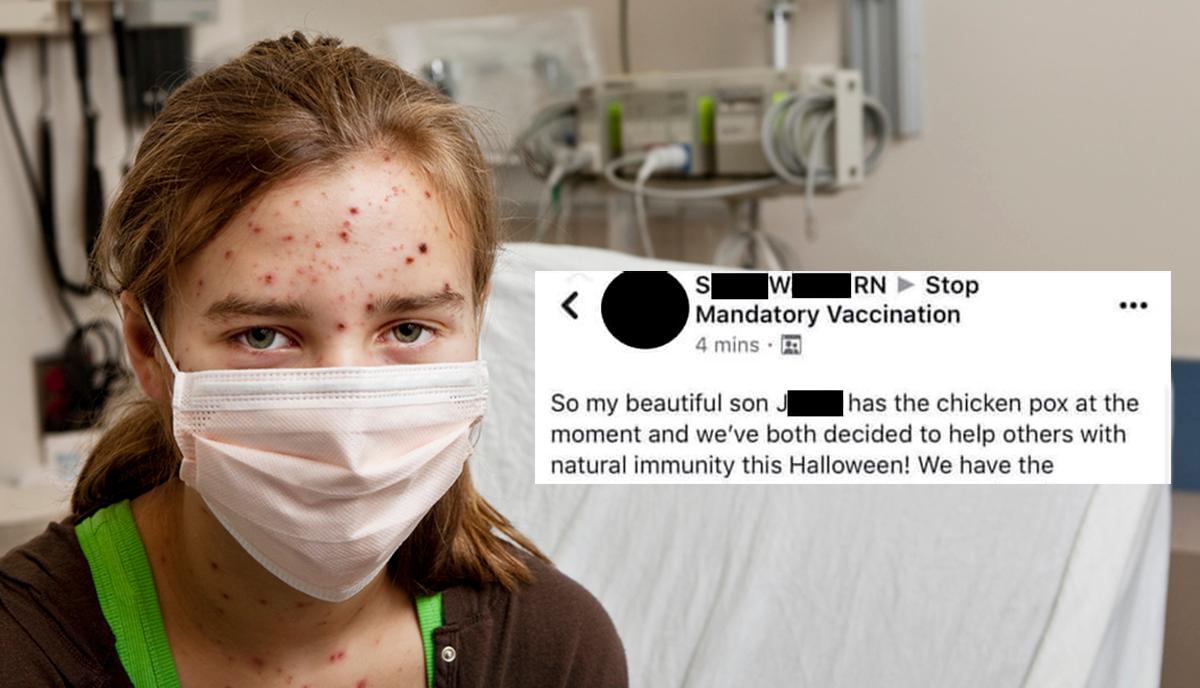 An Anti-Vax Mom and "Nurse" Wanted to Hand out Chickenpox-Infected Lollipops on Halloween
She said the idea was to "help people."
Chickenpox parties were far more common before the chickenpox vaccine became widely available in 1995. But they've been making a comeback recently, and earlier this year, Kentucky Governor Matt Bevin made headlines when he said that he exposed his nine children, all of whom are unvaccinated, to neighbors with chickenpox in order to help them gain immunity to the disease.
Article continues below advertisement
But one unidentified mom recently took the idea of chickenpox parties way too far when she suggested that she was going to hand out chicken pox-infected lollipops this Halloween.
The woman reportedly made the claim on a private anti-vax Facebook page, where she stated that it was all actually in goodwill.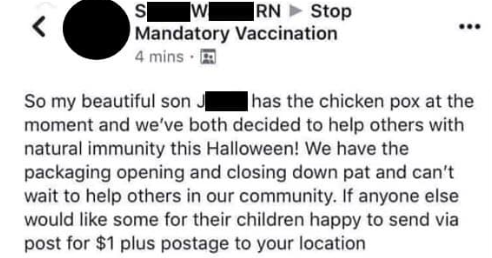 Article continues below advertisement
"So my beautiful son [redacted] has the chicken pox at the moment," the woman wrote. "And we've both decided to help others with natural immunity this Halloween! We have the packaging open and closing down pat and can't wait to help others in our community."
She then attempts to make some money out of the idea, writing: "If anyone else would like some for their children, [I'm] happy to send via post for $1 plus postage to your location."
Along with the caption, the woman shared a photograph of a bag full of lollipops.
Article continues below advertisement
Food tampering is a second-degree felony in the United States, carrying between two and 20 years behind bars and as much as $10,000 in fines. But apart from that, the idea is insane in that it might expose children with weakened immune systems to chickenpox, as well as adults who have never had chickenpox. Both situations could be potentially deadly.
The post was shared by Light for Riley, a pro-vaccine Facebook page set up by the parents of Riley Hughes, who passed away in 2015 after contracting whooping cough. The campaign aims to "shine a light on the dangers of whooping cough and the importance of vaccination."
Article continues below advertisement
Riley's dad came across the post on Facebook, and shared it with members of the page, writing:
"Have you ever seen something that instantly makes your skin crawl?"
"How's this:
1. Get excited by your child being infected with the chickenpox virus
2. Formulate a plan to intentionally infect other people's children unknowingly by distributing contaminated lollipops to the community on Halloween
3. Proceed to gloat about it on a Facebook anti-vaccination group."
According to Riley's dad, the woman responsible for the post was also claiming to be a nurse in a Brisbane, Australia, children's hospital. He reported the post to the hospital, the Australian Health Practitioner Regulation Agency, and local newspaper Australia Post.
Article continues below advertisement
News.com.au reports that since making the post, the mother, who was falsely claiming to be a nurse, is being investigated by police.
"There are no current or former employees by that name that have worked for Queensland Health as a registered nurse," a spokesperson from Children's Health Queensland said. "This is a serious issue and has been referred to police, who are investigating."
A spokeswoman for Queensland Police confirmed that they are investigating.
The mother, however, doesn't seem to be backing down. In a further post, she wrote:
Article continues below advertisement
"You think you're right by judging me and my trying to report me and get me fired. I don't care. The health and wellbeing of my baby is far more valuable than any job."
"You say I'm vile and gross like I have done something that hundreds of thousands of parents haven't already done."
"How many times do you see children dropped off to day care or school when they're clearly sick and contagious? Exactly!"
"And I'm offering life long immunity for the price of a couple of blisters and a few days off school."