17 Halloween Costumes So Legendary They Went Viral
Sometimes, a Halloween costume is so inspired and perfectly executed, it becomes famous on the internet. Here are 17 viral halloween costumes we'll never forget.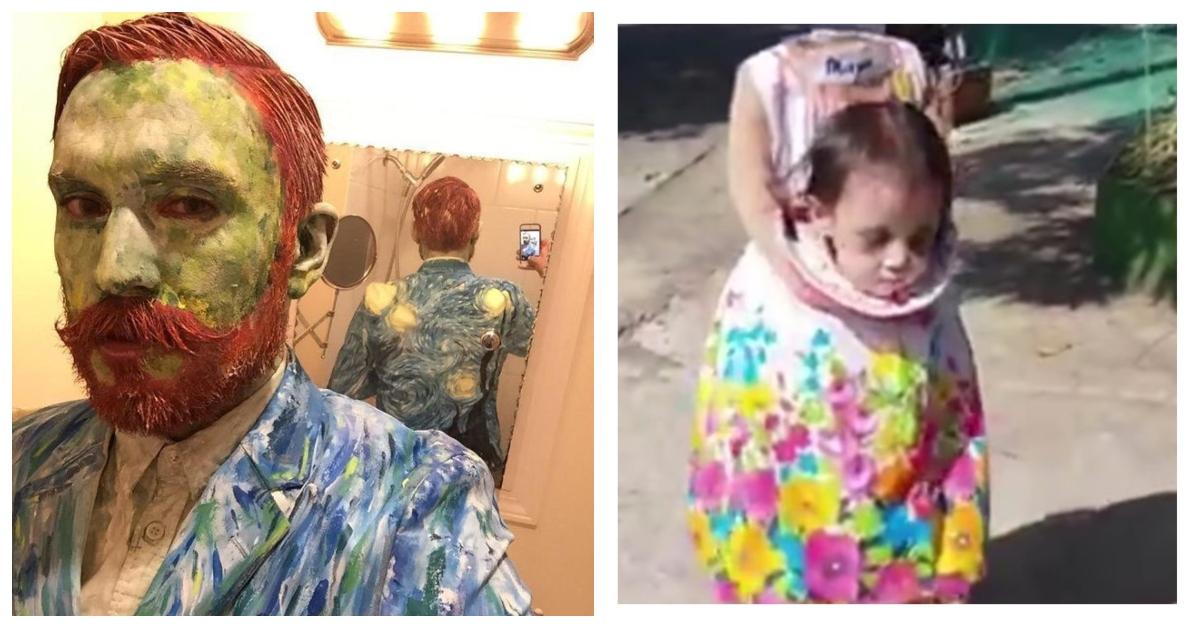 Several elements must converge to elevate a Halloween costume from good to exceptional. The concept itself should be something that's not too overdone, yet it should be immediately apparent what or who you are. And while expert craftsmanship is important, it's just as essential for the costume wearer to really sell the look. Every once in a while, someone manages to tick all the boxes and achieve a Halloween look so flawless it goes viral. Here are 17 such viral Halloween costumes that became legends on the internet.
Article continues below advertisement
1. Next to this guy, the competition doesn't have a leg to stand on.
Josh Sundquist basically goes viral every year he unveils his costume. He pulls off looks most people can't because they have an extra leg that would just be in the way. The costumes work not despite his amputee status but because of it. My personal favorite is the leg lamp from A Christmas Story.
2. Location, location, location.
When planning your Halloween costume, context is a big factor. This Department of Motor Vehicles employee, for example, used his occupation to his advantage to showcase his flawless interpretation of one of the sloths in Zootopia, who also work at the DMV.
Article continues below advertisement
3. Trophy wife and kids.
If you have a family worth bragging about, what better way to show off than to bronze them all and dress them up as literal trophies? It helps that this foursome is really nailing their poses for the camera.
Article continues below advertisement
4. This guy really makes a post-impression.
This art teacher gets an A+ for his Van Gogh costume, which not only nails the painter's self-portraits but pays homage to his most famous work on the back of his blazer.
Article continues below advertisement
5. Next time someone suggests a sexy assistant costume...
Remember the Microsoft Office Assistant? It was a little animated helper who would pop up on screen when you were creating a document in Microsoft Word and was low-key super annoying. Here is an exceptional "sexy" version of the obnoxious character who used to bug you any time you tried to compose a letter on your computer.
Article continues below advertisement
6. This one is truly upsetting.
Countless times growing up, we'd discover one of these tins of assorted tea cookies and get all excited thinking mom bought us a treat, only to open it up and discover it's just her stupid sewing kit. This girl on reddit truly captured that total bummer with her costume.
Article continues below advertisement
7. The friends that coordinate Halloween costumes together stay together
Every year, these seven BFFs coordinate their costumes by portraying different performances by the same actor. Clockwise from the top left, you have:
Robin Williams (L-R) - Mrs. Doubtfire, Mork and Mindy, Jumanji, Popeye, Hook, Aladdin, and The Birdcage.
Will Ferrell (L-R): Elf, Blades of Glory, Zoolander, Anchorman, Night at the Roxbury, Semi Pro, Talladega Nights
Jim Carrey (L-R): Mr Popper's Penguins, Dumb and Dumber, The Cable Guy, The Mask, The Grinch Who Stole Christmas, Ace Ventura Pet Detective, Batman and Robin (The Riddler)
Tom Hanks (L-R): Toy Story, Cast Away, Apollo 13, Forrest Gump, Big, David S. Pumpkins from SNL, A League of Their Own
Article continues below advertisement
8. Best use of Vibranium
This mom elevated her son's T'Challa costume by dressing up as Black Panther's mom, Ramonda and totally nailed both looks. It's the attention to detail that really takes a partner costume from cute to legendary.
Article continues below advertisement
9. Best adaptive costume ever.
This adorable superhero's costume makes great use of his wheelchair to transform him into a flying Superman soaring over Metropolis.
Article continues below advertisement
10. I sure hope that was washable ink.
This impeccable Post Malone costume recreates the rapper's face tattoos to a T, but I'm really hoping she used liquid eyeliner and not a Sharpie. While it might look great on Halloween, the next day you just look like somebody who made some unfortunate life choices without a successful music career to show for it.
Article continues below advertisement
11. Green screen spookiness.
Normally it's a bad idea for a weather reporter to wear green on camera, since they will basically be a disembodied head and hands on screen. However, it's an exceptional idea if it's Halloween. This weatherman donned a green bodysuit with a skeleton attached to deliver a very spooky forecast.
Article continues below advertisement
12. So meta!
This sexy sexy Halloween costume costume is about as self-referential as you can get on October 31, and I love that they chose a particularly ridiculous "sexy [blank] costume" for the packaging. Seriously, "Sexy Baked Potato?" That's scraping the bottom of the barrel.
Article continues below advertisement
13. This one will haunt your dreams.
This "headless" girl went vital last year when her mom, Krystel Hwang, shared video of her little girl, Maya, trick or treating. What made it all the better is that the hole where her severed head once sat contained her treat bucket! This mom has an awesome — and grisly — sense of humor
Article continues below advertisement
14. 5-year-old Cardi B
One of the most popular memes last year involved this very sassy picture of a 5-year-old Cardi B, which people began sharing with little captions of Cardi repeating things her mom probably didn't want her little girl to repeat like, "My momma said I can't use y'all brush, cause y'all have lice." This recreation photographer Rachel Taylor did for her daughter is so spot on, you can barely tell which is the original. (Cardi is on the right).
Article continues below advertisement
15. This is taking DIY to a whole other level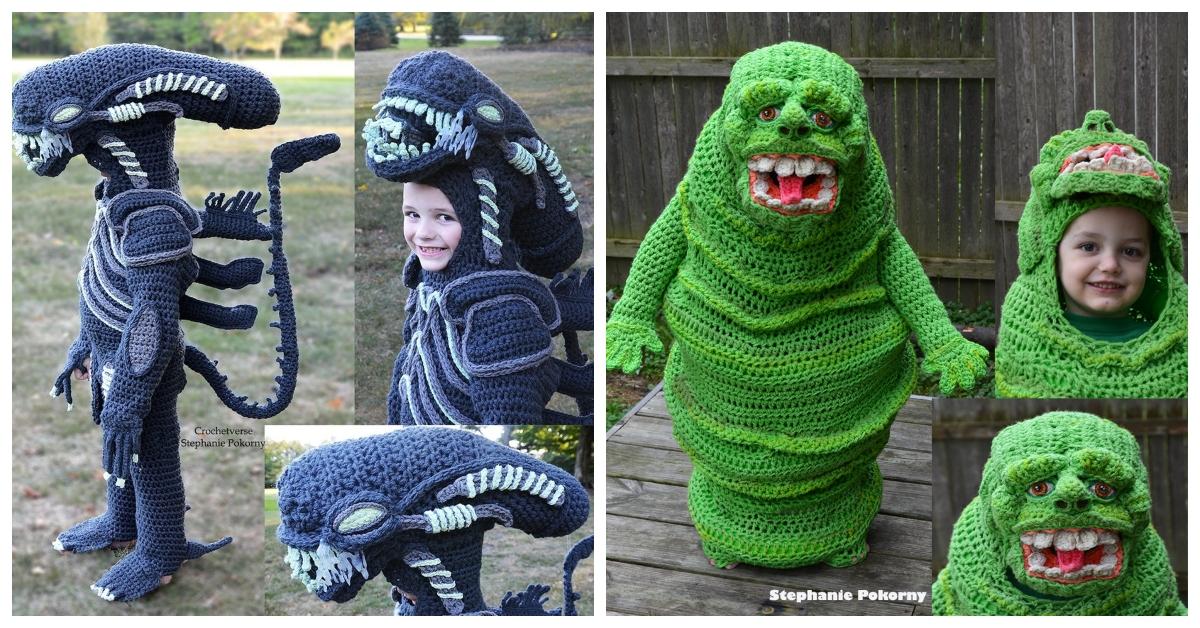 Lots of parents make their kids' costumes, but Stephanie Pokornym, AKA Crochetverse on reddit, makes stunning crocheted costumes like the above Xenomorph from Alien and Slimer from Ghostbusters. You can see a full gallery of her work here.
Article continues below advertisement
16. When in doubt, be a meme
This DIY costume required a printer, some white boards, and some dowels, and yet you know he won any official or unoffocial costume contest he entered with it. It's a perfect recreation of the "Distracted Boyfriend" meme involving a stock photo of a dude checking out another girl while his girlfriend looks on with disgust.
Article continues below advertisement
17. Seriously, just be a meme.
If your sole aim on Halloween is to go viral, go as a popular meme. It gets em every time and the investment required is usually super low. Here we have a guy totally nailing the most popular meme of 2019. He's dressed as the confused cat that is often juxtaposed with the image on the left of Real Housewives of Beverly Hills' Taylor Armstrong yelling at Camille's friend Dedra in a 2011 episode. Know Your Meme has a comprehensive breakdown of the meme's history.